Former Army Lt. Dan Choi took the witness stand today during the second day of his federal trial for failing to obey a lawful order by a police officer, where he delivered several impassioned speeches protesting his prosecution in U.S. District Court for actions that, he believes, are protected under the First Amendment of the U.S. Constitution.
Choi, who became a prominent advocate for the repeal of the military's "Don't Ask, Don't Tell" policy, was arrested by U.S. Park Police on Nov. 15, 2010, with 12 other LGBT activists after they chained themselves to the White House fence during a protest against the military's "Don't Ask, Don't Tell" policy banning gays, lesbians and bisexuals from serving in the Armed Forces. Under the policy, which will be repealed on Sept. 20, more than 14,000 gay, lesbian and bisexual servicemembers, including Choi, were discharged.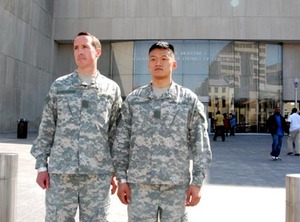 In the trial that began on Monday, Aug. 29, Choi's lawyer, Robert J. Feldman, has questioned why Choi is being tried in federal court instead of D.C. Superior Court. Choi was previously arrested in March 2010 and April 2010 for chaining himself to the White House fence under District charges that were later dismissed.
After calling six witnesses on Monday, the prosecution completed making their arguments early this morning. Feldman then called Capt. James Pietrangelo, who was arrested with Choi during the March incident, to testify, followed by Choi. Both men testified for more than two hours apiece — with Choi's testimony running longer than three hours.
On the stand, Choi said the First Amendment provides for the right of people to petition the government for a redress of grievances, which also, he said, is a moral responsibility of patriotic Americans. Choi responded under questioning by Feldman that he believed his actions were a form of speech, and that the government did not have a right to censor them by arresting him.
At times, Choi raised his voice and spoke in such a tone that he almost seemed close to shouting, especially when asked about his arrest. Under cross-examination by Assistant U.S. Attorney Angela George, he compared the various protests against "Don't Ask, Don't Tell" to the 1960 sit-in by students in Greensboro, N.C., at a Woolworth's department store and said he was "insulted" by his prosecution on federal charges.
"The November 15th arrest is surprising in my mind," Choi said, comparing the tactics used by police officers to remove him from the fence and transport him to the police wagon to procedures taught to soldiers in war. Choi said his left arm had been twisted and he could not feel his index finger for two weeks afterward, statements he said were reinforced by videos showing his arrest.
George used a YouTube video of Choi following his March 2010 arrest that was created by Metro Weekly to try and prove that Choi knew he was violating the law. In the video, seen here, Choi says of his arrest, "We're going to do it again, and we're going to keep doing it until the promises [of America] are manifest."
When George asked him about his first arrest, Choi said, "I believe it was a transformative moment when people realized that a complacent, comfortable approach, or attending fancy dinners in suits was no longer acceptable."
Tempers flared when Feldman and George sparred over George's refusal to call Choi and Pietrangelo by their ranks, referring to them as "Mister" because "they are not in the military anymore." Magistrate Judge John Facciola resolved the issue by ordering George to address them by their highest achieved ranks.
Choi testified that he has 10 percent hearing loss from his time in Iraq, which would affect his ability to hear police over the din of the crowd in front of the White House on Nov. 15.
Choi also testified he had multiple run-ins with one particular detective with the U.S Park Police, who insulted him and his fellow protesters by stripping them of their rank insignia. Feldman said he planned to call the detective in question to testify on Wednesday morning.
"In the military, stripping someone's rank is the biggest insult, because it makes somebody your inferior," Choi said.
[Photo: Pietrangelo and Choi (Photo by Todd Franson.)]