There are circuit parties on the beach, at amusement parks, at sea and in cities.
But at a campground?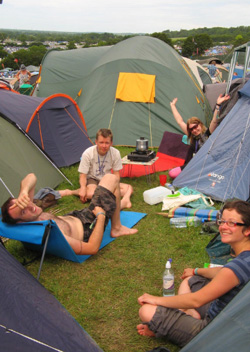 "There are other gay campground festivals, but none that are anything like a gay circuit party," says James Tate. Along with his brother and business partner Martin Rembert, Tate is set to change that next weekend, with Camp 2011 in Pennsylvania's Pocono Mountains.
"[The three-day festival] will be so different from anything else," Tate says. "Really, you are going away for an entire weekend just like summer camp when you were a kid." Well, not just like when you were a kid: Camp 2011 at the 100-acre, privately owned Woods Campground is all-gay and adults-only. And in addition to campfires, hiking, boating on a lake and sleeping in tents or trailers, there are the type of events you could only dream of as a budding LGBT teenager. There will be pool parties by day and themed dance parties by night, with well-known DJs including DJ Escape, Randy Bettis, Hector Fonseca, Seth Gold and Jason Royce. There will be trivia games and appearances by drag queens and pornstars, including Brent Everett and the Maverick Men. Party promoters Jacob Nathaniel Pring and David Merrill will be hosting an all-enclosed Code Playhouse, "a fetish barn and playhouse with all types of naughty things going on," says Tate. And there will be an Olympics-style event featuring silly and sexy physical games, including a "naked sack race."
Yes, a naked sack race.
You can also tan or swim naked, even dance naked. The Woods, after all, is a clothing-optional resort. Tate says they're not advertising the party as such, "because we don't want to give everybody the wrong idea: It's open to the entire community." Nudists are welcome, but Tate expects few Camp-goers will actually go au naturel, at least not most of the time. And it's also not just for men: Lesbians will have their own parties at night, but the full Camp will be co-ed, and women will be sleeping in tent city, dubbed Tentopia, along with everyone else.
Camp 2011 follows on Tate's first party at the Woods last October. Then, he offered a version of his long-running gay college-aged Nitecamp parties, which occur at Town once a month. That proved so successful, the venue invited him back. They're expecting to attract 2,000 attendees.
"We're trying to bring a younger crowd and introduce them to something new, roughing it in the outdoors," says Tate.
Camp 2011 is Friday, Aug. 19, through Sunday, Aug. 22, at the Woods Campground in Lehighton, Pa. Tickets are $250 for the full weekend, or $175 using promo code MWDC. Roundtrip bus travel from Dupont Circle is also available. Visit camp-2011.com.