In an email to supporters, former Sen. Russ Feingold (D-Wisc.) announced that he would not be seeking to run for the state's other Senate seat, which is being vacated by Sen. Harb Kohl (D-Wisc.). The decision, one group backing her run, says the news makes Rep. Tammy Baldwin (D-Wisc.) — the only out lesbian in Congress — the front-runner for the Democratic nomination, with Rep. Ron Kind (D-Wisc.) also looking at the race.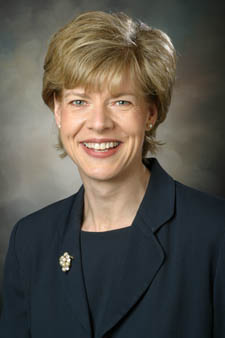 The Gay and Lesbian Victory Fund, which works to help elect out LGBT candidates for office, has been pushing Baldwin to run.
Denis Dison, Victory Fund vice president of communications, told Metro Weekly today, "The Victory Fund is still preparing for a competitive primary and general election, but this news makes Tammy Baldwin the clear front runner for the Democratic nomination. We expect her to make a final decision after Labor Day, but the environment now could not be more encouraging. We look forward to helping her make history."
In Feingold's statement, posted at his Progressives United PAC, he wrote that he is "thoroughly enjoying the life of a private citizen."
He continued: "I know that progressives are eager to reverse some of the outrageous policies being pursued by corporate interests at both the state and federal levels. I am also well aware that I have a very strong standing in the polls should I choose to run again for the U.S. Senate or in a recall election for governor."
But, he wrote, "While I may seek elective office again someday, I have decided not to run for public office during 2012."
Writing about his focus on reversing the impact of the Supreme Court's decision in Citizens United, Feingold wrote that he will continue to focus on reversing the tide on unlimited corporate contributions.
"In many ways, this is the overriding political struggle of our time. It is more important than whether or when one person runs for office again. That is why, at this time, I am devoting my primary political energy to this cause and this organization."
The news opens the race up for Baldwin, but nonetheless could put Baldwin — according to polling released on Aug. 18 — in an uphill battle for the Senate seat, should she become the Democratic nominee. Public Policy Polling's latest numbers on the race show Baldwin losing to either former Gov. Tommy Thompson (R-Wisc.) or Mark Neumann (R-Wisc.), the former congressman who lost the gubernatorial nomination to now-Gov. Scott Walker (R-Wisc.) in 2010.
Since Jan. 1, Baldwin has raised more than $600,000 for her congressional campaign account, which could be used toward re-election to the House or a run for the Senate. In this year, Baldwin — who has represented Madison in Congress since first winning election to the House in 1998 — has received 56 donations contributing at least $2,500 — the maximum individual donation for a primary. All such contributions came in June, well after Kohl had announced his retirement in mid-May.
Among those contributing $2,500 are several names well known in the LGBT community, including Bruce Bastian, major donor to LGBT causes from Utah; Steve Elmendorf, head of Elmendorf Strategies in D.C.; David Geffen, movie producer; Mitchell Gold, Faith in America founder; James Hormel, former ambassador to Luxembourg; Hilary Rosen, partner in the political communications firm of SKDKnickerbocker; and Winnie Stachelberg, vice president at the Center for American Progress.
Also in June, the Victory Fund contributed $5,000 to Baldwin, the Friends of Jared Polis committee contributed $2,000 and the Human Rights Campaign contributed $599 for an "in-kind" contribution of "online advocacy and fundraising." HRC earlier, on May 11, had contributed $,1000 to Baldwin — two days before Kohl announced his retirement.
HRC vice president of communications Fred Sainz told Metro Weekly, "It appears that Tammy will now be able to run for the U.S. Senate. We stand ready to endorse her not simply because of her sexual orientation but rather because she will undoutedly represent all of the citizens of her state in an exemplary fashion."
Kind has similar donation levels to Baldwin in 2011, raising a little more than $590,000 — although an overwhelming majority of his contributions came from other political committees, whereas almost all of Baldwin's donations came from individuals.
UPDATE @ 1:21P: Baldwin's campaign spokesman released the following statement from Baldwin this afternoon:
I thank Russ Feingold for his incredible service to this state and look forward to his continued leadership in the progressive community. As I have said since Senator Herb Kohl announced his plans to retire in May, I am seriously exploring a race for U.S. Senate in 2012. I will have an announcement in the coming weeks.
So, donors and supporters will continue to await news on whether the representative from the 2nd district of Wisconsin will enter the race.