In one Greek myth, Hercules is overcome with emotion at permanently losing the young Hylas to nymphs. The question is: Was Hercules Hylas's father, or his daddy — as in lover?
Andy Butler contends it was the latter. "[Hercules] had very deep love affairs with a number of men, Hylas in particular," says the gay Butler, an avid student of Greek mythology since he was a toddler.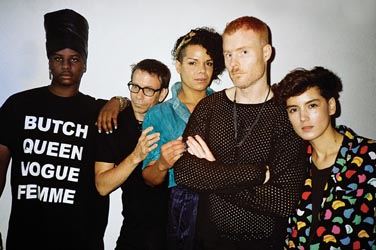 Hercules and Love Affair
(Photo by Jimmy Edgar)
For the past four years, Butler has adopted and adapted the gay Greek tale as his own, through his neo-disco/house band Hercules and Love Affair.
Butler coined the name in part to reflect the band's focus on addressing "this whole notion of vulnerability and authenticity — Hercules was the strongest man at the mercy of his emotion." Lyrically, the band tends to focus on "coming to terms with your identity as marginalized people."
Butler has been writing music since he was a child in Denver, but he didn't think to form a band until his friend, queer singer Antony Hegarty, suggested he do so. Antony, of Antony and the Johnsons, gave Butler's band a boost by singing nearly half of the songs on its 2008 critically heralded, self-titled debut.
For the band's sophomore set, Blue Songs, Butler and lead bandmate Kim Ann Foxman decided to enlist other guests, including gay singer Kele Okereke of Bloc Party. The new set, due in the U.S. next week, "is a clubbier sound," Butler says, with "a little bit more of an edge" from techno and house.
"It's funny," says Butler, "everything I studied in university I apply to what I do." Butler concentrated on musical composition at New York's Sarah Lawrence College, but he also explored modern dance, gender studies, even art history.
"I guess I'm proof that a liberal arts degree can manifest into something quite specific and real." — Doug Rule
Hercules and Love Affair performs as part of the electronic music festival IDentity on Thursday, Aug. 18. Doors at 1 p.m. Jiffy Lube Live, 7800 Cellar Door Drive, Bristow, Va. Tickets are $50 to $400. Call 703-754-6400 or visit livenation.com.