When William Waybourn took the photographs for the D.C. Strokes 2008-2009 calendar, he was able to pose the rowers — or at least keep a safe distance. But with the D.C. Gay Flag Football League, hazardous duty was involved.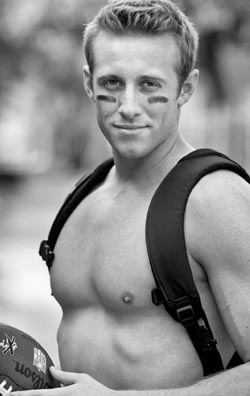 (Photo by William Waybourn )
"I did get hit by one guy who forgot that I was standing there," he says of shooting a scrimmage for the DCGFFL's calendar, launching Tuesday, Aug. 9 with a Hugo Boss-sponsored release party at Waybourn's Longview Gallery. "They play very seriously. Some would show up with bruises or cuts."
Waybourn is no worse for wear from the experience, but he may be a little tired considering the hundreds of hours he and Tony Frye, of Tony Frye Design, donated to the project, along with Michael Zagoda, who hatched the idea. The players, on the other hand, do indeed get rough, confirms the league's Sean Bartel.
"We've had two concussions, a broken hand," he recalls. "A spleen had to be taken out."
And it's not just the boys. There's a sizable contingent of women and straight folks mixed into the teams, as well. And through the calendar, this rough-and-tumble crowd is aiming to harness their sense of fellowship for a greater good.
"It's more than just football," he says. "Our job here is also to give back to the community."
To that end, proceeds from the $20 calendar will help support the league's scholarship effort, which has already seen nearly $4,000 raised for the Team DC Scholarship Fund. With the attention the league's calendar has already gotten – even before its official release – the sky may be the limit. Bartel, who handles the league's media and social networks, says they've already been fielding interest on a global scale.
"I never dreamed there would be this explosion," he says. "A guy from Germany wants to order 50 to 100 calendars."
The DCGFFL calendar release party is Tuesday, Aug. 9, from 6-8:30 p.m., at Longview Gallery, 1234 9th St. NW. Advance tickets are $10 and are available at dcgffl.org, or $15 at the door. The calendars are $20 and are available at the party or at dcgffl.org.