When David Lippe and his partner, Valentine Garcia, moved into their house on Seaton Street in Northwest D.C. 17 years ago, they were one of the few gay couples in the District's Bloomingdale neighborhood. Today, at least on their block, they're in the majority.
The past 10 years have brought a wave of gentrification as more gay couples have moved in, buying and renovating formerly abandoned houses and changing Lippe and Garcia's short two-block-long street from a hot spot for crime into a more affluent residential enclave.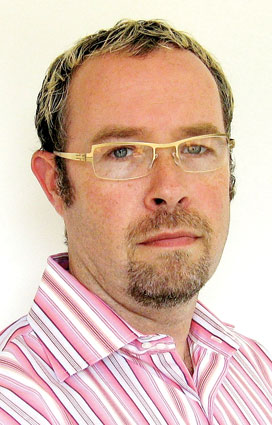 Gary Gates
(Photo by Williams Institute)
"It's a rarity to have gotten any pushback because we're gay," Lippe says. "Even our councilmember (Harry Thomas Jr. [D-Ward 5]) has a pro-gay agenda."
Recently released statistics from the 2010 Census show that Lippe and Garcia's neighborhood isn't the only one experiencing an increase in same-sex couples. According to the census data, the number of gay and lesbian couples in the Washington metropolitan area has increased by almost half in the past decade, complementing a similar 50 percent increase at the national level.
The District experienced a 40 percent increase in the number of self-identified gay or lesbian couples since the 2000 Census, surpassing 5,000. Throughout the District, there were 19.3 same-sex couples for every 1,000 households.
Virginia's census numbers showed a 49 percent increase in the number of self-identified same-sex couples, topping 20,000, or 6.7 per every 1,000 households, while Maryland's increased 51 percent, just shy of 17,000 couples, or 7.88 per every 1,000 households.
Census forms do not ask individuals about their sexual orientation. As a result, the only LGBT-related data the census offers is households where two people of the same-sex identified themselves as husbands, wives or unmarried partners living together, explains Gary Gates of The Williams Institute. The institute is a think tank focusing on sexual orientation law and public policy at the University of California, Los Angeles, School of Law.
Gates says the number of total LGBT individuals is difficult to estimate using this metric because gay or lesbian singles do not necessarily live in the same places as gay couples.
What the census figures do reveal, however, is a rapidly expanding and quickly diversifying gay community, with some rural and suburban communities experiencing the largest gains in the number of couples in same-sex relationships, he says.
"Places that were more conservative tended to have bigger increases," says Gates. "But that is likely because gay and lesbian couples are more willing than they were 10 years ago to report themselves as such."
In the District, the precincts with the highest number of same-sex couples has moved eastward from the Dupont Circle neighborhood, traditionally regarded as having a relatively high concentration of gay residents, to places such as Logan Circle, Shaw and Bloomingdale. There has also been a northward push into the U Street corridor, Columbia Heights, Mount Pleasant and Crestwood, just south of Carter Barron Amphitheatre and Rock Creek Park.
In Virginia, the highest numbers of same-sex couples were found in the D.C. suburbs of Alexandria and Arlington and Fairfax counties. But there were also high numbers of same-sex couples in more southern parts of the state, including the suburbs and exurbs of Richmond, Norfolk, Roanoke and Bristol.
In Maryland, the largest communities of same-sex couples appeared in the first-ring suburbs of the District, including Cheverly, Takoma Park, Hyattsville, Mount Rainier and Silver Spring. But there were also significant numbers of same-sex couples in the Baltimore suburbs and more rural areas such as the panhandle and in southern Maryland.
"Geographic patterns have become more diffused over time," Gates says. "With increased societal acceptance, there's less tendency to feel the need to group together for safety among members of the gay community."
Gates says that emerging trends seem to indicate that highly concentrated neighborhoods of gays and lesbians, known as "gay ghettoes," will become less common as individuals and couples move away and integrate themselves into new communities.
The 2010 Census marks the first official census since same-sex couples have been able to legally marry in some states and the District, notes Brad Jacklin of the National Gay and Lesbian Task Force.
The Task Force mounted a publicity campaign last year to "Queer the Census" by encouraging same-sex couples to identify themselves as committed couples on their census forms.
Jacklin says the 2010 Census also marked the first time that same-sex couples who stated they were married or partnered were recognized as such by the U.S. Census Bureau. In 2000, the bureau "decoupled" such pairs, counting them instead as two single individuals living together.
The federal government has no worthwhile data on gays and lesbians regarding disparities in income, employment or access to services, as it does with other demographics, Jacklin says. Because of that, he emphasized the importance of gays and lesbians identifying themselves to the larger community if they are going to advocate for federal funding or compete for eligibility or inclusion in government programs.
"We've seen significant advances in the acceptance of gays and lesbians in society, causing people to come out, whereas before they just didn't feel comfortable," Jacklin says. "By allowing same-sex couples to identify themselves, it shows acceptance of our families."
For Lippe, integration and acceptance are already realities in Bloomingdale.
"This neighborhood has been welcoming from the beginning," he says. "There's a woman up the street who, when we first moved in, used to joke with us, 'Keep bringing your friends around, because my property values go up every time one of you moves in."'