Pixie Windsor started her business in Adams Morgan, and still loves living in that neighborhood. But….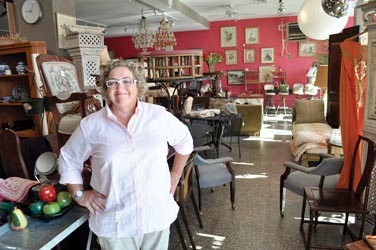 Miss Pixie
(Photo by Todd Franson)
"MidCity is just really what's happening right now," says the proprietor of Miss Pixie's Furnishings and Whatnot. And who could argue? MidCity is the neighborhood encompassing the U Street and Logan Circle areas, with 14th Street as its main artery. And this weekend, MidCity is the place to be, for its 12th annual Dog Days Sidewalk Sale.
"Dog Days is far and away the most incredibly busy day of the year," says Windsor, who's serving as this year's Dog Days coordinator. Now participating in its third Dog Days, Miss Pixie's will offer 20 percent off everything.
"When I was in Adams Morgan," Windsor says, "nothing compared to Dog Days."
Even Greg Link, the owner of Home Rule, marvels at how big the annual event has become since he founded it as a way to generate excitement during the summer retail doldrums.
"We started with just six people, six stores," he says. "We put our stuff on the sidewalk, and people loved it. Even though it's been just 12 years, [Dog Days] has really encompassed a lot of history on that street. Just a lot of players have come and gone." A lot has certainly changed: When Home Rule opened, there were few places to eat other than fast food joints. "We had no restaurants involved in the beginning," Link says.
By contrast, DC Noodles, Vinoteca, Cork and ACKC Cocoa Bar are just a few of the many food spots offering Dog Days specials this year.
But if you're looking for anything in particular, or the best deals, Windsor advises you start as early as possible.
"We actually open an hour early," she says. "And we will have people lined up outside the door."
MidCity Business Association's Dog Days Sidewalk Sale is Saturday, Aug. 6, and Sunday, Aug. 7. Visit midcitylife.com for more information.