AFI SILVER THEATRE
8633 Colesville Road
Silver Spring
301-495-6720
afi.com/Silver
Opera In Cinema — Landmark productions from some of the most venerable opera houses in Europe, including: A live recording of La Scala's La Traviata with Angela Gheorghiu, Ramón Vargas and Roberto Frontali (9/24)
A live simulcast from the Royal Opera House of Faust with Angela Gheorghiu, Vittorio Grigolo, Rene Pape and Dmitri Hvorostovsky (9/28; rebroadcast 10/1)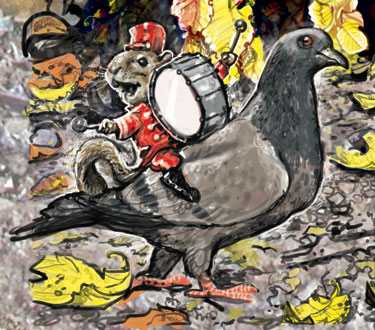 A live recording of Royal Opera Company's Adriana Lecouvreur, written by Puccini-contemporary Francesco Cilea and starring Angela Gheorghiu, Jonas Kaufmann and Olga Borodina (10/2-3)
A live recording of Royal Opera Company's Tosca with Angela Gheorghiu, Jonas Kaufmann and Bryn Terfel (11/5-6)
A live simulcast from La Scala of Don Giovanni starring Anna Netrebko, Bryn Terfel and Peter Mattei (12/7; rebroadcast 12/10-11) Ballet In Cinema — Filmed performances from some of Europe's top ballet companies, including: A live simulcast of Russia's Bolshoi Ballet performing Esmerelda, inspired by Victor Hugo (10/9; rebroadcast 10/13)
A live simulcast of the Bolshoi Ballet's The Sleeping Beauty with choreography by Yuri Grigorovich, adapted from Marius Petipa's original (11/20; rebroadcast 11/21)
A live simulcast of the Royal Ballet's The Sleeping Beauty, this time featuring Marius Petipa's original choreography and of course Tchaikovsky's gorgeous score (12/15; rebroadcast 12/17)
'Tis the season for a live recording of the Bolshoi Ballet's The Nutcracker, with choreography by Yuri Grigorovich (12/18-22)
ARLINGTON CINEMA N' DRAFTHOUSE
2903 Columbia Pike
Arlington, Va.
703-486-2345
arlingtondrafthouse.com
Dirty Dancing…mocked by the Raspberry Brothers — A trio of New York comedians, the Raspberry Brothers "mock the crap out of Hollywood films" (9/15)
Live Stand-Up Comedy — A 60-minute comedy show every Thursday night
TV Party: Arrested Development — Best of Season 3 for super-fans of the cult comedy (9/15)
Pauly Shore (9/16-17)
Open Mic Stand-Up Comedy — Free stand-up late every Saturday night
Dana Gould — A former writer for The Simpsons, Gould's stand-up comedy is smart and grounded (9/23-24)
The Marijuana-Logues Live — An entertaining 90-minute show about life with (and without) marijuana, which is not included with ticket price (9/30, 10/1)
Reese Waters — A hometown show for the comedian, actor and writer (10/7-8)
Brad Garrett — Everybody Loves Raymond star does standup (10/18-19)
Brian Posehn — Known for his deadpan delivery and evocations of the stoner mentality, this character actor has been seen on NBC's Just Shoot Me and Comedy Central's The Sarah Silverman Program (10/22)
Pardon the Pundit: Live Political Comedy Contest — A couple dozen political satire acts compete to win cash and a spot on a Comedy Central show (10/5, 10/12, 10/20, 10/26, 10/27 and 11/3)
Hal Sparks — Former host of E! Television's Talk Soup but best known as Michael on Showtime's Queer as Folk, cutie Hal Sparks offers two nights of stand-up (11/4-5)
BARNS AT WOLF TRAP
1645 Trap Road
Vienna, Va.
703-255-1900
wolf-trap.org
Wolf Trap Ball — Before the season starts at the Barns, Wolf Trap offers its largest annual fundraising event to conclude the summer season at the Filene Center, this year celebrating the complex's 40th anniversary; a New Orleans Dixieland jazz band, the Olivera Strings and Sound Connection will provide music throughout the night (9/17)
Steve Solomon's My Mother's Italian, My Father's Jewish & I'm Home for the Holidays! (11/30-12/2)
Chicago City Limits — More audience-prompted improv and satire (2/10-2/11/12)
America's National Parks: Through The Artist's Lens — Terre Jones's photography offers a visual tour of America's treasured landscapes while pianist Kim Pensinger Whitman and a trio of Wolf Trap Opera Company Alumni offer musical accompaniment (2/17/12)
The Amazing Kreskin — Worold-famous illusionist stuns crowds with predictions and sixth sense (3/9/12)
The Second City — more Chicago-derived, audience-prompted improv and satire (3/22-3/23/12)
25th Annual Evening of Comedy — A night of standup (5/4-5/5/12)
BLACK CAT
1811 14th St. NW
202-667-4490
blackcatdc.com
Friday Night Frights — Two episodes of Tales from the Crypt and drink specials every Friday, for free!
Hellmouth Happy Hour — One episode of Buffy the Vampire Slayer and drink specials every Saturday, for free!
Drink and a Movie: Use the Schwartz — A Mel Brooks double feature and a drink special (9/19) '
THE BIRCHMERE
3701 Mount Vernon Ave.
Alexandria
703-549-7500
birchmere.com
Paula Poundstone — Longtime standup comic, self-proclaimed "virginish" and "asexual," is these days usually the funniest person on NPR's amusing weekend news quiz show Wait Wait Don't Tell Me! (10/15)
Kate Clinton — Lesbian comic offers a night of standup, which she's calling "The Glee Party" (11/19)
A John Waters Christmas — The gay filmmaker returns for his annual show (12/18)'
DAR CONSTITUTION HALL
1776 D St. NW
202-628-4780
dar.org/conthall
Shaquille O'Neal presents All Star Comedy Jam (10/1)
Chris Tucker — Detective James Carter from the Rush Hour trilogy offers stand-up (10/7)
Martha Stewart — The Smithsonian presents this discussion of the legendary homemaker-entrepreneur on her influences and inspirations (11/17)
DAVIS PERFORMING ARTS CENTER
Georgetown University
3700 O St. NW
202-687-ARTS
performingarts.georgetown.edu
Future of Music Policy Summit 2011 — For 10 years, this summit, co-hosted by Georgetown University's Department of Performing Arts, has brought together an array of musicians, arts advocates, policymakers, technologists, media representatives and industry figures to discuss the most pressing issues at the intersection of music, technology, policy and law (10/3-4)
The Georgetown Improv Association — A monthly night of improv inspired by audience suggestions and showcasing the performers' (hopefully) quick wit (10/15, 11/4, 12/3, 1/21/12, 3/24/12, 4/21/12)
DiverseABILITY Forum and Visible Impact — DiverseABILITY is a weekend of workshops and discussions with guest artists, scholars and policymakers, cabaret/dance and solo performances and forums on access and advocacy for the deaf and disabled communities; the centerpiece of the forum is Visible Impact, an ensemble-created production that weaves monologue and memoir, scene-work and Shakespeare, poetry and movement (10/20-23)
ImprovFest — The Georgetown Improv Association and visiting collegiate and professional guest troupes offer two nights of improv (2/10-2/12/12)
DC IMPROV
1140 Connecticut Ave. NW
202-296-7008
dcimprov.com
Anthony Jeselnik (9/15-18)
The DC Improv Comedy School Cast (9/21, 10/7)
Steve Byrne (9/22-25)
Loni Love — The funniest guest on Chelsea Lately returns for a weekend of standup (9/29-10/2)
DC Improv Audition Showcase — Ten local comedians showcase the for the bookers of the club (10/6)
Bobby Lee — The unforgettable MAD TV comic (10/7-9)
Guy Torry (10/13-16)
Dave Attell (10/20-23)
Children's National Halloween Benefit Comedy Show — A night of improv to benefit Children's Hospital (10/26)
Shawn & Marlon Wayans (10/27-30)
Carlos Mencia (11/1)
Jim Breuer 11/4-6)
Flip Orley — America's premiere comic hypnotist (11/9-13)
Bob Marley (11/16-20)
Sugar Sammy (11/25-27)
Steve-O — The Jack-Ass prankster stops in town on his "entirely too much information tour" (12/1-4)
Alonzo Bodden (12/8-11)
Christian Finnegan (12/14-18)
Erin Jackson (12/21-23)
Ralph Harris (12/28-30)
New Year's Eve Celebration — Featuring Ralph Harris from Last Comic Standing (12/31)
Kevin Nealon — The former Saturday Night Live regular (1/5-1/8/12)
Sheryl Underwood (1/13-14/12)
John Pinette (1/19-1/22/12)
Huggy Lowdown and Chris Paul — From the Tom Joyner Morning Show on Magic 102.3 (1/26-1/29/12)
Bert Kreischer (2/1-2/4/12)
Jim Jefferies (2/9-2/12/12)
Norm MacDonald (2/16-2/19/12)
Donnell Rawlings (2/23-2/26/12)
FILLMORE SILVER SPRING
8656 Colesville Road
Silver Spring, Md.
301-960-9999
fillmoresilverspring.com
Lewis Black — Hilariously cranky comic returns for a hometown show and the first to christen the Fillmore Silver Spring for comedy (10/23)
Adam Carolla — The funnyman radio host is a real Crank Yanker (11/4)
FOLGER SHAKESPEARE LIBRARY
201 East Capitol St. SE
202-544-7077
folger.edu
Elizabethan Garden Tours — Docents offer tours of the Folger garden, inspired by herbal references in Shakespeare's plays and also incorporating plants popular in his time, plus a knot garden and Shakespearean statues by American sculptor Greg Wyatt (9/19, 10/17)
PEN/Faulkner Gala: "The Writing on the Wall" — David Remnick, Karen Russell, Andrew Sullivan, James McBride, Kyoto Mori and other luminaries read original pieces focused on the theme of "The Writing on the Wall (9/26)
KJV in the USA: The King's Bible in a Country without a King — Jill Lepore, a New Yorker contributing writer, discusses the influence of the King James Version of the Bible in the United States (9/29)
Directing Othello: A Discussion with Robert Richmond — The director of Folger Theatre's upcoming production of Shakespeare's Othello discusses his behind-the-scenes preparations (10/17)
FORD'S THEATRE
511 10th St. NW
202-347-4833
fordstheatre.org
History on Foot Walking Tours — Actors playing characters from Civil War-era Washington lead two weekend morning tours through downtown D.C.: A Free Black Woman: Elizabeth Keckly focuses on a confidante to First Lady Mary Todd Lincoln, while Investigation: Detective McDevitt follows a detective investigating the Lincoln assassination (Both run Saturdays through October)
E Pluribus Unum: Seeking Unity, Respecting Diversity — MSNBC's Chris Matthews moderates a panel discussion with current members of Congress examining American diversity, as part of Ford's' Lincoln Legacy Project (10/3)
Jews and Race Relations in the South — Playwright Alfred Uhry, writer of Parade, of which Ford's will produce this season, discusses growing up in a racially and socially tense South with Jewish historian and author Eli Evans, moderated by Pulitzer Prize-winning journalist Cynthia Tucker as part of the Lincoln Legacy Project (10/10)
Fanning or Diffusing the Flames: How the Media Influences the National Dialogue about Difference — The Washington Post's Eugene Robinson will be on a panel examining the media's power in shaping the national conversation regarding diversity as part of the Lincoln Legacy Project (10/17)
HILLWOOD MUSEUM & GARDENS
4155 Linnean Ave. NW
202-686-5807
hillwoodmuseum.org
Fall Garden Tours — Docent-led tours of the elaborate gardens most days of the week (Now-11/13)
Gay Day — Activities at the 10th annual Gay Day at Hillwood include an LGBT family garden party with Rainbow Families, "Punch on the Portico," exclusive peeks into rooms not usually open to the public, vintage cars from Straight Eights and square dancing from DC Lambda Squares (9/17)
Nuit de la Mode (Night of Style) & Art All Night — Hillwood teams up with Alliance Française de Washington and Art Soirée for an evening of fashion, culture and art, including an outdoor fashion show , a Franco-Russian-American soirée outdoors with a DJ and tours of Hillwood's collection of French and Russian art (9/24)
Japanese Tea Ceremonies — Chado Urasenke DC Association offers two authentic tea ceremonies complete with tea and traditional treats (10/16)
Family Fun Sunday: Halloween Fun — Hillwood hosts a party to decorate miniature pumpkins with hats, wigs and other creative trimmings (10/30)
Late Fall/Winter Garden Tours — Docent-led tours of the elaborate gardens most days of the week, weather permitting (11/15-12/31)
KIDS EURO FESTIVAL
Various Locations
kidseurofestival.org
With more than 220 free events, this festival, presented with 27 European embassies, is one of the area's biggest family events of the year, and designed for children aged two to 12. This year's fourth annual event offers puppetry, dance, music, film, theater, storytelling and more (10/14-11/10)
LISNER AUDITORIUM AT GWU
730 21st St. NW
202-994-6800
lisner.org
Kojo Nnamdi and the Splendid Table — The sharp WAMU 88.5 talk show host engages in a conversation with Lynn Rossetto Kasper and Sally Swift, the host and producer respectively of NPR's The Splendid Table food program; good times (9/23)
Arabs Gone Wild — Live Nation presents a "Comedy Revolution Tour" with Middle Eastern comics Dean Obeidallah, Aron Kader and Maysoon Zayid (9/24)
Caroline Kennedy & Michael Beschloss — A panel discussion on the John F. Kennedy legacy, in light of recently published tapes and transcripts of former First Lady Jacqueline Kennedy talking to Arthur Schlesinger, Jr. (9/26)
Ferran Adrià with José Andrés: In Conversation — D.C.'s most internationally celebrated chef José Andrés sits down with his mentor, perhaps this generation's most celebrated chef in the world, late of Spain's El Bulli restaurant (9/29)
David Sedaris — Humorist and essayist makes what's become an annual stop at Lisner, to answer questions and discuss his writings, including last year's work of fiction, Squirrel Seeks Chipmunk: A Modest Bestiary, a collection of fables (10/17)
Mystery Science Theater 3000's Cinematic Titanic — Creator Joel Hodgson and original cast of the television show return for more movie riffing, this time focused on the 1976 horror film Rattlers, in which a herpetologist teams up with a war photographer to uncover the mystery behind a spate of killer rattlesnake attacks (10/27)
NATIONAL BOOK FESTIVAL
National Mall
3rd and 7th Streets NW
loc.gov/bookfest
President Barack Obama and First Lady Michelle Obama are honorary chairs once again for the National Book Festival, now in its 11th year and expanding to two days. The Library of Congress organizes the event featuring the nation's best and best-selling authors discussing their work and interacting with fans. Those on the lineup this year include: Michael Cunningham, Rita Dove, Dave Eggers, Jonathan Yardley, Hoda Kotb, Sarah Vowell, Russell Banks, Louis Bayard, Toni Morrison, David McCullough, Eugene Robinson and Julianne Moore (as a children's book author, not as a mesmerizing actor) (9/24-25)
NATIONAL GEOGRAPHIC LIVE!
Grosvenor Auditorium
NGS Headquarters
1600 M St. NW
202-857-7700
nglive.org
All Roads Film Festival — Showcasing indigenous- and minority-culture film, photography and music, including a Global Groove Dance Party on Saturday, Sept. 17, with local DJs Dave Nada and DJ Underdog, internationally known for Moombahton (through 9/18)
Music on…Photography Series: Henry Rollins — D.C. native and LGBT ally punk rocker and spoken word artist presents his full-color photographs, published in Occupants (10/7)
Pattie Boyd — Former wife of George Harrison and Eric Clapton, Boyd documented the musical events of her life in photographs (10/12)
Young Explorer's Salon — Recipients of National Geographic's 2011 Young Explorers grants including Emily Ainsworth, Shannon Switzer and Neil Losin; they'll discuss their adventures with National Geographic Magazine's Hannah Bloch (10/14)
The Big Idea: The Power of Choice — Nobel Laureate in Economics Studies Daniel McFadden joins in a discussion with National Geographic Explorer-In-Residence Jared Diamond about how people make choices and sort themselves into groups, and the repercussions of such actions (10/26)
The Big Idea: Who Lives? Who Dies? — Nobel Laureate Martin Chalfie and National Geographic's emerging explorer Beth Shapiro discuss genomes and evolution (11/11)
An Irish Christmas in America — Now in its sixth year, this party offers traditional Irish music, dance and storytelling (12/10)
The Big Idea: Exploring the Edge of Existence — Nobel Laureate John Mather and National Geographic Explorer-In-Residence discuss how technology is expanding the limits and unlocking mysteries of the known universe (12/14)
PATRIOT CENTER
George Mason University
4500 Patriot Circle
Fairfax
703-993-3000
patriotcenter.com
So You Think You Can Dance Tour 2011 — Finalists from Season 8 perform memorable routines from the hit Fox TV show live (9/24)
Yo Gabba Gabba! Live! It's Time to Dance! — Rapper Biz Markie joins characters from the Nick Jr. children's television series (9/30)
Wanda Sykes — The lesbian comic returns for a night of standup (10/15)
Disney On Ice presents Dare to Dream (9/19-23)
Jeff Dunham — Standup comic and ventriloquist presents a night of "Controlled Chaos" (11/5)
Sesame Street Live: Elmo Makes Music — Elmo, Abby Cadabby, Big Bird and their Sesame Street friends share their love of music (12/15-18)
Disney Live: Phineas & Ferb — An interactive stage show of stories and music featuring Disney Channel characters (2/26/12)
RAM'S HEAD ON STAGE
33 West St.
Annapolis, Md.
410-268-4545
ramsheadonstage.com
Brad Garrett — Best known as Robert Barone from Everybody Loves Raymond, Garrett takes a break from running his own Las Vegas comedy club for an evening of stand up at Ram's Head On Stage (10/20)
Women Fully Clothed — A sketch comedy show featuring four of Canada's most famous female comedians (11/9) ^ Thunder From Down Under — A popular male revue featuring blokes who "love to perform and interact with the ladies" (11/25)
Paula Poundstone (12/10)
RED PALACE
1212 H St. NE
202-399-3201
redpalacedc.com
The Rockabilly and Burlesque Revelry Returns — Rockabilly-based bands perform as local burlesque artists perform (9/15)
DCVariety Social Aide Society — A benefit party for uninsured variety artists, those in the sideshow, burlesque, magic, circus and vaudeville realms (9/16)
The Skullduggery & Skin Show — "The best twisted magic, scintillating sideshow and luscious burlesque" (9/17)
New Belgium Brewing's 'Clutch Dark Sour Ale' Release Party — Cheers to new beer, from a Maryland brewery (9/18)
Tilted Torch: Kaleidoscope Kabaret — From hoop dancing to geometry games to belly dancing to burlesque, the evening will be tilted, indeed (9/24)
Twisted Knickers — Grab bag burlesque (9/28)
RIOT ACT COMEDY THEATER
801 E St. NW
202-697-4900
riotactcomedy.com
Allah Made Me Funny — Muslims aren't scary, they're funny, or at least Mohammed Amer, Azhar Usman and Preacher Moss are (9/14-17)
Paul Mooney — A comedic legend, most recently known for his work on Chappelle's Show; Remember Negrodamus? (9/21-25)
Jim Florentine and Don Jamieson — Hosts of VH-1's That Metal Show (9/29-10/1)
Nick DiPaolo (10/6-8)
Dick Gregory — A special event honoring Gregory's 80th birthday (10/9)
Get Rich Cheating with Jeff Kreisler (10/12)
Tony Woods (10/20-22)
Otto and George (10/27-29)
Will Durst (11/3-6)
Jason Stuart — The gay comedic actor stops for a run of standup, as part of Riot Act's monthly Gay-larious! series (11/17-20)
Alycia Cooper — D.C. native and first female comic to perform on The Mo'Nique Show (11/25-26)
Tammy Pescatelli (12/1-4)
Jeff Caldwell (12/8-11)
Josh Blue — From NBC's Last Comic Standing and the national U.S. Paralympic Soccer team (1/19-1/21/12)
Judy Gold — Gold headlines the February Gay-larious! series (2/16-2/18/12)
SIXTH & I HISTORIC SYNAGOGUE
600 I St. NW
202-408-3100
sixthandi.org
Admiral Mike Mullen w/David Brooks — Outgoing Chairman of the Joint Chiefs of Staff sits down with the New York Times columnist to discuss war and peace, as part of an Yitzhak Rabin Memorial Lecture (9/20)
Deepak Chopra and Leonard Mlodinow — An interview-style program with the co-authors of War of the Worldviews: Science vs. Spirituality, in which religion and science duke it out, or at least the relevance of both is weighed (10/6)
Michael Ian Black — The standup and sketch comedy guy is touring in light of a recent Comedy Central special "Very Famous" and in advance of a book due next year that he's writing in collaboration with Meghan McCain; no, that's not a joke (12/1)
STRATHMORE
5301 Tuckerman Lane
North Bethesda
301-581-5100
strathmore.org
NEA Heritage Awards — Recipients of the National Endowment for the Arts National Heritage Fellowships, the country's highest honor in the folk and traditional arts field, are toasted alongside displays and demonstrations of crafts and accompanied by folk and traditional music (9/23) ^ Michael Pollan — The best-selling author of In Defense of Food: An Omnivore's Solution shares his common-sense advice and insight about food consumption and the food industry (10/26)
Gig Posters by Rich: One-Year Anniversary — Rich Bernett has designed gig posters for bands for free; Strathmore invites some of these bands, including Bellflur and Mittenfields, to perform as attendees view Bernett's work (10/28)
Museum Shop Around — Nineteen of the area's best museum gift shops set up shop at Strathmore for this annual benefit, a treasure for holiday gift ideas (11/10-13)
Masters of Illusion Live — Experts from the popular television show offer a magic show live and in real time, with exotic animals, dancers, escapologists, comedy, quick-change artists and sleight of hand (11/19-20)
The Political Significance of Jazz Diplomacy — Dr. Sais Kamalidiin of the Howard University Music Department explores the ways jazz and its important artists have been deployed to change the global perception of America and its governmental policies (11/21)
All I Did Was Ask: An Evening with NPR's Terry Gross — Possibly the best interviewer in the business, the host of NPR's Fresh Air shares her most fascinating conversations (2/3/12)
THE STATE THEATRE
220 North Washington St.
Falls Church, Va.
703-237-0300
thestatetheatre.com
Divafit Pole Showcase — A pole dancing showcase hosted by Hot 99.5's Sarah Fraser, intended to give you "whole new respect for the art of pole dance fitness" (9/18)
$5 Comedy Night — A cheap night of standup (10/8)
Los Straitjackets Rock 'n' Burlesque Spectacular — The instrumental guitar band Los Straitjackets perform dressed in Lucha Libra Mexican wrestling masks, and join forces with the burlesque troupe the World Famous Pontani Sisters & Friends (10/30)
VERIZON CENTER
601 F St. NW
202-628-3200
verizoncenter.com
53rd Annual Washington International Horse Show (10/25-30)
Cirque du Soleil — The Quebecois circus comes back to town to present its 15-year-old show Quidam, focused on a the surrealistic daydreams of a young, jaded girl (11/16-20)
WWE RAW World Tour — KMART presents this staged wrestling spectacle featuring hunky actor Jon Cena and a bunch of others whose names are foreign to us. CM Punk? The Miz? The Divas? Oh wait, that sounds promising, as long as they sing while they grapple (12/29)
WARNER THEATRE
513 13th St. NW
202-783-4000
warnertheatre.com
Angela Barrow-Dunlap's Why Do Good Girls Like Bad Boyz (9/21-25)
Joe Rogan — A martial artist, activist and commentator for the Ultimate Fighting Championship, Rogan, best known as a host of NBC's old Fear Factor show, presents a night of standup (9/30)
Weird Al Yankovic — Is it a sign of the apocalypse that Yankovic is still around? Well, if nothing else it's time for the ALpocalypse Tour (10/19)
Thich Nhat Hanh — Vietnamese Buddhist monk and peace activist (10/28)
John Oliver — A comedian popular for his appearances on The Daily Show, seemingly more because of his British quirkiness than comedic skill (10/29)
Tyler Perry's The Haves and the Have Not — Another show of yuk-yuks from the commercial juggernaut that is Tyler Perry (11/1-6)