As America prepares to mark the 10th anniversary of the Sept. 11, 2001, attacks, emotions may run high. Many in the D.C. area have memories far more vivid than the horrific scenes of the day that played out on television. That's certainly true for Philip B. Terry-Smith.
From his former post directing PreventionWorks! needle exchange program to his high-profile membership in the local leather community – he is married to Justin Terry-Smith, Mr. Maryland Leather 2010 – Philip B. Terry-Smith is a familiar face to many in the area's LGBT community. But fewer know the role he played in the weeks following the 9/11 attacks, turning his background in mental health and human behavior – a master's degree in human services, a Ph.D. in social systems – as well as Army experience and years as a Red Cross volunteer, into frontline support.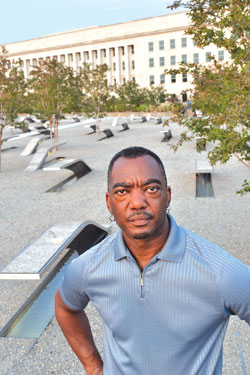 Philip B. Terry-Smith
(Photo by Todd Franson)
"It was quiet, actually," he says, remembering Sept. 10. Terry-Smith – still just Terry at the time – was living in bucolic Burtonsville, Md., where he and his then-partner managed a spiritual retreat center. With one other couple, and a friend visiting from New York City, it was just a peaceful slice of countryside in the late summer.
That all changed, of course, the next day. Terry-Smith began his morning routine as usual, including the morning news, which was already reporting that a plane had struck the World Trade Center's North Tower.
"We were watching live when the second plane hit," he says, recalling the "wrenching feeling" of seeing the attack live.
The horror unfolding on the television instantly flipped a switch inside Terry-Smith.
"By training and by discipline, my response was to go downstairs and pull out my emergency gear, my Red Cross gear. My helmet, the emergency vest. The various manuals, the protocols, those sorts of things. Once I did that, I immediately called a local Red Cross office and identified myself to them and asked how I could be of assistance."
That was the first step into a journey that would last nearly two months.
The Montgomery County chapter advised him there was already a blood drive planned for Sept. 12. After checking in at work, Terry-Smith returned home to prepare for the worst, inspecting their generators and stocking provisions – all the things his disaster-preparedness training had taught him.
"The next morning, at 6 o'clock or so, I headed down to the Red Cross office in Silver Spring." Terry-Smith intended to help at the blood drive, which attracted so many in the area trying to do what they could, whether that was give blood, make a donation or ask to volunteer. "They had guessed it would be swamped, and it was, from the county executive on down. There was a tremendous outpouring of generosity. It was overwhelming."
As Sept. 12 neared becoming the 13th, however, Terry-Smith found himself far removed from expressions of community outpouring. He was to begin his first midnight shift as a mental-health supervisor at the Pentagon.
"There was a shitload of anxiety, more so than with a natural disaster. There was almost paranoia, certainly overreaction. No one really knew how large this thing was, or how large it could be. The unimaginable had happened."
Yet Terry-Smith still had a job to do. And though he grants the scene may have looked chaotic, he says there was an orderliness that he and the others trained to respond to disasters recognized, building a tent city with the Salvation Army and other support groups, dubbed Camp Unity, to support the first responders; establishing chains of command; and doing the work that needed to be done, which included looking for signs of stress. Working near the mortuary tent as youthful servicemembers transported remains, Terry-Smith certainly saw his share.
"That first morning home, when I should've been sleeping … I cried like a baby for good solid hour. It was just an overwhelming amount of emotion."
Terry-Smith stayed on the midnight shift through Sept. 16, when his volunteer work turned to offering mental-health support in a slightly broader area, such as speaking to American Airlines employees and to Department of Defense personnel working out of Crystal City offices.
"This one group of folks, two of them were on the phone at the time talking to colleagues who perished when the plane hit. Their offices faced the Pentagon, faced their colleagues' offices. They could see the plane going in while they were on the phone speaking with colleagues who perished when the plane hit the Pentagon. That was a heavy one."
This Red Cross work continued, and in early October Terry-Smith was asked to take his skills to Ground Zero in New York City. He spent roughly a month there, essentially the second in command for mental health. And he paid a price, including a trip to the emergency room on Thanksgiving 2001, where he was diagnosed with asthma.
"I know it's had a significant impact on my life."
Aside from serious respiratory issues, there is also the Post Traumatic Stress Disorder. Certain memories prick at this hero's conscience.
"I remember the dust everywhere," he says of Manhattan. "I remember the two parking garages that had vehicles covered in dust, a month later, that hadn't moved, so I knew they were vehicles of folks that had perished in the building."
What Terry-Smith doesn't have are regrets.
"There is this kind of bittersweet resolve for having been there, for having gone through the experiences. It really did shift the focus of my life. When people are suffering, someone's got to jump in and help. I'm happy to have been one to have done that."