In a recent fundraising letter from the Falls Church-based Public Advocate of the United States, which bills itself as an organization that "lobbies to fight the radical agenda of the Homosexual Lobby," the group's president, Eugene Delgaudio, begins by detailing an attack against him at the group's Leesburg Pike office.
"I've been putting off sending you this message for a while because I didn't want to worry you.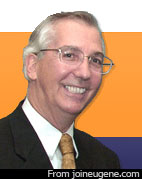 Eugene Delgaudio
"But late one night while sorting through pro-family petitions from supporters like you a thug crept in through a door, threw a blanket over my head and pummeled me with a rock."
The letter continues, explaining that a Public Advocate volunteer scared off the assailant, but also listing other incidents, including an apparent attempt on Delgaudio's life, which he tells Metro Weekly was the first in a series, occurring in 1993. As for the attack Delgaudio mentions at the start of this new letter, he declines to name a date.
"You act as if I said this happened last night; I didn't say that," says Delgaudio, characterizing the letter as a broad sort of report of his work with Public Advocate, founded in 1981. Asked about further circumstances of the office attack, Delgaudio answers, "I will stick to what I'm saying. This email is a series of threats and attempts. … I stand behind everything in there."
Officer Tawny Wright of the Fairfax County Police Public Information Office says that while her office cannot release information regarding reports filed by victims of crimes for obvious reasons, the office may make public information about complaints tied to locations. As far as the Public Advocate's office address, Tawny says she has no recent report fitting the one described at the beginning of Delgaudio's recent letter. The most current complaint she has is a report of a phoned threat to burn down the office. That report was filed in April 2010 and the case closed in August 2010 with police unable to identify a suspect, Tawny says.
Lori Stevens, vice president of the metropolitan D.C. chapter of Parents, Families and Friends of Lesbians and Gays, aka Metro DC PFLAG, lives in Loudon County, where she recently launched the PFLAG-affiliated Loudon Out Loud group. As a Loudon LGBT ally, she's familiar with Delgaudio, who serves as a county supervisor. And while she has reservations about speaking publicly of Delgaudio for fear of raising his media profile to any degree, she is willing to say she doesn't put too much stock in Delgaudio's latest Public Advocate fundraising.
"I don't take it seriously," she says, characterizing his claims about the LGBT community as "hurtful and damaging."
She adds: "I would say that the majority of the people in my community, advocates for LGBTQ residents in Loudon, they don't take him very seriously."