"That's a dream come true," retired Air Force Maj. Margaret Witt said, watching servicemembers celebrating the repeal of "Don't Ask, Don't Tell" on Tuesday, Sept. 20, in uniform.
"I mean, I can't even imagine," said the woman who fought – and won – her reinstatement to the military in 2010 after having been discharged under DADT three years earlier. "I've seen people changing their Facebook pictures today to wearing their uniforms and standing there with their partners."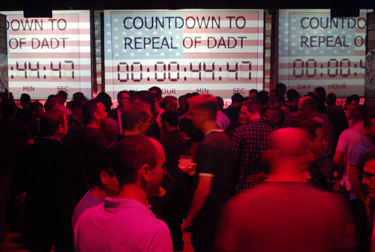 The Servicemembers United event celebrating the repeal of "Don't Ask, Don't Tell."
(Photo by Ward Morrison)
The White House took to Twitter as the day began on Sept. 20 to announce, "As of 12:01 am, the repeal of the discriminatory law known as 'Don't Ask, Don't Tell' finally & formally takes effect."
In the District, celebrations had begun the night before, with Servicemembers United hosting a countdown party on Monday night, Sept. 19, to mark the 1993 law's end. Held at Town Danceboutique, the night began like any other. A Kylie Minogue song blared from the speakers, but no one was dancing – yet. Many men and women, young and old, milled around or sat on couches lining the walls, ordering drinks, chatting with friends, toasting each other.
On the screens behind the bar appeared a picture of the American flag with a clock counting down the hours, minutes and seconds until the repeal of the military's policy banning lesbian, gay and bisexual servicemembers from serving openly.
After a brief announcement by Alex Nicholson and Jarrod Chlapowski of Servicemembers United, the countdown began. As the seconds ticked down to midnight, the crowd was on its feet, chanting.
"5 … 4 … 3 … 2 … 1!"
Then the crowd shouted with joy. On the video screen, the words flashed over and over: "DADT IS HISTORY."
The DJ started up the music and the beat of Lady Gaga's "Edge of Glory" filled the club.
Tuesday evening, Sept. 20, the parties continued, with Witt and others attending the Servicemembers Legal Defense Network repeal celebration at K Street Lounge and the Log Cabin Republicans holding their 2011 Spirit of Lincoln Awards Dinner – where they recognized Sens. Susan Collins (R-Maine) and Scott Brown (R-Mass.) for their roles in helping to bring about repeal.
In between the parties, the capital city slept.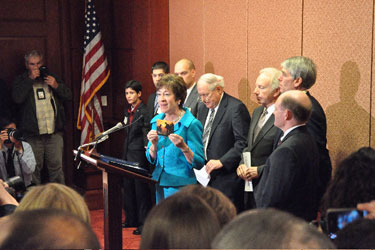 Sen. Susan Collins (R-Maine) shares a postcard she received from a servicemember at a Capitol Hill news conference.
(Photo by Todd Franson)
The Pentagon, however, was at work ensuring everything was in order to usher in the repeal of the DADT law. Asked about the changes being implemented along with the Sept. 20 repeal of DADT, Defense Department General Counsel Jeh Johnson answered in response to a question from Metro Weekly, "When you look at the [Department of Defense] level and the service level revisions to regulations, there were over 90 separate regulations that were revised in some way. Much of it was removing the vestiges of the 'Don't Ask, Don't Tell' policy from our books and revising it in certain ways.
"There were a lot of addition memoranda that reflect additional new guidance out there," Johnson said, specifically mentioning a memorandum issued at 12:01 a.m., Sept. 20, by Undersecretary of Defense for Personnel and Readiness Clifford Stanley.
In the memo, Stanley writes that DADT "is repealed and no longer in effect in the Department of Defense."
"Sexual orientation may not be a factor in accession, promotion, separation, or other personnel decision-making," he wrote. Later, more specifically, the memorandum notes, "Gay and lesbian Service members, like all Service members, shall be evaluated only on individual merit, fitness, and capability."
At a Capitol Hill news conference on the afternoon of Sept. 20, Sen. Joseph Lieberman (I-Conn.) led off the event, saying, "We wouldn't be here today to celebrate this victory for America if it hadn't been for the extraordinary support organized by the LGBT community across America. Citizens, basically, organizing and coming out and telling members of the Senate this is what they wanted."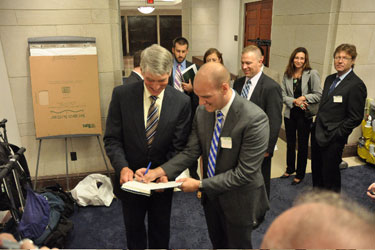 Josh Seefried, an officer in the Air Force and co-founder of OutServe, signs a copy of his book, Our Time, for Sen. Mark Udall (D-Colo.).
(Photo by Todd Franson)
As repeal was celebrated in the District and across the globe, Air Force Staff Sergeants Ashley Carothers and John Tegeler were going to work. Stationed in Germany, both are members of OutServe and both served under DADT for the past several years.
Having been in the Air Force since 2004, Tegeler told Metro Weekly he "never thought [he] would be having this conversation" about the end of DADT. In fact, he didn't really even tell himself he was gay until he already was serving. But, now, he's co-leading OutServe Germany, which he says has nearly 300 active-duty members who identify as gay, lesbian or bisexual.
One of those members is Carothers, who has been in the military for more than six years. She spoke with Metro Weekly from Germany as she started her first day in the armed forces without DADT.
"Honestly, back then, I didn't see [DADT repeal] coming. It was just too far out there," she said. "Up until two years ago, there was really no sign of light. It was more thinking, 'My whole career is going to be in hiding.'"
But then President Barack Obama said repealing the law was the "right thing to do" in his 2010 State of the Union address. Adm. Mike Mullen, the chairman of the Joint Chiefs of Staff, told the Senate Armed Services Committee that he believed the issue "comes down to integrity – theirs as individuals and ours as an institution." And, after months of wrangling and several failed Senate votes, the Don't Ask, Don't Tell Repeal Act was passed and signed into law before the end of the year.
Following the July 22 certification required under the repeal act, the law – 10 U.S.C. 654 – is now wiped from the books.
As Minority Leader Nancy Pelosi (D-Calif.), who was the speaker of the House when repeal passed, puts it, "I knew it was inevitable. Some people thought it was inconceivable. But we just had to shorten the distance between inevitable and inconceivable.
"But, I promised in May, in my district in San Francisco," she told Metro Weekly at the SLDN event Sept. 20. "I said, 'It'll be gone by December.' So, we just had to do it."
In a statement issued on Sept. 20, Obama said, "As of today, patriotic Americans in uniform will no longer have to lie about who they are in order to serve the country they love. As of today, our armed forces will no longer lose the extraordinary skills and combat experience of so many gay and lesbian service members. And today, as Commander in Chief, I want those who were discharged under this law to know that your country deeply values your service."
To that end, Tegeler noted from Germany, "Gays and lesbians have been serving for years in the military." The difference with repeal, he said, is: "Now we will not have to fear reprisal from leadership."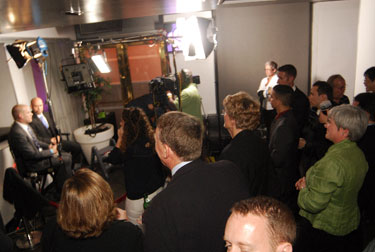 Josh Seefried and Lt. Col. Victor Fehrenbach (Ret.) appear on The Rachel Maddow Show as attendees at the Servicemembers Legal Defense Network event celebrating the repeal of "Don't Ask, Don't Tell."
(Photo by Todd Franson)
"Whether they knew it or not, there are so many of us," Carothers said, noting that more than 70 members of OutServe attended Cologne Pride this summer. She believes most servicemembers will adapt to a post-DADT military with ease, but says that even for those who have a problem with it, "The military has been very strict about the DADT [repeal] trainings … so I think, especially here in Europe for the Air Force, the leadership has been quite clear that they will not tolerate anybody discriminating against any gay members."
In a news conference held at the Pentagon Sept. 20, Defense Secretary Leon Panetta echoed that view, saying, "We have a zero tolerance with regards to harassment. And my hope is that the command structure operating with the – you know, the standard disciplines that are in place will implement those disciplines and will ensure that harassment doesn't take place and that all behavior is consistent with the discipline and the best interests of our military."
As repeal took effect, in a news release, SLDN Executive Director Aubrey Sarvis said, "Our work is far from done, but today we pay tribute to the service and sacrifice of our patriots as we look forward to a new era of military service – one that honors the contributions of all qualified Americans who have served or who wish to serve."
Among the questions that live on are those regarding military regulations that prohibit transgender service; the way discharged lesbian, gay and bisexual servicemembers who wish to return to the military will be treated; and spousal benefits, particularly the impact of the Defense of Marriage Act on any provision of those benefits.
At the Pentagon news conference, Mullen noted, reiterating his strong view in favor of ending DADT, "The heart of the issue for me is the integrity of the institution. It is a value for us. It serves us well. And in that regard, seeing this change is a huge step in the right direction."
But, as to the question of equal spousal benefits, Mullen was more circumspect, saying, "We follow the law here. And, you know, DOMA, that law restricts some of the issues that you talk about. And we're going to follow that law as long as it exists."
But retired Col. Margarethe Cammermeyer – who has been fighting for open military service since before the DADT policy was passed by Congress in 1993 – thinks that the military's view about DOMA, like views about DADT itself, will change.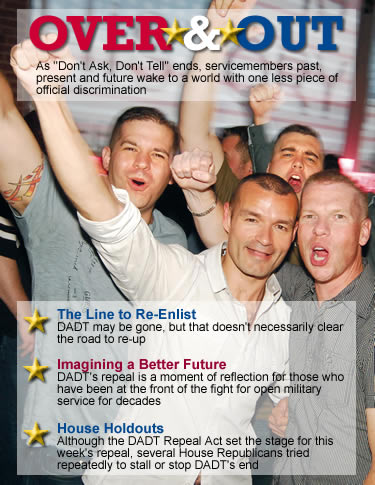 "In the military, commanders do not want their servicemembers treated differently. And if you have somebody that is married and injured and the Red Cross is involved or there is compensation that is due to families as the result of death or something like that, to not have those same benefits and supports for gay families is just inherently unfair. And they're going to react to that," said Cammermeyer.
"So, I think that we end up having sort of a ripple effect. The repeal of 'Don't Ask, Don't Tell' will further justify the repeal the Defense of Marriage Act."
Others, including Delaware's junior senator, Chris Coons (D), agreed, voicing his support for DOMA repeal in a tweet celebrating DADT's end. But for those fighting long and hard on other issues, like the Employment Non-Discrimination Act, the quick pivot to DOMA is concerning.
Jillian Weiss, a professor at Ramapo College in New Jersey, writes extensively about the bill to end workplace discrimination, and she responded to Coons, asking bluntly, "[Y]ou mean ENDA, right?"
Talking with Metro Weekly on Sept. 20, Coons explained further, saying, "ENDA is also a critical piece of the next step of moving forward to ensure equality for all. There's also a Student Non-Discrimination Act that relates to student bullying that is also, I think, an important piece of the constellation of legal efforts we need to make to ensure a more perfect union.
"I think today we should be celebrating that it does get better, that we've made real concrete progress. It is my very real hope that this concrete move towards equality in our armed forces will just be the beginning of increased movement towards equality for all across our whole society, whether that's achieved through SNDA, through ENDA, or through the Respect for Marriage Act being passed."
For servicemembers now, Carothers said Tuesday, "We're here. We can finally walk around with a smile on our face."
Of the smiles she's seeing on newly out Facebook profiles, Witt said, with a mix of pride and amazement in her voice, "Automatically, their pictures changed.
"So, that's a pretty amazing day."