Over the course of 2011, the Defense of Marriage Act has been front and center in several public debates, most notably when the Obama administration announced on Feb. 23 that it would no longer be defending Section 3 of the bill — the federal definition of "marriage" — in court challenges to the 1996 law.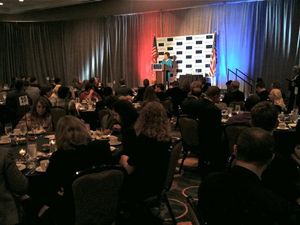 Despite this, when Metro Weekly spoke with Sen. Susan Collins (R-Maine) about her views on the repeal of DOMA, the senator celebrated by many LGBT advocates for her prominent role in ending "Don't Ask, Don't Tell" said she was unfamiliar with the federal impact of DOMA on same-sex couples and with the law aimed at repealing DOMA.
The Respect for Marriage Act (RMA), which would repeal DOMA and has been endorsed by the Obama administration, was introduced on March 16 by Rep. Jerrold Nadler (D-N.Y.) in the House and Sen. Dianne Feinstein (D-Calif.) in the Senate and currently has 125 House and 29 Senate co-sponsors.
When Metro Weekly spoke with Collins on Sept. 20, no Republican in either chamber of Congress had endorsed the bill. Since then, House Republican Rep. Ileana Ros-Lehtinen (Fla.) came out in support of the bill, signing on as a co-sponsor on Sept. 23.
Ros-Lehtinen and Collins were among the congressional leaders recognized by Log Cabin Republicans at its Sept. 20 Spirit of Lincoln dinner.
Of Ros-Lehtinen's support for the RMA, LCR executive director R. Clarke Cooper said in a statement, "Marriage is a fundamental right of all Americans. The so-called Defense of Marriage Act is an offense to the core conservative principles of liberty and federalism. It has been repudiated by its author, former Congressman Bob Barr (R-Ga.), and is rejected by a growing majority of Americans. It is time that our law respected all marriages."
But, speaking with Metro Weekly at LCR's Sept. 20 dinner, Collins had no view on the bill and claimed to be unaware of the impact of Section 3 of DOMA — which defines "marriage" and "spouse" in federal law as referring only to marriages between one man and one woman.
Asked about and given a brief description of the RMA, Collins said, "I was going to say, I'm not sure what the Respect for Marriage Act is." She then added that she would "have to look at that."
Collins then said that she hadn't "looked at" the federal limits on marriage recognition put in place by DOMA, stating that she was not aware of how Section 3 of DOMA impacts same-sex couples.
Collins's comments are particularly confusing given that she was the sole Republican Senate co-sponsor of the Domestic Partnership Benefits and Obligations Act in the 111th Congress, a bill to extend health insurance benefits to federal employees in same-sex relationships — legislation made necessary by Section 3 of DOMA.
Asked on Sept. 28 for follow-up information about Collins's position on DOMA and the RMA, Collins's office was unable to provide immediate comment and a spokesman did not respond to an email seeking comment.
[UPDATE @ 12:30A SEPT. 29: About 6 p.m. Sept. 28, Collins spokesman Kevin Kelley responded to Metro Weekly by email, writing, "Senator Collins has consistently opposed writing discrimination into the U.S. Constitution. DOMA was signed into law by President Clinton in 1996, before Senator Collins was elected to Congress. In 2004 and 2006, the Senate considered proposed amendments to the Constitution that would have defined marriage thus pre-empting state laws, and Senator Collins opposed them. As she told you, she will review the details of the Respect for Marriage Act."
Kelley's response was no different, substantively, than Collins's Sept. 20 comments to Metro Weekly, and Kelley has not yet responded to a follow-up question asking why Collins said on Sept. 20 that she was not aware of the federal implications of DOMA.]
The Victory Fund is slated to recognize Collins, as well as Rep. Keith Ellison (D-Minn.) at its 11th Gay & Lesbian Leadership Awards on Oct. 5.
[Photo: Sen. Susan Collins (R-Maine) addresses the Spirit of Lincoln dinner hosted by Log Cabin Republicans on Sept. 20. (Photo by Chris Geidner.)]
Read Metro Weekly's exclusive exchange with Collins below the jump.
* * *
METRO WEEKLY: What's your view on the Respect for Marriage Act? You've obviously been one of the Republicans who has been at the lead, but there are no Republicans on board with that bill to repeal DOMA yet.
SEN. SUSAN COLLINS: I was going to say, I'm not sure what the Respect for Marriage Act is.
MW: It's the bill to repeal the Defense of Marriage Act.
COLLINS: I'll have to look at that. In general, I have felt that marriage issues and domestic laws should be handled at the state level. That's why I voted against a federal constitutional amendment to define marriage because I think it should be left up to the individual states.
MW: With a state like Massachusetts or New York that has marriage —
COLLINS: I respect —
MW: — right now DOMA prohibits those marriages from being recognized by the federal government.
COLLINS: No, it respects — prohibits them from other states* —
MW: No, Section 3 of DOMA is the federal definition of "marriage" and "spouse" —
COLLINS: Uh-huh.
MW: So, it does define in all federal law —
COLLINS: I don't know. I have not looked at that. But I think —
MW: So, you're not aware of how DOMA Section 3 limits same-sex couples?
COLLINS: I'm not. I am not.
* = This is an apparent reference to Section 2 of DOMA, which purports to prevent states from having to recognize same-sex marriages legally performed in other states.