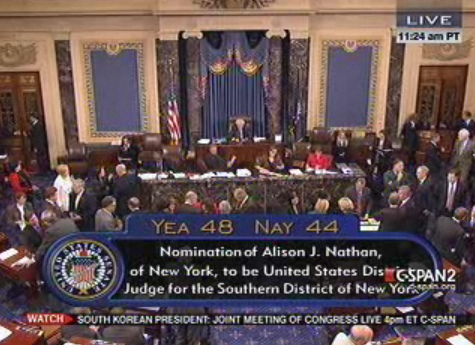 At 2:25 p.m. today, on a 48-44 vote, the U.S. Senate confirmed Alison Nathan's nomination to serve as a federal judge on the U.S. District Court for the Southern District of New York.
Nathan, an out lesbian, will be the second out lesbian federal judge with lifetime tenure in the country, joining U.S. District Court Judge Deborah Batts on the bench of the Southern District of New York.
White House spokesman Shin Inouye praised the Senate action, writing, "The President welcomes the confirmation of Alison Nathan. She will serve the American people well from the District Court bench."
Five members of the Democratic caucus did not vote for Nathan's nomination, and no Republicans voted for it. Less than three months ago, U.S. District Court Judge J. Paul Oeken, was confirmed with the support of 28 Republicans. Oetken also sits on the Southern District of New York bench and currently is the only out gay male judge serving in one of the lifetime tenure positions in the federal judiciary.
Four Democrats not voting today were Sens. Kay Hagan (D-N.C.), Tom Harkin (D-Iowa), Joe Manchin (D-W.V.) and Debbie Stabenow (D-Mich.). Sen. Joseph Lieberman (I-Conn.), who caucuses with the Democrats, also did not vote. The three Republicans not voting were Sens. Tom Coburn (R-Okla.), Richard Lugar (R-Ind.) and David Vitter (R-La.).
President Obama nominated Nathan, who had served as a White House associate counsel earlier in the administration, for the federal judgeship on March 31. Following a hearing on June 8, the Senate Judiciary Committee on July 14 favorably reported her nomination to the full Senate for a vote.
Nathan most recently served in the office of New York Attorney General Eric T. Schneiderman (D) as special counsel to Solicitor General Barbara Underwood, a position she held since 2010.
Following graduation from Cornell Law School, Nathan clerked, first for Judge Betty Fletcher of the U.S. Court of Appeals for the Ninth Circuit and then for former U.S. Supreme Court Justice John Paul Stevens.
Nathan lives in New York with her partner, Meg Satterthwaite, and their twin sons Oliver and Nathan.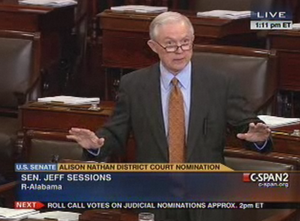 The primary senator to speak today against Nathan's nomination was Sen. Jeff Sessions, who criticized Nathan for more than 18 minutes. Among his primary concerns were that she could potentially be an "activist judge," was inexperienced and — as discribed at length — might be too willing to rely on foreign law.
Saying, "We didn't adopt the laws of China. … We didn't adopt laws in France or Italy or Brazil or Yugoslavia," Sessions said that reliance on federal court decisions was a sign that potential judges must operate "under the Constitution."
Of such foreign-law reliance, he said, "I think it is a dangerous philosophy." He then stated that by holding such views, people "fundamentally can disqualify themselves from the bench."
In summary, Sessions — whose own federal court nomination was rejected by the Senate Judiciary Committee in 1986 — said of Nathan, "Perhaps if she had more legal experience, she would have a better idea of the role of a judge."
Sen. Charles Schumer (D-N.Y.) spoke in defense of Nathan's nomination, calling Sessions's assessment of Nathan's views on reliance of foreign law "patently false." Discussing Sessions's criticism of Nathan's mixed review from the American Bar Association of "Majority Qualified, Minority Not Qualified," he noted that more than 30 nominees of President George W. Bush with the same rating were approved by the Senate.
Schumer then asked: "Are we gonna have a different standard for Ali Nathan than for other judges?"
Schumer concluded by noting that "all the law clerks she served with" — including those who had clerked for more conservative justices like Justice Antonin Scalia, Clarence Thomas, Anthony Kennedy and Sandra Day O'Connor — supported the nomination.
A little past 2 p.m., the vote started. At 2:25 p.m., Sen. Bernie Sanders (I-Vt.) was presiding over the chamber and announced the vote of 48-44 and stated that the nomination was confirmed.
Despite the vote count, Tobias Barrington Wolff, a professor at the University of Pennsylvania Law School who is a significant Obama supporter and has known Nathan for years as both a colleague and a friend, looked at the day with optimism.
"It reaffirms my faith in government to have a President who nominates an individual as extraordinary as Ali Nathan to the federal bench and a Senate that sees the wisdom in confirming her," he told Metro Weekly. "The fair and evenhanded administration of justice has received another champion today."
In a statement issued after the vote, Human Rights Campaign president Joe Solonese said, "We commend the Senate for their important vote today, confirming Alison Nathan to the U.S. District Court for the Southern District of New York. Ms. Nathan's demonstrated intellect and dedication to public service is a model of achievement."
He added, "She will join Judges Deborah Batts and Paul Oetken in the Southern District of New York as the only openly lesbian or gay federal judges. We look forward to the day when the makeup of the entire federal bench truly represents the diverse American public."
[This post was updated and edited through 3:45 p.m. – Ed.]