It's fitting that Duncan Macmillan's Lungs is about childbirth — as the inaugural production of the Studio Lab series, the newborn is a promising start for Studio Theatre's aim to develop original work within the company. Lungs tackles much more than babies, though — in 90 minutes, Macmillan packs in questions about the environment, civil unrest, population growth, infidelity, and the roles men and women must address for themselves in an ambivalent society. Yet this is no end-of-times, Sturm und Drang affair. Director Aaron Posner capably guides the London-based writer's whip-crack script from page to stage, building a comedy that flies back and forth across anger, depression, absurdity and — from time to time — tender affection.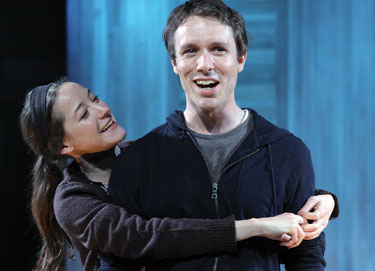 Lungs: Brooke Bloom and Ryan Kingby
(Photo by Carol Pratt)
Brooke Bloom and Ryan King fill out the cast as W and M, who the audience meets as they accidentally talk about having a baby in an Ikea checkout line. Except they don't really talk about it, not directly, anyway. Bloom's W, a Ph.D. student, manically overreacts to the notion, spouting off a spiraling number of ethical and emotional concerns that come with the decision. King's M, an aspiring musician, stands mouth agape, having broached the topic but unsure how to proceed. And suddenly, they're talking about it. They're thinking about wanting to try to have a baby.
Lungs uses this plot device terrifically. Scenes end and begin within an instant of one another. Some jump forward minutes, others years. Only rarely does the effect confuse or muddle — and to Bloom and King's credit, they handle the shifts brilliantly, subtly altering their characters as time passes without set or costume aid. (The Studio Lab's line is that of "stripped-down productions of new plays with affordable tickets," so Lungs is presented on a bare wooden stage with lights and nothing else.)
LUNGS





To Oct. 16
Studio Theatre
1501 14th St. NW
$20
202-332-3300
studiotheatre.org
At its heart, Lungs is a frank romance with a sharp eye for what terrifies and tickles us. M and W share conversations that seem pitch-perfect — and often uncannily familiar — to parents and childless alike. Studio Theatre has something special in Lungs — it got Studio Lab walking and talking on its own.