"Who would ever have expected, when I was nastily fired in 1957, that in 2009, the very government itself would apologize to me for what they had done. We really have moved ahead."
So Frank Kameny wrote to activist Michael Petrelis in an exchange Petrelis reported in 2009 about his effort, still unrealized, to get Kameny awarded the Presidential Medal of Freedom.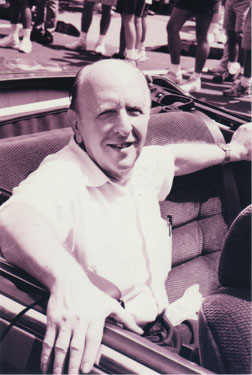 Frank Kameny
Kameny was a well-known quantity in the District, but as word of his death spread last week, it also was clear that Kameny is a fixture in the nation's history.
House Minority Leader Nancy Pelosi (D-Calif.) issued a statement following his death, saying, "Frank Kameny's life is the story of service to his country, to the cause of equality, to the fundamental American ideals of fairness and civil rights. He turned his personal story of discrimination into action, his encounter with prejudice into determination. Through his work, he became a revered figure in the national LGBT movement; through his achievements, America became a more equal, more compassionate nation."
Rep. Barney Frank (D-Mass.), the longest-serving out LGBT member of Congress, said in a statement, "The death of Frank Kameny is a very sad day for those who believe that all people in this country should be treated fairly. No one in our history had a longer record of commitment to and leadership of the fight for civil rights for all. When he was himself the victim of discrimination decades ago, unlike almost every other victim of the homophobia that then pervaded the country, Frank Kameny fought back. His courageous, creative assault on bigotry is one of the rocks on which the movement for LGBT rights is founded, and the successes we have had in recent times owe a great deal to him."
Of his ongoing work, Frank added: "All of us who are continuing the fight will remain indebted to him, inspired by him, and regretful that we will no longer have the benefit of his advice, his encouragement, and perhaps most importantly, his impatience."
U.S. Office of Personnel Management (OPM) director John Berry, an out gay man himself, was the person who gave Kameny that 52-year-delayed apology for his 1957 firing as an astronomer for the U.S. Army Map Service because he was gay.
In a letter dated June 24, 2009, Berry wrote of Kameny's dismissal solely based on his sexual orientation, "I am writing to advise you that this policy, which was at odds with the bedrock principles underlying the merit-based civil service, has been repudiated by the United States Government, due in large part to your determination and life's work, and to the thousands of Americans whose advocacy your words have inspired."
Following Kameny's death, Berry, in a statement posted on OPM's website, said, "He was known for being feisty and combative, but he was also big-hearted. He honored me personally by attending my swearing-in, and showed his ability to forgive by accepting my official apology on behalf of the government for the sad and discredited termination of his federal employment by the U.S. Civil Service Commission, the predecessor of the agency I now head."
Berry concluded: "I am grateful for his life, his service to his nation in WWII, and his passion and persistence in helping build a more perfect union."
Katherine Ott, a curator in the Division of Medicine and Science at the National Museum of American History, summed up what many others expressed following his death in a museum blog post on Oct. 12. "Frank Kameny, who died yesterday, was one of those Americans whom few people have heard of but who spent his time on the planet making the kind of good trouble that benefitted all of us," she wrote.
Some of that first "good trouble" was noted by Lambda Legal's executive director, Kevin Cathcart, in a statement noting, "When Frank Kameny first stood up for his rights in the late 1950s, he stood up for all of us, and the fight that he helped to ignite more than 50 years ago is still our fight today."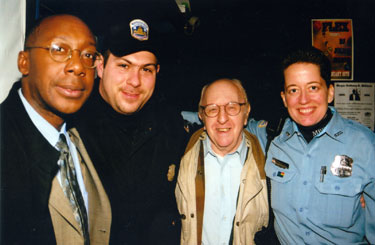 Frank Kameny (center right)
Referencing what Lambda states is believed to be the first civil rights claim in a U.S. court based on sexual orientation, Cathcart said, "There has been so much progress toward LGBT equality since then, it is sometimes hard to imagine the courage and vision it took to do what he did: He spoke up, organized, took to the streets and also took his challenge to the Supreme Court."
Rea Carey, the executive director of the National Gay and Lesbian Task Force, looked toward the future, saying in a statement, "As the history books are written on the LGBT movement, no doubt Frank's life will serve as an inspiration to those who will never have the honor of meeting him, but who embody the very future he knew would come true one day."
And, as Human Rights Campaign President Joe Solmonese said in an Oct. 11 release, there are Kameny's lessons for others.
"As we say goodbye to this trailblazer on National Coming Out Day," Solmonese said, "we remember the remarkable power we all have to change the world by living our lives like Frank — openly, honestly and authentically."
In that note to Petrelis — an ACT UP activist who still continues to push LGBT organizations for transparency and community input — Kameny's spirit, echoed and honored by so many across LGBT politics and the federal government, came forth loud and clear in his closing: "I keep hearing about you from time to time. Apparently you're still active and effective out there.
"Keep up the good work."