Sometimes, Anthony Dortch Jr.'s parents just don't understand.
"My parents look at my artwork," he says, "and sometimes go, 'Why? Why not just make some pretty flowers? Why does it have to have all these hidden messages?"'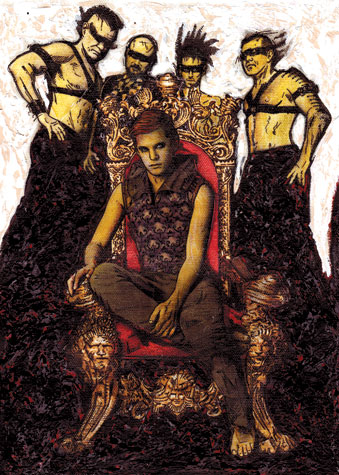 heir to the throne by Anthony Dortch
But Dortch's parents are "always the first people to see the shows that I have. They support me no matter what I put out there."
The Ohio native's career has been even further propelled by artistic friends.
For his new multimedia exhibit, "The Privileged Series," opening next week at Touchstone Gallery, Dortch worked to an unusual degree with other artists, including short-story writer Jackson Lassiter and photographers Stephanie Porter and Julie Sinser. The 33-year-old Ballston resident also worked with friends from his days at Georgia's Savannah College of Art and Design, fashion designer Anthony Canney and hair stylist Tim Cabell.
"The artists I worked with have really inspired me to push the project further or to be even bigger than even I intended it to be," says Dortch.
They also helped him to make his message less hidden. "The rich — or the privileged — wear very ornate clothing," he explains. "And the poor are just these basic blue people that don't have clothes. They're also below the rich [physically]."
Painting directly on top of photos to change the skin tones of people portrayed depending on if they're upper class (yellow) or lower (blue), "gives this comic book kind of surreal look to it, or graphic novel feel."
For the exhibit's opening reception next Friday, Nov. 4, Dortch plans to have approximately eight models "bring the art off the canvas to become real life." Dortch and his collaborators also plan to "get all dressed up," as a sort of post-Halloween party.
Says Dortch, "It's meant as a different kind of art show."'
The opening reception for Anthony Dorth's "The Privileged Series" is Friday, Nov. 4, from 6 to 8:30 p.m. Touchstone Gallery, 901 New York Avenue, NW. Call 202-347-2787 or visit touchstonegallery.com.