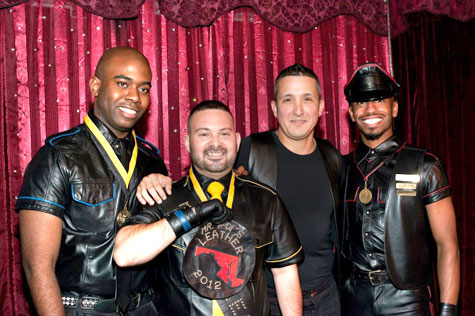 As of Oct. 1, Marc Carcione of Laurel is the second person to be named Mr. PW's Leather. The member of the DC Boys of Leather plans to employ his Mr. PW's Leather 2012 title to compete for Mr. Mid-Atlantic Leather in D.C. in January.
"I am so freakin' excited about this," says Carcione, adding that he appreciates the venue for which the title is named, a gay sports bar in Laurel, Md. "It's a small-town bar between Baltimore and D.C., so it's able to pull from both crowds."
As the venue's titleholder, Carcione says he hopes to introduce an ongoing leather fetish night to PW's Sports Grill & Bar in the near future.
While Carcione faced no competition for the title, the contest's co-presenter, Justin Terry-Smith, says that's not out of the ordinary for a small-town contest only in its second year.
"It was a successful contest. I couldn't be any happier," says Terry-Smith, himself Mr. Maryland Leather 2010, who presents the contest with Rudy Legg-Benavides, Mr. Old Dominion 2006. "There was a huge crowd. We had bears, leathermen, drag queens and a baseball team that PW's sponsors – everyone under the sun and all playing well together."
The judges for this year's contest were Destiny B. Childs, Miss Gay Universe (D.C.); Sir John Kirkorian, Mid-Atlantic Leather Sir 2011; Lady Lisa; Doug Pamplin, Mr. Mid-Atlantic Leather 2011; and Theo Storm, Mr. PW's Leather 2011.