It's impossible to discuss St. Vincent — the recording project of 29-year-old guitar goddess Annie Clark — without bringing up dichotomies. The postpunk powerhouse combines a warehouse worth of contradictions into one tiny package, the most notable being the meeting of Miranda July-style introspective storytelling with the ear-bleeding guitar shreds of Slash.
The opening track of St. Vincent's new album, Strange Mercy, immediately sets the tone for what's to follow. Named for a 1972 French film on marital dissatisfaction, "Chloe in the Afternoon" combines Clark's silky pipes with woozy guitars and obtrusive percussion to inextricably link sex and menace. In another singer's hands the line "no real kisses, no real needs" would serve as a blank slate for the fantasies of the straight men and queer women who want to bed her, but the power of St. Vincent lies in making the listener question just what they would lose if they struck up such a deal.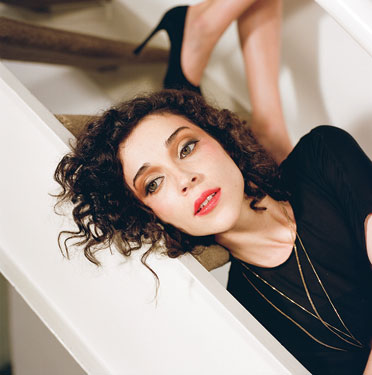 St. Vincent
(Photo by Tina Tyrell)
Strange Mercy lets in a tad more vulnerability than 2009's Actor, but at a high cost to the listener. The title track — a revenge oath against "that dirty policeman who roughed you up" — strips away its protagonist's dignity, leaving only the calm rage of Clark's narration. Similarly, the album's first single, "Cruel," is impossible to separate from its video. The video shows Clark being kidnapped at a grocery store by a motherless suburban family and subjected to endless torture in a Mad Men-esque mansion. While the visual of her being buried alive during a refrain of "how could they be so casually cruel" is indelible, the audio is heartbreaking on its own. The song is an undeniable dance-floor magnet, yet the relentless drums and disco horns underlie couplets like "They could take or leave you/so they took you and they left you."
And that is the dichotomy of St. Vincent. The Texas-born Manhattanite is one of the great beauties of indie rock and previously cut her teeth in the feel-good cult outfit Polyphonic Spree. If she wasn't such a skilled songwriter, her platonically pretty voice could easily be put over a harp score and used to sell Starbucks gift cards. Yet the sheer power of Clark's guitar and the current of ugliness that lies beneath electro-romps like "Northern Lights" or birthday sniffler "Champagne Year" combine to create an almost-schizophrenic diversity of moods from minute to minute.
If the effect of this contrast on Strange Mercy is simple disorientation, a St. Vincent live show can ramp up the emotion to sublime levels of something resembling panic. And on Tuesday, Nov. 1, at the 9:30 Club, you'll get to see how her stellar recordings translate into a mind-blowing live show. The kind of performers that can make the sober feel stoned and the stoned feel like they're drowning, Clark typically surrounds herself with a full stable of backing musicians. At her last go-around in D.C., she was front and center onstage, flanked by a semicircle of drums, horns, guitar and other instrumentalists playing the songs live instead of overly relying on samples or electronics.
ST. VINCENT
Strange Mercy
4AD Records




Appearing Live
Nov. 1
7 p.m.
9:30 Club
815 V St. NW
$20
930.com
The effect of being in the same room as Clark and her guitar cannot be overstated — imagine a thousand people simultaneously begging to have their eyeballs shaken out of their skulls. There are occasional quiet moments as well, like last year's solo performance of Nico's "These Days" that act as a treat for those unaware of how skilled Clark can be with no special effects besides her own talent.
A band like this might not be the best cure for a Halloween hangover, but it definitely gives you the energy to go out the following Friday and make a whole new set of bad choices.