Today's announcement by Rep. Barney Frank (D-Mass.) that he will not be seeking re-election in 2012 will have an impact on the character of the out LGBT representation in the House of Representatives — which already is due to lose its sole out lesbian member — and his out colleagues responded with their thoughts this afternoon.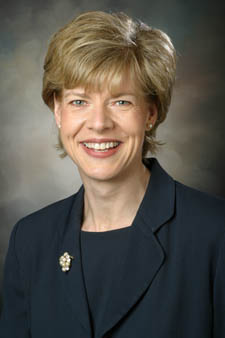 Rep. Tammy Baldwin (D-Wis.), who is running for the Senate seat being vacated by Sen. Herb Kohl (D-Wis.) and would be the first out LGBT senator should she win election to the seat, noted, "With the retirement of Congressman Barney Frank, the House will lose one of its smartest, wittiest, and most progressive voices. In a time of deep economic turmoil and unscrupulous financial practices, Barney led the Financial Services Committee and the House to restore much-needed consumer protections and corporate regulation."
Of their founding of the LGBT Equality Caucus, Baldwin added, "For LGBT Americans, Barney has had an immeasurable impact both symbolically and substantively. He has written and fought for laws that are leading us toward full equality. He co-founded with me the first Congressional LGBT Equality Caucus which now boasts a bipartisan membership of nearly 100. He has been a role model for LGBT youth in and out of government. For me, he also has been a valued mentor and friend. For all of us committed to social justice, Barney leaves an enduring legacy."
Rep. Jared Polis (D-Colo.), who will become the senior out LGBT House lawmaker in January 2013 should he win re-eleciton, issued a statement noting, "Barney Frank was a groundbreaking pioneer and one of the most insightful, knowledgeable and humorous people ever to grace the halls of Congress. We will miss his leadership on a wide range of issues — from fighting to reign in Wall Street's excesses and working to stabilize our economy to standing up for equal rights for LGBT Americans and curtailing runaway Pentagon spending. Congressman Frank championed the rights of all Americans, the economic security of all of our families, and a politics of inclusion and hope.
"It's a great loss for the Congress but Barney leaves behind an enviable record of accomplishment. I will miss his presence every day."
Rep. David Cicilline (D-R.I.), who is serving his first term in Congress and appears likely to face a tough re-election battle, said in a statement provided to Metro Weekly, "Since his first election to Congress in 1980, Barney has never stopped working to improve the lives of all Americans, particularly those of his constituents in Massachusetts.
"As a major force behind some of the biggest banking and financial reform, and the strongest legislation to protect consumers since the Great Depression, Barney has had a long and distinguished career in Congress," Cicilline said. "His sharp intellect, wit and political skill have made him an iconic figure and one who won't soon be forgotten. Although he will be sorely missed on the Hill, the work he has done will continue to benefit Americans for many years to come."
Also, in remarks made to WPRI's Tim White, Cicilline discussed one of the reasons Frank said he was leaving Congress: the difficulty of accomplishing things in Washington.
Cicilline told White, "I'm sure for people who have been there for a very long time who remember a different time when people worked together in a collaborative way, that [Washington] has become a less productive place to work."
[NOTE: This post was later updated to include comments provided by Cicilline.]