Rain and snow flurries may have kept some away, but failed to dampen the mood of some 5,000 participants in Washington's 25th Annual AIDS Walk on the morning of Saturday, Oct. 29.
Proceeds from the event, which include a walk and a 5-kilometer run, go to Whitman-Walker Health, a nonprofit community health organization that specializes in providing health care to people infected with or affected by HIV/AIDS. "Community Partner" groups also participate, with a portion of their fundraising benefiting themselves and the remainder going to WWH.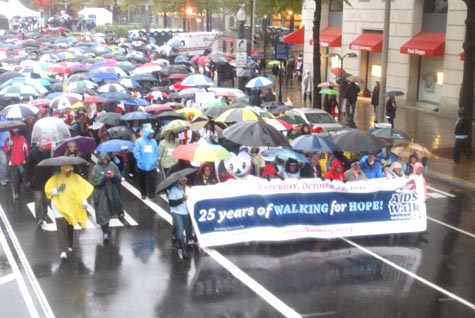 Click to view all 74 photos from Aids Walks 25
(Photo by Ward Morrison)
David Chalfant, director of development at Whitman-Walker, says the walk raised $1 million, the largest amount in a decade. Those funds will go directly to Whitman-Walker's HIV/AIDS program, which covers a variety of areas, from research to providing patients with treatment or access to insurance through Whitman-Walker's public benefits program.
"It was amazing, because despite the weather we had over 5,000 [participants], and at least as many umbrellas," Chalfant says of the turnout. "Everyone had a great time, even though by the time they got back they were soaked."
Chalfant says the turnout should have been 10,000 people, had weather cooperated. But with the money being raised prior to the walk, the weather had negligible impact on the total amount raised. And, he notes, even with the inclement weather, people came from as far away as West Virginia to participate.
Chalfant also says strong media coverage helped the event, which was co-sponsored by Booz Allen Hamilton, Radio One and NBC 4.
"The message doesn't enter lives the way it used to," Chalfant says. "Strong media coverage helps people realize that this epidemic is not over in our nation's capital and we have to be vigilant. Participating in AIDS walks is a great way to do that."