It's a warm November Thursday and Ted Clements is getting ready for business. He walks through the empty – almost hallowed – space on New York Avenue with his two dogs, rescued greyhounds.
The space is the DC Eagle. It's not the only building to have housed the Eagle, and chances are good it won't be the last. Nor is it the only Eagle, with different bars around the world borrowing the name to brand themselves as catering to leatherfolk, to BDSM aficionados, to an image of masculine sexuality. It is a business and it is a community.
(Photo by Todd Franson)
"How did I get into the bar business?" Clements posits. "My first lover's mother owned a straight redneck bar across from Camp Lejuene in North Carolina. … Before long, I was running that bar and the gay bar down the street."
A native of the D.C. area, Clements tells a winding story that returns him back from North Carolina, that brings him to the DC Eagle and, as of May, that makes him one of the long-lived bar's new owners.
Peter Lloyd, another of the new owners, one with a bureaucratic desk job by day, arrives to help Clements.
"[In] my day job, I live someone else's life," says Lloyd. "It's very strange. The Eagle is more satisfying. There are days when I can't wait to get to the Eagle."
Lloyd certainly isn't alone. For 40 years, the DC Eagle has offered a home to so many, serving as a "home bar" to an array of leather/motorcycle clubs, as a retreat for those hoping to avoid more mainstream gay venues of disco balls and divas, and as an entrée for novices taking their first steps into a kinkier world.
The anniversary weekend, from Nov. 17 to 20, will be full of all the fun and games, edginess and erotica, that have given the DC Eagle its staying power. The milestone also calls for some conversation about the journey so far, and where the DC Eagle may be headed.
HATCHING AN IDEA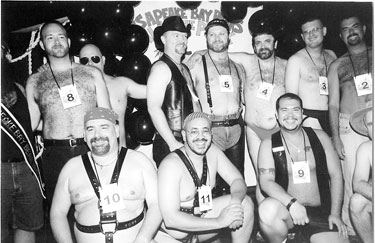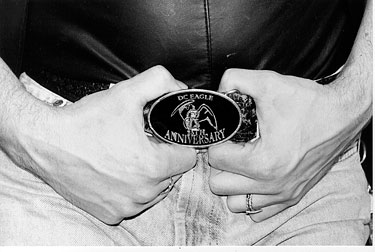 DICK MCHUGH, WHO died in 2001, talked with Metro Weekly in early 1997, marking the DC Eagle's 25th anniversary about a month prior.
"My lover, Don Bruce, who was president of the Spartan Motorcycle Club at the time, opened the Eagle in 1971 at 904 9th St. [NW]," McHugh said at the beginning of the interview. "He said to the owners of the New York Eagle that he was gonna have a contest to figure out a name for the new bar," McHugh said of Bruce's first notions of what would become the DC Eagle. "The New York Eagle owners said, 'Why don't you call it the DC Eagle and work with us?' … So Don came back and opened up as the DC Eagle."
Bill Cappello, a co-owner during the 1997 interview who would later become the sole owner, talked about the DC Eagle's long-gone restaurant, describing two large dining rooms and a "state of the art" kitchen.
McHugh remembered the D.C. employee who ensured the kitchen was up to code.
"There was a young lady who was our health inspector. Her name was Effi," McHugh said. "Of course, she ended up being Mrs. Effi Barry after she married the mayor. She and the mayor would often come to dinner on 9th Street, as well as to our next location on 7th Street."
With the advent of tavern licensing, the Eagle was free to give up the restaurant. But that didn't remove all roadblocks. The rules of eminent domain have hit more venues than the ones that once laid claim to the blocks now occupied by Nationals Park.
That first Eagle, on 9th Street NW, had to make way for a convention center – since razed – and moved nearby to 908 7th St. NW in 1979. Ahead of the massive Techworld complex, bordered by Mount Vernon Square to the north and I Street to the south and atop that 7th Street site, Dick's Bar, named for McHugh, opened in 1985. In 1987, overnight, the DC Eagle moved from 7th Street and into what had been Dick's Bar, its current location at 639 New York Ave. NW.
First visiting the bar in 1977 as a patron and becoming an employee in 1981, Cappello was there for it all.
"My roommate was a sailor," Cappello says, going back to '77. The two were both stationed in Indian Head, Md., with Cappello in the Army working in "explosive ordinance disposal." His roommate asked him if he wanted to join him to check out "a biker bar."
"He kind of told me what to expect," Cappello says, describing it as a serious biker and leather scene. "It definitely made an impression on me. I enjoyed it."
One might argue it was even life changing. The next year, Cappello left the Army.
"I got out in '78," he says. "Especially back in the '70s, you didn't really let it be known [you were gay]. You were undercover. That's what got me saying, 'I can't live like this. I got out in '78 because I realized I was gay and didn't want a chance of getting kicked out."
Cappello returned to his family in Colorado to come out, which could have gone better. He then returned to D.C. to grow his chosen family. That also meant returning to the Eagle, where he began working in 1981. And while he remembers the first two Eagle venues, more importantly he remembers the men behind them.
While referring to McHugh as "Uncle Dick," he credits Bruce with showing him the ropes.
"Don Bruce was a great guy," says Cappello. "He's the man who hired me originally. He introduced me to the leather scene all up and down the East Coast. He introduced me to bar owners at the New York Eagle, the Mineshaft. He really introduced me to the leather scene."
LEARNING TO FLY
TIMELINE
1971: DC EAGLE OPENS, 904 9TH ST. NW
1979: EAGLE REOPENS AT 908 7TH ST. NW, MAKING ROOM FOR CONVENTION CENTER
1981: BILL CAPPELLO JOINS DC EAGLE
1985: DICK'S BAR OPENS AT 639 NEW YORK AVE. NW
1987: DC EAGLE MOVES TO 639 NEW YORK AVE. NW, MAKING ROOM FOR TECHWORLD COMPLEX
1992: DON BRUCE DIES
2001: DICK MCHUGH DIES, BILL CAPPELLO BECOMES SOLE OWNER OF DC EAGLE
2011: ANGUS, CLEMENTS, LLOYD BECOME NEW OWNERS OF DC EAGLE
ALTHOUGH THE DC Eagle has had more than one roost, its New York Avenue site has the greatest resonance with the community, having served as the bar's home for a quarter century. The floor space, the layout, the address and other minor variables, however, are entirely secondary to the spirit of the bar. The Mr. DC Eagle contest, for example, never depended on an address. Once upon a time, it didn't depend on any protocols whatsoever.
"Evidently, a hundred years ago, in 1975, they used to do it by acclamation," says co-owner Peter Lloyd. "'Ted, get up on the bar. You look hot! Peter, get up on the bar. You look hot!' And people would applaud. Based on that, they'd pick a winner. Then, in 1982, was the first – from what I understand – first formal contest with judges and tallying. I don't know if they had sashes back in the day, so '82 was probably the first formal contest."
Sashes aside, Cappello remembers another Eagle-appropriate fashion statement.
"I remember when Ted first walked into the bar," he says, going back to a day nearly 20 years ago. "I saw this guy with no shirt come in, just a chain harness. He was looking very hot, giving all the guys whiplash."
Adding that he admired Clements's sensibility when it came to dressing to apply for job at the Eagle, Cappello says, "I was very impressed with Ted from the very beginning."
The DC Eagle also established itself as having an air of the dangerous and forbidden.
"I think the first time I went there was in the mid-'90s," says Philip B. Terry-Smith, who goes by "Boy Ky" and is president of the DC Boys of Leather. "It scared the crap out of me.
"I hadn't really explored the leather community all that much. I didn't know anybody, went in alone. It's a foreboding place the first time you walk in. But I'd always been intrigued by leather."
For Mindy Chateauvert, treasurer of the Centaur Motorcycle Club, that first visit may have been more unsettling.
"If you're female going down there, it can be very disconcerting," she says, remembering that she had the advantage of being there with others her first visit. Still, she adds, "There aren't that many women down there. On some nights, it can appear that [men] is all it is."
Chateauvert notes, however, that the bar hosted a "Dyke Night" for a couple years that she very much enjoyed. "It was mostly young people, FIST (Females Investigating Sexual Terrain), different folks coming in. That was a fun night, very different."
While there's no longer a monthly Dyke Night at the Eagle, Chateauvert remains comfortable on her trips to the bar: "I'm certainly not the first woman for whom the DC Eagle is her home bar."
The last of the bar's three new co-owners, who goes by Angus only, also found a home at the Eagle. He didn't have the traditional response — standing on the sidewalk, a little frightened by what might be inside. Instead, Angus feared what was outside.
He first discovered the DC Eagle while in college, driving up from Richmond to enjoy nights at the bar. After school, he became an officer in the Navy. And he still enjoyed the Eagle. In the 1980s, prior even to "Don't Ask, Don't Tell," that posed a problem. "They used to hide me," he recalls. "[Military police] used to troll the bars looking for license plates. They usually came in the bar in uniform, and [staff] would hide me. They always put me back in the kitchen. It could've been career-ending if I'd been caught. But it was worth it to me because it was part of who I was."
Peter Lloyd also risked a lot to come to the bar years ago. He might have been grounded. At 16, he came upon a copy of the hardcore Drummer, "America's Mag for the Macho Male." That prompted him to make a trip to the Eagle, at the time also home to The Leather Rack, selling "select gear and wear to playful adults."
"I came in very young – illegally, technically – but I wasn't here to drink. I was only here to shop. I'd just gotten my driver's license, so one of the first places I came was the DC Eagle."
Cappello remembers the toll the AIDS epidemic took in the early days.
"When I first started working for the Eagle – with the restaurant, Leather Rack, the bar – there were way over 75 employees," says Cappello. "By 1997, I bet half of them weren't around anymore. I can't remember how many memorials there were. A lot of the young men didn't make it. I feel very lucky to be here."
Cappello remembers the bar playing a central role in the fight against the new disease, saying, "We helped with projects like Brother, Help Thyself, or Whitman-Walker fundraisers, Food & Friends when it [operated] out of a church basement. I remember those days, scraping for volunteers. And Barbara Bruce, Don's sister-in-law, she ran the old restaurant when I got hired. She loved helping out with the fundraisers."
Through those painful days, the DC Eagle held on. Carl Domer, today the general manager, remembers his first visit. Amid the death and despair of the time, the DC Eagle showed him a sense of community.
"I started coming here in 1990," he says, adding that at the time he was a tractor-trailer driver regularly making cross-country runs. "It was the first bar I went to where I felt comfortable. It was pretty new to me. You'd meet blue-collar, friendly people."
And often you became part of the family.
NESTING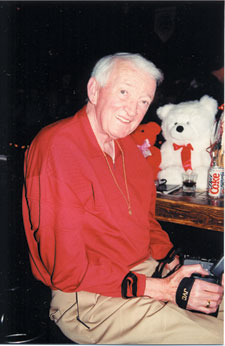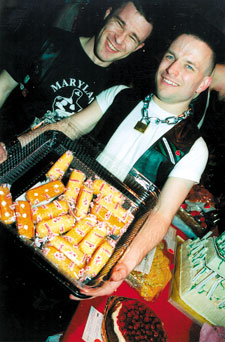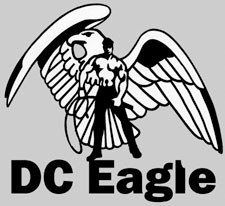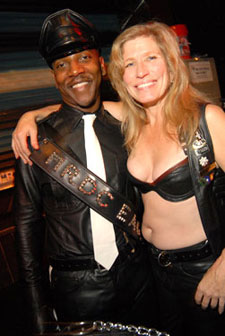 THE DC EAGLE has an edgy reputation, an "enter if you dare" element that helps fuel the bar's mystique. But pull back the leather curtain and at the core there is the steadily beating heart of a community.
Domer, who moved from patron to employee in 1999, says, "The DC Eagle is friendlier than most." And though he's been a member of the Centaurs for nearly 20 years, he says that amity isn't influenced by allegiance to any club or social sects.
"I might look a little favorable on the Centaurs, but I treat 'em all the same," he says. "We're actually one of the friendliest bars in the city. People might be a little afraid of us at first, but they get over it quick."
Certainly, Terry-Smith got over his initial fear. He even jumped in to help out by working as bartender for occasional happy hours in 2007 and 2008.
"For some reason, the DC Eagle has maintained a really vibrant, strong community," he says. "The DC Boys [of Leather] are proud to call the DC Eagle home. If feels like a place we can gather. The Eagle allows us to meet there, hold our events. The beer bar is possible because they donate the beer for us to sell for charity and to support the club."
Take a gander at the bar's calendar on any given month, and the community commitment is obvious. Aside from the Boys of Leather hosting a bar, one night might see the DC Renegades rugby team hosting a beer bar – or leather clubs such as Onyx or SigMa. Or maybe there's an event in support of the bar's own charity, Eagle Wings.
Wayne M. Nesbitt, Mr. DC Eagle 1997-1998, talked about Eagle Wings in a 2007 interview, saying, "It's an annual fundraiser at the DC Eagle. Titleholders and other folks who want to be involved pick two or three charities. Then we assemble a team of volunteers to go out and raise money and do all the organizing. Then the Eagle generously provides the space for an auction.
"I can't take all the credit for it, because it grew out of a fundraiser that was created by Ed Moore. My better half in organizing is Peter Lloyd, who is also a perennial of the leather community. He and I sit down and chat about who's most in need. We've tried to scout around every year and see who are the little organizations who don't have the big voices, who can make use of $1,500 or $3,000 or $5,000."
Since Nesbitt's death, following a sudden collapse inside the DC Eagle in 2008, Lloyd – who describes the Eagle's profits as "goodwill and community service" – has ensured the continuation of the event, with this year's beneficiaries being the Duke Ellington School of the Arts, Joseph's House and Pets-DC. The bar is also home to the annual Scarlet's Bake Sale benefiting the philanthropic Scarlet Foundation.
Another measure of the DC Eagle's commitment to community is the bar's policy of welcoming people 365 days a year.
"We want to keep the doors open for the patrons so they have a place to go," says Clements. "A lot of people, they don't talk to anyone except for work. We're their family."
The need for such a place, says Chateauvert, is crucial.
"We forget how important it is to have places to celebrate, mourn, scope out potential partners," she says. "It's something we need to maintain. We need that space. We need that ability to meet other people and not rely that everything can take place in a mainstream environment.
"It's amazing they've stayed around this long. … It's a remarkable thing. It says something about community and the ways people need that kind of space. It does function as a community center."
What that community is may be changing. Those now holding the reins of the DC Eagle insist that whatever ways the community evolves – be it people dressed as animals or in athletic gear – the Eagle will provide a space for them. Lloyd puts a particular emphasis on that point, explaining that his own interests once led others to snub him as a nontraditional leatherman.
"I have a big thing for rubber," he explains. "Years ago, you never saw rubber. Now you see a lot of leather and latex. I see more military gear. Whatever your deal is, please come here. We are your home. You're treated with respect and greeted warmly, whoever you are."
Adds Clements, "I agree. You treat anyone who walks in here with respect."
Cappello points out that the dedication to community may come at a price. Bills still need to be paid, tabs collected and all the rest. During his time owning the bar, Cappello learned not to take the commitment lightly.
He shares a routine conversation during those years:
"I'm not in it to get rich."
"'So why are you doing it?"'
"I like being downtown, right out in the open, where the public has to see who we are. It cost me more than I ever made to keep the bar open. You have to be really dedicated to the whole lifestyle. … We created an environment where you feel like you're around comrades in arms."
MIGRATORY PATTERNS
IN RECENT YEARS, Cappello has had to allow his own dedication to the DC Eagle to wane. His health demanded it.
"Over the last three years, I had some health problems – one hip replaced, ready for another," he begins, adding that he's been HIV-positive for more than 25 years. "Six months of [treatment for] non-Hodgkin's lymphoma. I'm doing a lot better now.
"There's a lot of pressure involved in keeping it open. I just couldn't continue it. I would've had to have closed it last year. Last October, I told Ted that if I couldn't get someone to take over, I would've had to file bankruptcy and close the bar."
As a measure of how costs have risen in the Mount Vernon Square neighborhood, Cappello offers a comparison of property taxes on the building the DC Eagle rents: $12,000 per year when he became the owner a decade ago, versus $38,000 today.
He adds that he tried to buy the building in 2005 for $2 million, but was outbid — and was reluctant to start a bidding war with the entity that eventually became the DC Eagle's landlord.
Looking at those financial considerations, the new owners say they fully intend to follow tradition and close the doors some night and reopen in a new location the next. That's the intention. The details don't yet exist.
40TH ANNIVERSARY WEEKEND EVENTS
Thursday, Nov. 17
Blackout Night, 9 p.m. to 2 a.m.
Friday, Nov. 18
Anniversary Pin handout and open bar, 8 to 10 p.m.
Mr. DC Eagle contestants meet and greet, 10:30 p.m.
Eagle Wings Charity Auction, 10:30 p.m. to 1:30 a.m.
Saturday, Nov. 19
Mr. DC Eagle 2012 Contest, 10 p.m. to 1 a.m.
"Our lease is up in 2015, but we could be out earlier; we could be out later," says Clements, saying that the hunt is on for a new nest. "It'll be more than two blocks [away]. There's no building [near Mount Vernon Square] big enough to suit us. We'd almost have to buy up three row houses. We've looked up near the Home Depot on Rhode Island Avenue. We're looking for a warehouse, more like 5,000 to 10,000 square feet. Right there, that limits a lot of it. We don't need prime, commercial real estate, which this [neighborhood] has turned into. If somebody came up and said they wanted to invest in a building and rent it out to us, I would take 'em up on it."
Would much change? The new owners say that beyond reasonable size and rent, they want parking, a smoking area and access to Metro. The ambience, the mood, the soul of the place, seem to be taken care of.
"When we moved in 1987, we were pretty careful about moving all the stained glass, club colors, those big gear wheels over the bar," says Cappello.
Good thing. Chateauvert and Terry-Smith say those material items are, in essence, artifacts.
Says Chateauvert, "We have our mugs there, our colors there, photographs on the third floor. There's a huge historical value."
Terry-Smith is confident Angus, Clements and Lloyd will make good caretakers of that history.
"When you look around the country, there have been so many clubs that have closed," he says. "For any business to survive 40 years is pretty incredible. I think it's poised to last for many, many years. It's run by great guys with pretty good business sense."
The DC Eagle is located at 639 New York Ave. NW. For more information, call 202-347-6025 or visit dceagle.com.