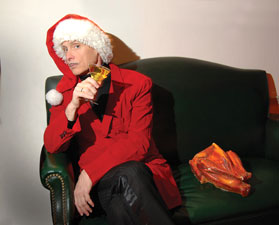 In what's now become an annual event, legendary Baltimore filmmaker John Waters returns to the Birchmere with a one-man show motivated by a genuine love for Christmas. In fact, the show explores the gay and sexual possibilities of the holiday. As he told Metro Weekly in 2009: "Is Santa erotic? That is a question with the bear movement. Is he a silver fox? Is he a bear? Suppose you are attracted to Santa — does that make you a Santa hag? Can you have sex in a chimney? Are you a flue queen? There are all sorts of possibilities that I talk about." (As an aside, the full interview also appears in a just-published, academic collection of interviews with Waters, who personally requested the interview be included in the book.) Sunday, Dec. 18, at 7:30 p.m. The Birchmere, 3701 Mount Vernon Ave., Alexandria. Tickets are $45. Call 703-549-7500 or visit birchmere.com.
Photo by Todd Franson/Metro Weekly.
Get Spotlight in your inbox. Join our mailing list.
Win free movie passes. Take our Metro Weekly Holiday Poll.