The first thing you notice about Lauren Weedman is her face. It's one of those that instantly conveys personality — you look, spot the quirks, and figure out enough to pass judgment before she says a word. Neurotic. Talkative. Unhinged. But then, in a blink, it's changed.
The star of Bust, a one-woman show playing at the Studio Theater's Stage 4 through Dec. 18, doesn't have one look, you see. She has many. Weedman twists them apart as she juggles between Bust's more than two dozen characters, snapping back and forth with a frantic mania that's admirable, impressive and, more than anything else, intimidating when you stop to consider its scope. (Or, with the show's bare stage in mind, the thrift that plays against it.)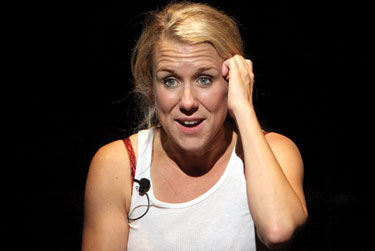 Lauren Weedman in "Bust"
(Photo by Carol Pratt)
Weedman's the stay-at-home mom with a few pitch-perfect lines about being boring. Or she's the snooty and condescending magazine editor, who holds onto her vowels and seems as thick as a marshmallow. Sometimes she's the meth-addicted prostitute, gesturing everywhere and gabbing a mile a minute. And, every once in a while, she's herself too. Bust opens with that last one, the "real" Weedman, frazzled and sharing a personal anecdote a bit too publicly, about to step into an orientation meeting for first-time prisoner advocates. So, what's with the volunteering?
"I wanted to do something that was not about me," she chatters. "If I could do one thing a day that wasn't about career or weight loss, that would be profound." And then, the kicker: "But if I do lose weight while I do this, that would be wonderful."
Bust is a semi-autobiographic story, for all intents and purposes, about telling stories. The women at the overcrowded Southern California jail where Weedman eventually volunteers desperately want to tell theirs — stories of abuse, of innocence, of regret — but can't find any interested ears. Weedman, drawing from a real-life experience, is approached by Glamour to tell her story, about how she lied about being raped during a needy moment in college. Standing in the way of both are barriers — literal ones, like bars and manipulative editors, and figurative ones, like social expectations and desperate ambitions. They're not compared as much as they're simply implied to be relatives.
It needs to be mentioned that Bust, in the midst of these potentially heavy themes, is very funny. (Wisely enough, it's for reasons that involve neither jail nor rape.) Weedman is a natural ham, throwing herself into each performance with enough slapstick that even her body language draws laughs. She's made a decent career out of that talent too, appearing on The Daily Show, a handful of HBO comedies, and occasionally on the big screen. In Bust, she faces a taller order than farce; she's got to be a hot mess, but she also had to be relatable enough to not irritate or grate nerves. To her credit — or perhaps to director Allison Narver's — Weedman pulls it off well.
BUST




To Dec. 18
Studio Theatre
1501 14th St. NW
$35-$60
202-332-3300
studiotheatre.org
Of course, it helps that the play rarely feels anything but comic. Its brand of comedy, a West Coast import, isn't strictly sardonic or satirical, but plumbs those wells often enough to pull out some fantastic bits — to mention a few, there's gags about a dachshund-rescuing bimbo who massages her breast implants in a sauna, a douchebag director who oversees a casting call for a Pepsi commercial, a fling with a holiday movie icon, and a goofy set of gratuitous beach exercises.
If there's notable fault to be found in Bust, though, it's in the execution. Although Weedman trots out some heady ideas about truth and trust — while also finding time to poke at Internet trolls, the U.S. criminal justice system, and gender norms — she doesn't always bundle it up neatly. Moments can happen and fade without immediate relevance or purpose. Even so, the show bustles on while the confusion mostly gets swept away. It's a trifle, especially in a stripped down production like this, but stands as a heartening reminder for us less accomplished types — even if you're whip smart, funny and creative, you can't do everything right.