"The name just kind of rolls off your tongue," says Joey-O with a laugh. "It almost sounds like a cheerleader — 'Go gay go!"'
Instead of cheerleaders, though, the hosts at Joey-O's new monthly party goGAYgo at Wonderland Ballroom are drag queens Donna Dupree and Tallulah Widebody Fox. Both work to rally the crowd in the upstairs dancing space, but not by putting on a standard drag show. "It's something different," he says.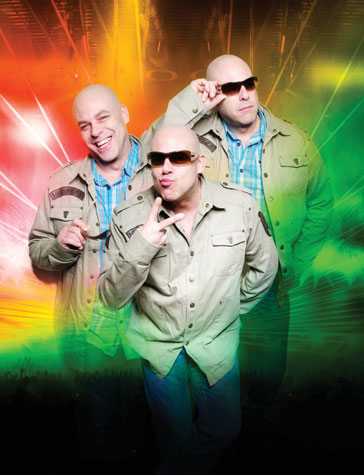 Joey-O
(Photo by Julian Vankim)
The party, which launched last month, replaces a former monthly gay party called Pink Sock hosted at the Columbia Heights location, once known as the legendary black gay bar Nob Hill. "The staff is really cool, the owners are just fantastic," says Joey-O, well known as the longtime manager of the now-shuttered Apex. "They've pretty much just given me a lot of flexibility to do what I've done for 20 years."
Joey-O came up with the name to distinguish the party from others at the straight Wonderland. Still, he is hoping for a mixed crowd. "[The party is for] the gay community and all of their friends — guys, girls," he says. "It's a neighborhood bar. I'd love for it to be a really mixed club kind of atmosphere. … A gay party, but straight-friendly."
GoGAYgo is the first party Joey-O has thrown outside of Apex, yet another step in his efforts to make a name for himself as a DJ, spinning around town practically every night. Currently, he's a regular at Ziegfeld's, Omega, Tabaq and Cobalt, playing his blend of funky house, even a little hip-hop, in addition to the more standard club hits. On Friday, Dec. 30, he'll debut at The Lodge in Boonsboro, Md. "I'm really looking forward to that," he says, joking, "I've never played for mountain people before."
The restaurant at Wonderland Ballroom serves a full menu until 11:30 p.m. Tuesdays are taco night, when tacos can be had for $1. "They are the bomb," effuses Joey-O. He's planning to throw theme parties and offer drink specials as the party takes off, and will eventually bring in guest DJs and surprise entertainers.
"I can guarantee that goGAYgo will always be good music, great drinks and a fun atmosphere," he says. "And it's always going to be free."
The next goGAYgo is Tuesday, Dec. 20, from 10 p.m. to 2 a.m. at Wonderland Ballroom, 1101 Kenyon St. NW. No cover. Call 202-232-5263 or visit thewonderlandballroom.com. You can follow Joey-O on his Facebook page at facebook.com/djjoeyo.