Years ago, in its advertising for a December party, Blowoff featured a muscle-bound, cartoon Santa. This year Blowoff's Rich Morel will do the ho-ho-ho-ing himself, dressing the part for his party, Hot Sauce. Because, yes, Virginia, there is a Santa suit at Morel's Takoma Park house.
"Who doesn't have a Santa suit?" Morel laughs. Turns out, Morel's Santa suit has hung unworn in his closet ever since a group Santa bar crawl that a friend once suggested, but which never materialized.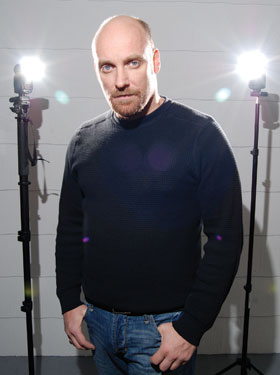 Richard Morel
(Photo by Todd Franson)
"I'll at least wear part of it," Morel says, adding that he'll forgo the beard. "[I'm] not old-man Santa." He's planning for the holiday edition of Hot Sauce, set for Saturday, Dec. 17, at Baltimore's Grand Central.
Chances are good Morel will be shirtless under his red coat — just as many in the crowd will likely be showing skin. "Yes, that happens at Hot Sauce," he says. "It's a dance party at its core, so it still has a lot of the same elements [as Blowoff]."
The music is similar to Blowoff as well — though at Hot Sauce it's all Morel, no Bob Mould. So there's less techno and industrial dance music. "You'll hear a lot of familiar things that I play at Blowoff — my sensibility," Morel says. "I can play a lot more deeper house music as well, and more pop or alternative music. I can go to both ends of the spectrum."
Morel has a growing roster of artists associated with his electronic-rock label, Outsider Music. He's continuing to churn out remixes, most recently for Lenny Kravitz and Yoko Ono, and in the past year has formed a new "progressive rock" band with former Fugazi drummer Brendan Canty. Deathfix, as the band is known, will offer the public an early glimpse of its music with concerts this Friday, Dec. 9, at Comet Ping Pong and Wednesday, Dec. 14, at the Black Cat.
Soon enough Morel expects to throw another Hot Sauce party in D.C. But for now, gearing up for his party at Grand Central, he's enjoying the fact that the Baltimore crowd is generally wilder and rowdier crowd than Washington's.
"Yeah, why is that?" he asks. "They have less to lose, maybe that's it, so they just go with it."
Hot Sauce is Saturday, Dec. 17, from 10 p.m. to 2 a.m., at Grand Central, 1001 North Charles St., Baltimore. Cover is $10. Call 410-752-7133 or visit centralstationpub.com or facebook.com/richmorelshotsauce.