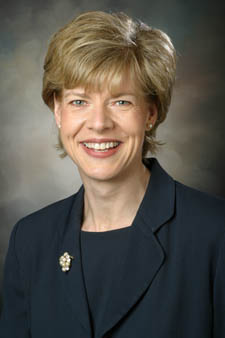 Rep. Tammy Baldwin (D-Wisc.) announced today on Facebook that her campaign for U.S. Senate raised more than $1 million in the last three months of 2011. The note states:
Tammy is thrilled by the enormous outpouring of support for her campaign to fight for WI's middle class. Thanks to you, we raised over $1.1 mil last quarter. Tammy now has $1.8+ mil cash-on-hand to share her message. This shows our strength, and these resources will be critical in responding to the false, negative right-wing attacks sure to come our way. Thank you to our more than 16,000 individual donors!
Baldwin is the presumptive Democratic candidate running for the retiring Sen. Herb Kohl (D-Wisc.)'s seat in the Senate and would be the first out LGBT senator in the nation's history.
Endorsed by the Gay & Lesbian Victory Fund, the group's vice president for communications, Denis Dison, told Metro Weekly today, "There's a lot of excitement around this campaign. With 16,000 donors in just a matter of months, it's clear Tammy is attracting strong grassroots support. Still, money will matter a lot in this open seat race, and having close to $2 million on hand is a great start."
Baldwin announced her run in an email to supporters on Sept. 6, 2011, writing, "I can't wait to take my fight to the Senate: a fight to grow our economy, protect seniors, force Wall Street to clean up its act, and bring our troops home from Afghanistan. And I can't wait to see you on the trail as we bring our campaign to every corner of Wisconsin."
Shortly after announcing her run, Baldwin echoed that populist theme when she spoke at the Human Rights Campaign's annual dinner in Washington, D.C., and told the crowd, "I come from a state that isn't fully blue or red, but somewhere in the middle. To be perfectly honest with you, most of the people that I represent couldn't care less that I'm gay…. They care about making sure that they can find a good job."
According to Talking Points Memo, "On the Republican side, there is a heated primary between former Gov. Tommy Thompson, former Rep. Mark Neumann, and current state Assembly Speaker Jeff Fitzgerald, which will be held in August."
Get Poliglot in your inbox. Join our mailing list.