"Last year, people showed up in tennis shoes," chuckles Angie Fox. "They really took it seriously." Fox is talking about the first annual 1K Wine Walk organized by her organization, the nonprofit Crystal City Business Improvement District (BID).
Yes, really, a Wine Walk – where, as Fox puts it, "You can sniff [and sample] and stumble your way through the walkways."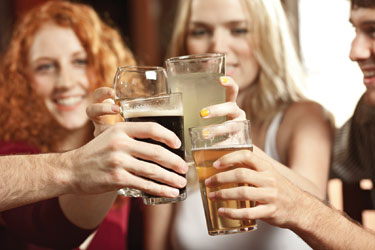 The event, held in the walkways connecting high-rise buildings in the Northern Virginia suburb, proved so popular, "We knew almost immediately that we were going to do it again." The Crystal City BID organizes the walk with fellow Crystal City nonprofit the Washington Wine Academy, which, despite its name, also celebrates beer. And this year, they'll feature both types of alcoholic libations, with a Wine Walk this weekend and a Beer Walk next.
The unusual events complement other efforts of Fox's organization, which has also organized a photo exhibit in the walkways, as well as a fashion show in a former Crystal City food court. This spring, the BID will launch a cycling race in a parking garage. "We've become quite masterful at that," she says of transforming unused or under-used sterile public spaces into improbable art and entertainment venues.
The Wine Walk features tastings of Spanish and Latin-American wines courtesy of the Jaleo Wine Shop, while the Beer Walk will raise its glasses to microbrews, including DC Brau, Alexandria's Port City and Maryland's Flying Dog. The beverages will be paired with snacks from local restaurants and vendors.
"People get a little race number, a glass, a program," says Fox. Participants also get a T-shirt and "a race bib."
"It's almost like you're truly doing a 5K." — Doug Rule
The 1K Wine Walk is Saturday, Jan. 14, and Sunday, Jan. 15, from 2 to 7 p.m. The 1K Beer Walk is Saturday, Jan. 21, and Sunday, Jan. 22, from 2 to 7 p.m. Crystal City Shops, 2200 Crystal Drive, Arlington. Tickets are $40 for wine, $35 for beer. Call 703-412-9430 or visit crystalcity.org.