Peter Fox, a popular, gay, local entertainer, died Jan. 2 at 12:38 a.m., according to his close friend and fellow entertainer Tom Nichols. Fox, 45, had been hospitalized at Georgetown University Hospital for weeks following a diagnosis of central nervous system (CNS) lymphoma. He died in hospice care, surrounded by his immediate family and some close friends.
Nichols, who produced Fox's 2010 album, Peter Fox, and was among those who helped to care for Fox during his illness, said he died peacefully. "He lived with supreme optimism," says Nichols. "I think that guided him through his final journey."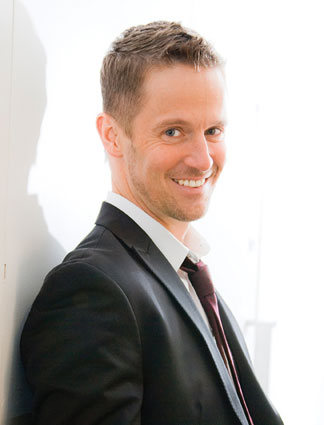 Peter Fox
(Photo by Vu Deo Photography)
Fox was hospitalized in early November, not long after his final performance at Nichols's own CD release concert Nov. 1. Following an initial round of chemotherapy, his medical team concluded there was nothing more to be done and advised all concerned to prepare for Fox's death in a matter of possibly days, to enjoy what time remained. That remaining time was substantially longer than indicated by his prognosis. During those weeks, Nichols says Fox was continuously in the company of family and friends.
Fox's involvements in the local community ran from the Gay Men's Chorus of Washington, D.C., to the Capital Area Gay and Lesbian Chamber of Commerce, to more mainstream organizations such as The DC Cabaret Network.
On his professional website, Fox listed more than a dozen local venues where he performed, making special mention of his participation in the back-up ensemble for Josh Groban and Heather Headley, performing for President Obama during the "We Are One" Inauguration Concert.
"My sense is that when he joined the [Gay Men's Chorus of Washington, D.C.] and found his voice and started getting cast as a featured soloist, he realized the gift – we already knew he had – was special and unique," says Nichols. "It's that star quality, the 'it' factor. He had it onstage and also in his personal life with friends."
As news of Fox's death moves through the community, the impact of the loss is obvious on Fox's Facebook page, with a recurring sentiment of Fox's famous voice being added to a heavenly choir. Fox's own sentiment, as reported to Ernesto M. Santalla earlier this year for Metro Weekly, was that he took particular satisfaction in performing for organizations or groups in advancing a particular good.
"Music creates an emotional, visceral response to the purpose for which the audience has gathered," Fox told Santalla. "To elicit this kind of audience response makes it a privilege to do what I do."
Whitman-Walker Health, another organization supported by Fox, particularly in the performance of his song "Change the World" at WWH's 2010 AIDS Walk Washington, released a statement Jan. 3 from the organization's executive director, Don Blanchon.
"The entire Whitman-Walker family is saddened by the death of Peter Fox," Blanchon said. "Many of our employees, including myself, knew him personally. Others knew him as a strong and visible supporter of Whitman-Walker and the work we do. His passing is a tragedy not just for his family and friends, but for the LGBT community and the larger D.C. community.
"Peter was an immensely talented, compassionate and caring man. I had the pleasure to meet him when he recorded and performed an original song to benefit AIDS Walk in 2010. His talent was only matched by his generosity and his support for the work Whitman-Walker does. His performance of 'Change the World' at that AIDS Walk was one of the highlights of the day and helped to inspire the thousands of walkers and runners there. His talent, his heart and his broad, warm smile will be missed.
"On behalf of the entire Whitman-Walker Health family, I want to convey our deepest sympathies to Peter's family and friends. They will be in our thoughts and prayers in the difficult days ahead."
Reflecting on the death of his friend, Nichols says he's confident some sense of Fox will remain with him and others forever.
"One of the hardest lessons we all have to learn is how to say good-bye. My own belief is that Peter is still with us. Peter and his force of life is going to be there with me. I'm very grateful for everything I had the privilege to share with him. He did a tremendous amount in the short time he was here. It's far too soon, far too fast, but he passed the way he lived, full of grace, strength and love."
A memorial service will be held on Friday, Jan. 6, at Foundry United Methodist Church, 1500 16th St. NW, from 10 to 11:30 a.m. A public viewing will be offered Thursday, Jan. 5, at DeVol Funeral Home, 2222 Wisconsin Ave. NW, 6 to 9 p.m. In lieu of flowers, Peter Fox's family welcomes memorial gifts made in his name to the Icla Da Silva Foundation, the world's largest bone marrow recruiter for the National Marrow Registry, also honoring Fox's godchild, Traci Fox, who is battling chronic myelogenous leukemia (CNL).