SIEBER: We both did the role of Billy Flynn on Broadway.
HAMILTON: He sang and I, of course, mimed. [Laughs.] The point of it is, we had worked for the same people and the idea of [the national tour of] La Cage Aux Folles came up. I always loved the play. I loved the original movie with Ugo Tognazzi and The Birdcage. I thought it was an extraordinary thing. But then I realized, when I saw the show, that there's a lot more to it than I had thought. There are lot of nuances and things that I hadn't really grasped when I'd seen the movie. And they told me that they were going to get a really fine actor to play the other role, which gave me hope because I felt, well, there has got to be one of us. [Laughs.] Chris — talk about humility — came in and actually auditioned. I was at his audition, and when he finished, I walked straight over to the director and said, "That's the guy."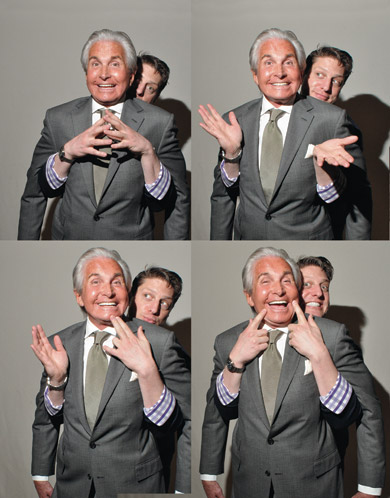 MW: George, you're mostly known for film acting…
HAMILTON: I got a Screen Actors Guild card back in '58, which proves it!
SIEBER: It does prove it. You want to set the record straight that you were never on The Love Boat so you can just nip it in the bud?
HAMILTON: Never did Love Boat. I did Dynasty. But people mistake me, you know. They think I was Baywatch —
SIEBER: I would have loved to see you on Baywatch.
HAMILTON: — because they know about that eight-pack that I have.
SIEBER: Well it's a nine-pack now. You added one. [Laughs.]
HAMILTON: The bottom line is that when I knew that Chris was going to do the show, I felt very comfortable because he had already done Georges —
SIEBER: [I played] his part on Broadway. Opposite Harvey Fierstein [as Albin].
HAMILTON: I thought, "Well, this is going to be very interesting to see how he plays the other role." And truthfully, I depended on Chris because I had no real knowledge of how to play Georges.
SIEBER: We got a relationship going pretty quickly. An actor giving another actor notes is not a cool thing sometimes, but George wanted all the information he could get. And I said, "Well, if you want to hear, I'm going to tell you how it is." And I've been pretty blunt.
HAMILTON: But you've never said anything unkind.
SIEBER: Not yet, not yet. Just wait. [Laughs.]
HAMILTON: The tricky part of this whole deal is that Georges's part is not written to be funny. An actor coming into Georges's role gets letdown initially thinking, "Well, why don't I get that laugh?" And the truth of the matter is, you're not supposed to get that laugh.
SIEBER: You're not supposed to because you're the straight man. But the part of Georges drives the show.