It's been a rough year for Mayor Vincent Gray.
One year into his first term, he's been plagued by negative headlines. Members of his administration have been the subjects of a federal investigation. His approval rating hovers at 34 percent, according to a recent Clarus Research Group poll. And one Washington activist with ties to his 2010 opponent, former Mayor Adrian Fenty, is mounting an effort to recall Gray from office.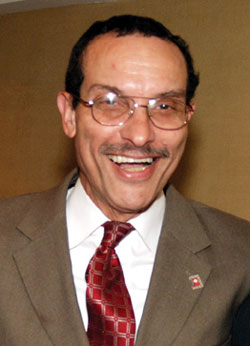 Vince Gray
(Photo by Ward Morrison / File photo)
But this isn't a case of "Everybody Hates Vince." In fact, despite losing to then-Mayor Adrian Fenty in many precincts with historically high numbers of LGBT residents in 2010, many LGBT people highly familiar with how Gray policies are playing out like what they see.
Alex Padro, executive director of Shaw Main Streets, a nonprofit focusing on the revitalization and economic growth of the 7th and 9th Street commercial corridors, says the changeover from the Fenty to the Gray administration has not caused major development projects to stop. He also says Gray has not shown hostility to gentrification.
Padro, who is gay and also an ANC commissioner in Shaw, says the neighborhood has seen continued progress on projects started or planned under the Fenty administration.
"I'd give him a B," Padro says of Gray's performance, even as he notes the mayor has had to weather various scandals or controversies within District government. "Some things have been done right, some others not at all. But considering the distractions he's had, that's not a bad grade. The proof in the pudding is going to be what sort of development will take place in 2012 or 2013."
Shannon Cuttle, a former educator and a safe-schools advocate, says Gray's efforts to push sensitivity-training programs for all District employees and support for measures to protect children from bullying show a commitment to promote safe schools and to look at children in D.C. public schools as key to the future success of the District.
"I think the District government is being responsive and trying to make schools in the District of Columbia safer and more inclusive for all students," Cuttle says. "Mayor Gray has shown a strong interest in safe schools by really being invested in moving forward with anti-bullying initiatives."
Jeffrey Richardson, director of the Mayor's Office of GLBT Affairs, says the mayor has made a deliberate effort to strengthen community engagement and improve working relationships between the administration and various organizations through various forums, town hall summits and one-on-one meetings.
As Richardson emphasizes the administration's successes by touting its community outreach campaigns, those same efforts have some activists praising the administration for its accessibility to the general public.
Longtime community activist Richard J. Rosendall, vice president for political affairs for the Gay and Lesbian Activists Alliance (GLAA), says the comparison between Gray's administration and Fenty's administration in its approach to addressing concerns of LGBT activists is stark.
"We've had much better access to this mayor than his predecessor," Rosendall says. "Not only does Jeffrey Richardson have more direct access to the mayor than did Fenty's administration, we've actually gotten face-to-face meetings with Vince Gray and officials within his administration."
Rosendall also says there's a degree of receptivity on the part of the mayor and his staff to the concerns of the LGBT community, and genuine efforts to reach out.
"Vince Gray seems to be a lot more interested in listening to the people of the city," Rosendall says. "When we met with him, he had key people at the table who followed through. It was a very hands-on approach, not just pleasant rhetoric."
Rosendall adds that his perception of the Gray administration may be more informed than most.
"Most people, not being activists, aren't paying attention to the details, they're seeing the negative press," he says. "Those of us familiar with policy and who are paying attention are much more attuned to what he's doing, as opposed to just seeing negative headlines."
Transgender activist Ruby Corado of the DC Trans Coalition (DCTC) goes a few steps further in her assessment of the mayor.
"Vince Gray is the best thing that ever happened to the LGBT population. Period," she says.
Corado praises Gray for taking action to include the priorities of LGBT people in his agenda, pointing to his support for a transgender cohort at the Department of Employment Services' Project Empowerment program, which aims to get vulnerable transgender people gainful employment instead of having to resort to sex work.
Corado also commends Gray for taking a firm stand against anti-transgender discrimination in hiring by District businesses and for hiring LGBT people to work for District government agencies. The lack of job opportunities available to transgender people in particular was an issue that DCTC made a top priority in 2011 after community members raised the issue at the group's 2010 annual year-end town hall meeting.
"He's been more than just supportive, he's actually put in action on a lot of things that no one else has, even across the country," Corado says of Gray. "He goes above and beyond what is needed. We're definitely looking forward to great things."