As senior vice president and curator at the National Building Museum, G. Martin Moeller Jr. knows his exhibits. Even his highly abbreviated tour of "Unbuilt Washington" takes nearly an hour. An architect himself, the gay Washingtonian clearly enjoys his work.
"Not surprisingly, we start the exhibition with discussion of the overall plan of the city," Moeller begins. "One of the interesting things is that people are surprised sometimes to see that L'Enfant's plan is here. Because, of course, Washington was based on L'Enfant's plan, right? Well, only partially. In fact, many aspects of L'Enfant's plan were not built. He proposed, for example, a boulevard going down the middle of the Mall. And he envisioned the Mall being lined with private houses and gardens for foreign diplomats. So, right there, a fundamentally different conception from what we take for granted as this primary, central space for Washington, D.C."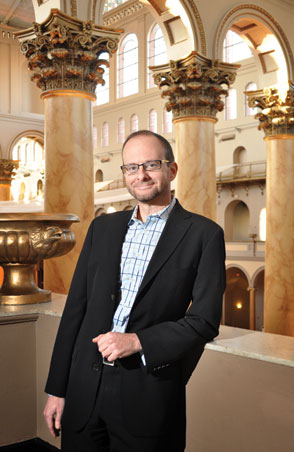 G. Martin Moeller at the National Building Museum
(Photo by Todd Franson)
Given the title of the exhibit, the gallery space is accordingly full of so many visions of the nation's capital that never came to pass. Employing architectural models, prints, video and more, largely from the Library of Congress, "Unbuilt Washington" illustrates what might have been, what we can be glad never became reality, and projects that may be built yet.
"A lot of things we take for granted – the givens of Washington architecture – in fact are not," Moeller continues. "Many aspects of the city really could've gone a variety of directions. And the L'Enfant plan itself, the very foundation of the design of the city, is a case in point."
On the frightening side, there is an illustration of the National Mall from 1946, highways running its length on each side, with cross streets running underneath, and great blocks of untouched lawn.
"If you think about it, each of these big rectangles would've been totally cut off from pedestrians," Moeller points out, still seemingly unnerved that such an idea was ever seriously considered. "It's unbelievable."
Or take the Dolphin America Hotel, designed by futurist Doug Michels: "He proposed this complex, sort of triangulated between the White House and the Capitol to try to encourage our political leaders to come for 'an aquatic retreat for mind, body and spirit,' with the dolphins sort of happily jumping around in the water," Moeller explains, pointing to areas of the plan with shops, gyms and even dolphins drawn into the cross section of pools.
Near the end of the exhibit, however, comes a model for a 1966 proposal that really seems to spark Moeller's imagination.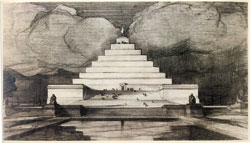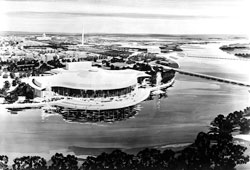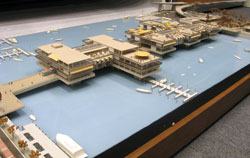 "The idea here was to create a modern version of the Ponte Vecchio, lined with shops and restaurants," he says of the Washington Channel Bridge proposal from Chloethiel Woodard Smith's firm, at the time the largest woman-owned architectural firm. "I'd always seen these drawings that made it look like a typical '60s thing, a lot of concrete. When I first saw the model, instead it looked really inviting. … It really would've transformed the idea of the waterfront a lot earlier than some of the recent proposals."
As for the Victorian-era notions of a Washington Monument made more ornate than a wedding cake, he's happy to leave those on the drawing board.
"A lot of the designs for the Washington Monument, they were just awful ideas," he says. "For the completion of the monument in the Victorian era, they were all trying to outdo each other. It was an era where simplicity was not very much in vogue. I certainly look at the Washington Monument – a lot of people do – and see the simplicity as an expression of nobility. It's just a very dignified, simple memorial that also serves as this great symbol of the city and a real orientation device. If it had been a pagoda or God knows what else, our impression of the central part of our city would've been totally different."
"Unbuilt Washington" runs to May 28. Admission is $8, or $5 for children, students and seniors. The National Building Museum is located at 401 F St. NW. For more information, call 202-272-2448 or visit nbm.org.