It's not just your imagination – there is more leather and fetish nightlife during this year's Mid-Atlantic Leather weekend than ever before.
"Years ago, MAL was sacrosanct," says Peter Lloyd, a co-owner of the DC Eagle. "No one dared to schedule any events without the Centaurs." The ascent of social media has helped change the nightlife game surrounding the weekend, put on by the Centaur Motorcycle Club. "Nowadays anyone can send out a message – and there's another party," Lloyd says. "There's no way to stop it."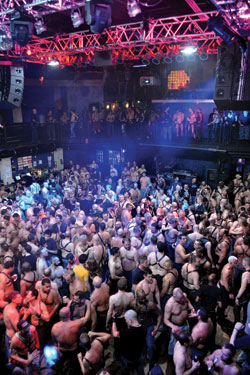 But with more than 2,000 leather and fetish folk in town for the weekend, says Lloyd, "there should be enough to go around."
Of course, a Leather Weekend nightlife-goer could just as easily hole himself up at the Hyatt Regency all weekend. The MAL host hotel will be a leather and fetish preserve teeming with nightlife options, from the formal weekend centerpiece – Saturday night's Leather Cocktails – to the more impromptu gatherings in the various bars, ballrooms and other public spaces of the hotel.
But MAL organizers will run a Bar Crawl Bus both Friday and Saturday nights, transporting registered participants between the hotel and select local bars. There will also be a shuttle between the hotel and the 9:30 Club Sunday night for MAL's official Reaction dance.
Bob Mould and Rich Morel present their popular annual MAL edition of Blowoff Saturday, Jan. 14, starting at 11:30 p.m. at the 9:30 Club ($12 cover). The next night, Nick Lopata, Blowoff's lighting and visuals guy, puts on his producer hat for the year's one truly new party, Luther. Situated at the U Street Music Hall, Luther ($12 before 9 p.m.; $15 after) features four "counter-culture" gay DJs – Bil Todd of RAW, Provincetown's Mark Louque, San Francisco's Pee Play and New York's Ryan Smith – who will tag-team spin a "disco bad-ass" orgy of dirty, sexy underground dance beats.
Also this year, Jacob Pring and David Merrill will throw not one but two gear-attire-only Code parties: a special installment of the typical frisky event upstairs at the Green Lantern on Friday, Jan. 13 ($15 general admission), and the annual anything-goes MAL-pegged Code Extreme – complete with dungeon, sling room and more — at the Crucible's new location Saturday, Jan. 14 ($45 general admission). Code will run a bus between the hotel and the Crucible.
Town hosts a "MEGA" version of Charger Stone's enormously popular Bear Happy Hour on Friday, Jan. 13, with both floors of the club given over to the fetish-minded furry fellas.
However, MAL weekend actually launches at the DC Eagle Thursday night, Jan. 12, starting at 9 p.m., with a party for the Centaurs featuring former MAL titleholders. Washington's premier leather bar will also feature other motorcycle clubs over the course of the weekend, including New York's Excelsior MC and Empire City MC Saturday night.
And for that infamous date at the Eagle? "It's Friday, Jan. 13: Be very afraid," Lloyd jokes. Actually, on that spooky night, Potomac MC will throw – what else? – an "Occupy DC Eagle" party. Lloyd expects the theme to be played up inside with tents and protest signs, not to mention a reference to the majority, here altered to be "the 69 percent."