Noting that he often is told, "Santorum, quit trying to impose your morality on everyone else," former Pennsylvania Sen. Rick Santorum spent his time at the Derry-Salem Elks Club in New Hampshire this morning claiming that he and President Obama hold the same position on marriage equality — but also explaining his conservative, anti-LGBT equality positions by using language more often used by equality advocates.
Although others have focused on the line about his position on marriage equality as compared to Obama's position, the other part of Santorum's discussion on the day before the Granite State's primary also was worthy of note.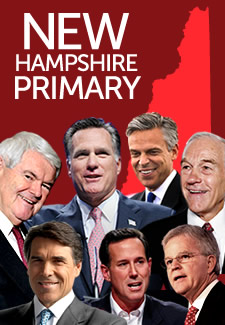 Santorum, discussing the hardships faced by single parents, said at one point: "You have much higher rates of poverty and economic stress in single-parent families. Not because moms aren't doing the best they can. They're doing heroic work, but they're doing the work of two people and it's harder."
Not a mother and a father, but "two people." In making that statement, though likely just a shortcut of efficiency, Santorum actually exposed the problem with his argument about same-sex parenting.
As Jennifer Chrisler, the executive director of the Family Equality Council, told Metro Weekly, "To make really clear, the studies that are out there are comparing a single parent to a two-parent family. … They're not [about same-sex parenting]."
Whatever the other potential critiques of Santorum's arguments about family and marriage — which Chrisler points out include discussion of "how our government's policies value families … in all shapes and sizes" — the first-line critique, underscored by Santorum's own language today, is that the studies to which Santorum is referring have been about "two people" raising a family and have never been about denigrating same-sex couples' families.
Santorum wasn't done, though. Later, discussing marriage itself, Santorum said, "The happiest people in America are who? People who are married, by far. … Who are the economically most stable in America? People who are married. Right. Why? Because, you have two people, helping each other out, so it's less vulnerable than out there paddling alone."
In a 2009 issue brief, the Center for American Progress's Nico Sifra Quintana agreed, noting, "Marriage provides legal and economic security for many heterosexual couples. These benefits include access to partner health insurance, tax subsidies, Social Security benefits, and other economic safety nets." CAP, which was relying on a UCLA Williams Institute study for the underlying date, was making the point in support of marriage equality.
Although Santorum was referring to opposite-sex couples, he didn't say it. Santorum obviously and strongly opposes marriage equality, but, at least for a few moments today, he was talking about marriage as "two people, helping each other out" — a line that hews more closely to an equality argument than it does a social conservative's argument against marriage equality.
[Image: New Hampshire primary field by Aram Vartian. ]
Watch the video, shot by EDGE's Mike Lavers: