You might say dance-music singer Ultra Naté proposed to Quentin Harris.
"We went into the studio and started working [on what] at first was going to be Ultra's album," Harris explains. The two hit it off so well, Naté suggested they partner. "Both of us are so involved and tied to this record, why don't we just become a band?" Harris recalls her asking.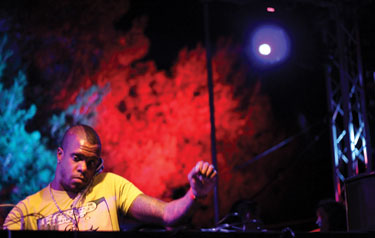 Quentin Harris
So later this year, they will and the resulting band, Super Black Bass, will channel new wave "art bands" of the '80s. Think Talking Heads or early Depeche Mode.
But first comes Harris's debut as DJ for Mid-Atlantic Leather's Reaction dance.
"I went to the event seven or eight years ago as a patron," he says. Since then, the New York-based Harris has established himself as a DJ and house music producer, working with, among many others, Inaya Day ("Do The Right Thing") and former gay porn star Colton Ford.
Yet Harris has remained largely unknown on the gay club scene. And that's by design.
"I've always said as a DJ I never want to be defined by my sexuality," says the openly gay Harris. He mentions Danny Tenaglia and Frankie Knuckles as gay DJ forebears who also rarely play all-gay events. But when MAL's Danny Linden contacted him about spinning at Reaction, he decided the time was right.
"I'm really, really, really, really so excited about playing this event – and very, very nervous," he says. "I've been preparing for almost four months. It's going to be me with a little more edge. At events like this, the music shouldn't be dark and abrasive; it should be dark and sexy." And that, ultimately, is Harris's specialty: a sexy, sensual, sophisticated style of dance music, with serious bass, sweet melodies and intricate instrumentation, chiefly drawing from house but with touches of R&B, jazz, Detroit-bred techno – even hip-hop.
Music is in Harris's genes. His mother was a singer, his father a club trumpeter, and his grandmother a church organist. He plays seven instruments, including trumpet, French horn, drums and keyboards – and he plays or sequences all of his music. He even comes up with his own artwork concepts.
"I'm not a control freak," he laughs. "I've just worked in this industry where people have always told me, 'No.' And so, I was like, 'Okay, I'm just going to learn how to do these things myself."'
At Reaction, Harris plans to play his new official remix of Mary J. Blige's Chaka Khan remake "Ain't Nobody," as well as previews of Super Black Bass tracks. That includes "Give It 2 U," which Harris included on his 2010 solo album Sacrifice. The delirious house number features stirring vocals from Naté as well as swirling strings from a 20-piece orchestra.
Harris, who jokes he's "75 percent" a leatherman, says he'll definitely strap on gear for Reaction. "I have enough of this stuff in my house, so why not?"
Reaction is Sunday, Jan. 15, at 10 p.m. Nightclub 9:30, 815 V St. NW. Tickets are $35 to $45. Call '1-877-4FLYTIX or visit 930.com.