The new issue of OutServe Magazine, which is available online and at select military bases and outside of certain installations across the world, takes on what it calls "The New DADT: Transgender Service."
One of the six current or former servicemembers who are transgender and profiled in the fifth issue of OutServe's publication, who goes by Bryan in the article to protect his identity, says, "I want to speak out about it because I know a lot of people are not going to, and I feel like for anything to change … a group of people are going to have to step up to the plate and talk about it … like people did during the 'Don't Ask, Don't Tell' repeal.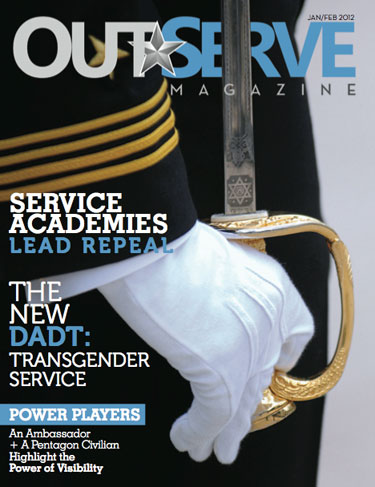 OutServe Magazine cover, Jan/Feb 2012
"I want to be part of that so maybe one day I can … serve openly, and so other people can."
Sitting down with Metro Weekly for an extensive interview shortly before the issue's publication, Bryan says, "It's obviously a very personal issue for me, being identified as trans male, and serving in the military. The military is near and dear to my heart. I love it a lot. I would like to be able to stay in the military and [would] like to have a full 20-year career, and I want to do all these things that I know probably won't happen because of the policy that forbids trans people to serve openly – or to serve at all, really."
Jonathan Mills, a staff sergeant in the Air Force, serves as the executive editor of OutServe Magazine. He tells Metro Weekly that "after the smoke cleared" from the repeal of "Don't Ask, Don't Tell," which took place on Sept. 20, 2011, the "common sentiment echoed by our staff and members was, 'When are we gonna start pushing the T of LGBT?'"
"At the last editorial board meeting, it was decided this is the time to start focusing on this," Mills says of the planning for the issue about to be published. "Even though this might not be the politically advantageous time to introduce it, it's important for us to do this."
Katie Miller, the former West Point cadet who resigned over the discrimination she faced under DADT, wrote the OutServe Magazine article. "I knew Katie was a great writer," says Mills, "but once I got the piece, I was blown away. She did such a great job, and I'm so proud of everyone who was involved in this specific article."
Mara Keisling, executive director of the National Center for Transgender Equality, was happy to see the attention paid to the issue by OutServe.
"I'm delighted that OutServe is anxious to do great trans work," she says. "I think it's really great that OutServe cares and is very concerned about the fact that there is a group of LGBT people who are still exposed to persecution and prosecution."
Of securing out trans service equality, Keisling notes, "I think there's some reticence from a lot of the groups to bringing this to the Defense Department while they're still working on a lot of things with 'Don't Ask, Don't Tell' repeal. But, the Pentagon can do more than one thing at a time, so it's a real shame."
For the 20-year-old Bryan, the article is coming out three years into his military service.
"I enlisted in the North Carolina Army National Guard when I was 17 years old," he says. "I was a junior in high school. Growing up, I always knew I wanted to join the military. My grandfather was a Marine. That's all I ever heard about, was World War II, the Marine Corps, the military."
When Bryan enlisted, though, he identified as lesbian.
"I had come out as lesbian when I was 16 years old," he says. "I always knew though — even coming out as lesbian — I still knew there was something more there. It wasn't just who I was sexually attracted to — who I liked — it was who I was. And I discovered that more and more and more."
Nonetheless, identifying as a lesbian at the time, Bryan went to basic training the summer in between his junior and senior year of high school, then went back to finish high school, then to the Army's advanced individual training for military police.
"I graduated from there October 2010, so I've been a fully qualified MP for a little over a year now, been enlisted for over three. February will be my three-year anniversary," he says. "I haven't gone to Iraq yet, haven't gone to Afghanistan. Just been doing my one-weekend-a-month drills and we do our two-weeks-over-the-summer annual training. I'll probably, of course, go to Afghanistan sometime in the near future.
"I discovered [I was trans] when I was at military police school," he says. "I was at MP school from August through about October 2010. I cut my hair off within the first two weeks of being there. My hair was really, really long – tight curls, past my shoulder, my entire life – and I cut it to how short it is now, super short, crew cut, buzz cut.
"The military's really, really gendered," he continues, "and it's really segregated by gender, which is another huge problem. So, just being in female barracks, constantly being around females — it made me more aware of my gender and how uncomfortable I really, really was in this whole situation. So, toward the end, a couple of weeks before graduation, I told a couple of my really close friends – I wasn't sure I was 100 percent male, but I knew I wasn't female. So, I started telling my friends, 'This isn't me, who I am. It's really hard for me. I feel more male identified than anything.' And they were like, 'We already knew this. Why are you telling us? No big deal.' So, that was a sigh of relief.
"It's actually funny that the military made more aware of my gender. But, at the same time, I can't be who I want to be because of the military."
Transgender service is not allowed, Bryan says, for two reasons. "You can't be transgender and in the military because it's considered a medical disqualification on the basis of the hormones and the surgery. They just assume trans people have 'the surgery.' And then, there's a psychological disqualification because they see it as having gender identity disorder.
"Even if you haven't been formally diagnosed with gender identity disorder, if they find out that you're cross-dressing or that you identify as trans in any way, they can discharge you under the basis of gender identity disorder."
Bryan is, in a sense, optimistic that the circumstances can change more quickly than they did for out LGB service. "One of the reasons why 'Don't Ask, Don't Tell' took so long is that it was a federal law," he says. "The thing about trans military service is, there's not a federal law, signed by the president, on the books — it's simply a regulation by the Armed Forces. We're not going to need to go through that drawn-out, legislative process. The drawn-out process is going to be in education and in convincing the Armed Forces that it's okay for trans people to serve openly."
That, however, is in theory. In practice, Bryan notes, "I got a $20,000 enlistment bonus, so if I was to be discharged under GID or any other clause for me being trans, I would have to pay back my bonus, lose my education benefits, lose my health benefits, pretty much lose everything that I've gained the past three years and that I've worked for the past three years."
NCTE's Keisling concurs, telling Metro Weekly, "It's an outdated, unneeded, discriminatory policy, but it looks like [Defense Department officials] are going to make us jump through hoops and throw a lot of good people out. There are going to be a lot of people who are going to get hurt. But justice prevails — after we beat each other up for a while."
"I wish things would change tomorrow," Bryan says. "I wish tomorrow I could wake up and be like, 'I'm trans in the military. I identify as male.' I want to conform to male [physical fitness test] standards. I want to wear a male Class A uniform. I wish it was like that. I could do infantry. But it's not, and I realize that. As hopeful as I want to be, as 'yeah, wishful thinking' [as I want to] think, yeah … when you see how slow the process of policy works, [you see] policy takes a really long time."
Bryan saw some of that, interning in fall 2011 for Servicemembers Legal Defense Network. "It was a really great time to be there … right in the midst of the repeal," he says. "It was hard for me, personally, because I knew I still couldn't serve openly, but it was really rewarding being on the team, being a part of the process. I know people in the military, obviously, who are gay, lesbian and bisexual, so it was still really rewarding for me to know that I was helping them to be able to live out their dream, be able to live out there life, but it still hurt because I know — in my personal opinion, I don't think trans military service is anything we're going to take down any time soon."
Bryan's contract with the military runs out in three years. "As it stands today, if my contract ended today, I wouldn't re-enlist," he says. "Not because I don't love the military, not because I don't want to serve my country, because I do. But because, at the same time, I want to be who I am, I want to fully transition, like, live my life."
He looks up. "Think about it. It took how many years to repeal 'Don't Ask, Don't Tell'? And LGB issues are a lot less taboo than transgender issues. And the American public is a lot more educated on LGB issues than they are on transgender issues — and this really all has to start with education. Not just about what it means to be trans in the military, but what it means to be trans, period. Even a lot of LGB Americans – let alone straight, cisgender, heteronormative Americans – don't know anything about the real transgender community."
Keisling says this issue of OutServe Magazine — and Bryan's participation in the article — could play a big part in that.
"Just as important as advancing the policy conversation, this article is going to be seen by lots and lots of military people who are going to start coming out," she says. "This article is going to be a moment of awareness for a lot of folks. You can't put things like this back in the closet."
Of his aim for the article, Bryan says, "I just hope that people realize that we are out there. This is a real issue for us and our lives. We're very underground and secretive, obviously, because we could lose everything, but we're out there. A lot of us … would love to serve 20 years, would like to keep getting the benefits, would like to keep doing the job we're doing.
"I love being able to say I'm in the Army, being able to say I'm an M.P., love the training I do, the camaraderie I've built. I just want people to know we're out there serving our country, just like any other soldier – straight, gender normative, gay or lesbian, whatever. It's tearing soldiers, sailors, airmen and marines apart. It's tearing us apart as a family and as a community, and it's really detrimental to our lives."