"I've felt so much love and acceptance, it's overwhelming," Estelle says. "[And] gay people, it's a whole different level." In fact, the Grammy-winning British soul singer notes with amusement: "They gave me the key to West Hollywood recently."
Born and raised in London, Estelle Swaray first came to American attention in 2008 — using just her first name — with her hit single "American Boy" featuring Kanye West. But the 32-year-old especially earned gay love the following year courtesy of the moving club hit "One Love" with David Guetta. Estelle wrote the song's heart-weary lyrics while she was struggling to move on from deceptive people who "I thought had my back or were in my corner, and realizing that I really left my entire world up to [them]. It was kind of, 'I'm taking it back — taking it back with love."'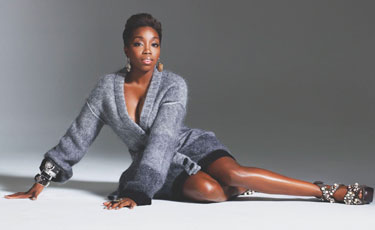 Estelle
Later this month Estelle will release All of Me, her long-awaited follow-up to 2008's accomplished and eminently enjoyable American debut Shine. "You know I have to do my '50s sound and Motown records every time," Estelle says, talking about the new set's songs. But All of Me is less reggae-oriented. "[I don't] sing like I'm a Wailer this time," she jokes. The new set is also more tipped in a rock and R&B direction, with more visceral emotions. "It's a little more aggressive," she says. "[More like] me as I am when I'm singing so hard at my shows."
Estelle stops by the Birchmere on Wednesday, Feb. 22, for what she says will be a boisterous pre-album release "party." "This is not one of those stand-up-and-look-at-me shows," she says, laughing. "This is one of those, 'I'm two-stepping and I'm singing along even if I don't know the song' shows."
Among the new material, which includes the Akon-penned current single "Thank You," Estelle calls out her collaboration with eccentric soul chanteuse Janelle Monáe, "Do My Thing." "We're not going to sit here and dumb ourselves down because you don't understand us," Estelle says, describing the message of the song, an anthem for being yourself.
Estelle acknowledges the inherent gay appeal in that message but sees it as a universal rallying cry. "There's something amazing in being an individual," she says. "I don't get how everyone wants to be the same. I can't stand it."
Estelle performs Wednesday, Feb. 22, at 7:30 p.m. The Birchmere, 3701 Mount Vernon Ave., Alexandria. Tickets are $29.50. Call 703-549-7500 or visit birchmere.com.