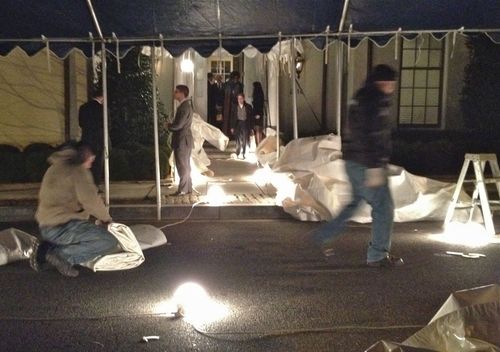 [Photo: Contractors, Obama for America staff and attendees of Feb. 9, 2012, fundraiser for President Obama's re-election work and mill around outside the D.C. home where the president had spoken earlier in the evening. (Photo by Chris Geidner.)]
Tim Gill, one of the most significant funders in the LGBT movement and a host of the Thursday night, Feb. 9, fundraiser for President Obama's re-election campaign that was expected to have raised more than $1.4 million for the effort, is a big fan of the president, telling Metro Weekly that it always is "such a joy to listen to" Obama.
A $35,800-per-person joy.
Forty people — including another host committee member and the first out LGBT ambassador, James Hormel — were willing to pay that price for the opportunity to talk with Obama in a no-press-allowed question-and-answer session at the home of Karen Dixon and Dr. Nan Schaffer north of Dupont Circle in the Kalorama neighborhood of the District. Although a White House press corps pool reporter attended Obama's opening remarks and the White House later released a transcript of them, no media was allowed in the room during the question-and-answer session and no transcript was provided of that latter portion of the event. Metro Weekly exclusively spoke with about a dozen of the attendees outside the event, a group consisting of several prominent LGBT advocates and business people, about the evening.
Laura Ricketts, the first openly LGBT owner of a major-league baseball team — Obama's home team, the Chicago Cubs — introduced the president inside the home at the fundraiser, telling the group that the night was "to show the president that the LGBT community stands strongly behind his re-election."
"What you hear when you hear Obama speak you really hear his authenticity, his thoughtfulness and just his genuine compassion for gay people, the entire American people and the American dream," Gill said outside the event. "So, it makes me realize more than anything else that he's the person that has to be our next president."
That said, Gill also was still looking at this term, talking with Metro Weekly about the chances that Obama would sign an executive order in his first term that would prohibit federal contractors from discriminating on the basis of sexual orientation or gender identity. Noting that the Republican-led House is almost certain not to bring up the Employment Non-Discrimination Act — which would prohibit most private employers from discriminating on those bases — in this Congress, Gill said of the proposed executive order, "I think certainly we need that order, lacking ENDA. Whether we'll manage to get that before the election, that seems a little dicey, but I'm gonna keep my fingers crossed."
Elizabeth Birch, the former head of the Human Rights Campaign, was even less certain. She told Metro Weekly bluntly, "I don't know if it will happen. I would imagine that there's not a lot that's going to happen until after the election."
What's more, she suggested that it mightn't even be the most strategic move, saying, "Executive orders are great, but they can have wobbly legs. I want us to be able to marshal all of our energy and focus and resources, and get real laws passed."
Of Obama's judgment on selecting the time for action, she added, "He has a really good meter in terms of knowing when he has amassed enough political capital to get the best, most durable thing done."
Terry Bean, an Oregonian who is one of the co-founders of HRC and was leaving the fundraiser with Birch, agreed, saying, "I prefer, as the president seems to, long-term solutions rather than temporary solutions. If the president had done what some in the community wanted him to do, which was a stop-loss order on 'Don't Ask, Don't Tell,' it never would have passed Congress."
Another notable HRC board member, Bruce Bastian — the Utah resident who spent $1 million to fight Proposition 8 — said the final call on the executive order proposal was with Obama: "That's on his desk."
For Bastian, though, the night — and his aim — was focused on re-electing Obama.
"He really understands the pressure and the discrimination that we all face every day. And I really think he's trying to pick and choose the things he can do. He's done a lot, he's done a lot of things that people don't give him credit for, but little things that matter," he told Metro Weekly. "I think, if we can just get him re-elected, I think we'll see a lot, lot more."
New Yorker Marjorie Hill, the chief executive officer of Gay Men's Health Crisis (GMHC), said that it's about more than solely LGBT-specific issues. She noted, specifically, "The president has shown unprecedented leadership on HIV and AIDS, including the National AIDS strategy, so I'm very pleased."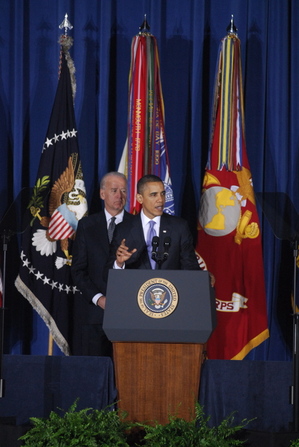 When Obama did speak at the event that will benefit both Obama for America and the Democratic National Committee, several attendees, unsurprisingly, said that the president didn't tell the small audience of any new initiative or policy position. According to the transcript provided of the opening remarks, Obama said, "[T]he work that we've done with respect to the LGBT community, I think, is just profoundly American and is at the heart of who we are."
Obama touted that work — from regulatory changes to the legislative repeal of "Don't Ask, Don't Tell" — and then told the audience: "There [are] still areas where fairness is not the rule."
One issue that is front and center for several attendees: marriage equality.
Paul Smith — the Jenner & Block law firm partner who successfully argued to the Supreme Court that state sodomy laws should be found unconstitutional in the 2003 case of Lawrence v. Texas — noted the difference of opinion but took a pragmatic tone on the issue.
"We had the little tension about the marriage issue," Smith told Metro Weekly, "but everybody said, 'Look, come on, we got President Obama and we've got them.' Give me a break. That's what it is about." As Bastian put it, "We wouldn't go back four years, we'd go back decades if Santorum won. I mean, the LGBT community — decades."
Joy Tomchin, a former board member of GMHC in New York City, was glad to be down in D.C. for the event and "thought [Obama] was great," but told Metro Weekly that she was here on a bit of a mission.
"I wanted to hear more about gay marriage, and I can't get him to talk about it — in New York or Washington," she said, noting, "I heckled him in New York."
She did. On June 23, 2011, when Obama traveled to New York City's Broadway and gave a speech at an LGBT-focused re-election fundraiser as the New York legislature was considering whether to pass marriage equality in the Empire State, it was Tomchin who shouted out: "What about marriage?"
Of her interaction with Obama in D.C. On Feb. 9 — despite the fact that he made no statement of any change in his "evolving" position on marriage equality — she said, "I told him I was the heckler; he was really happy!"
Asked about marriage, Gill also was happy: "Well, I'm married, so I can tell you where I come down on this!"
As for his view on where Obama comes down on the issue at this point, Gill told Metro Weekly, "I think that he's going to continue to be supportive of our relationship rights in whatever form we manage to get them in the states. For me, the battle really is going to remain in the states for some period of time, and it will stay there as long as we have a divided Congress, unfortunately."
But, as for the Feb. 7 appeals court decision on marriage in one of the states — California — Bastian said of the Proposition 8 decision in Perry v. Brown, "That didn't really come up, not really."
Although the fact that such a big decision regarding marriage equality wouldn't even be raised with Obama at such event might be unexpected, some of the wealthy, fervent Obama supporters at the fundraiser sounded a bit incredulous at some of the criticism the president takes on LGBT issues.
Bean said, "Too often, I think we cheat our LGBT kids out there when we only focus on: 'What's the next thing that hasn't happened yet?' It cheats those kids of knowing that the executive branch supports them."
Andrew Tobias, the investment writer and a prominent establishment Democrat, summed up a regular refrain of support for Obama, telling Metro Weekly, "We have the most terrific president, who's gotten more done for us in three years than all the other presidents combined in, you know, 220 years, and if we re-elect him, we're gonna get a lot more progress to come."
The 64-year-old added, "It's unbelievable how much we've achieved. If you're as old as I am, you're blown away."
Michael Sennott, a former advertising executive who retired from the industry more than a decade ago, returned to his roots when asked abut the evening. "It was terrific. First of all, it was a thank you to the president for what he's done for the community to date," he said. "And, to quote some commercial, it is half-time. And, we need to win the second half — for all of us — to make this complete."
As for the financial haul the evening brought the effort to do so, Tobias — the man who has served since 1999 as the treasurer of the DNC — said, "Oh, that was pretty good too!"
[Photo, above right: President Obama speaking at the signing of the Don't Ask, Don't Tell Repeal Act in December 2010. (Photo by Ward Morrison.)]
[Photo, below: The scene outside a Feb. 9, 2012, fundraiser for President Obama's re-election shortly after the president had left the neighborhood. (Photo by Chris Geidner.)]