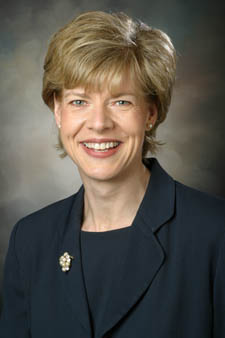 Public Policy Polling new polling released today shows Rep. Tammy Baldwin (D-Wisc.) having improved in a match-up against her closest possible Senate competitor, former Wisconsin Gov. Tommy Thompson (R) — although the changes are within the margin of error and continue to show a nearly tied race between the two.
Baldwin went up two and Thompson down one from the last time PPP polled the race in October 2011 and had Thompson leading 46-44.
PPP, on favorability, however, calls Baldwin "extremely polarizing" with only 3 percent of Republicans viewing her favorably, whereas it says that Thompson's "crossover appeal is not what it once was," with 17 percent of Democrats viewing him favorably.
Tiffany Muller, vice president for political operations at the Gay & Lesbian Victory Fund, said in a statement, "Tammy is talking about the issues most Wisconsin families really care about, so it's no surprise that her message is resonating with Wisconsin voters."
PPP also reports that "Baldwin would be a nominal favorite against either of the other Republican Senate candidates." In its new poll, Baldwin leads former Rep. Mark Neumann (R) 47-41 and state Assembly Speaker Jeff Fitzgerald (R) 47-39.
The race comes following the announcement this past year by Sen. Herb Kohl (D-Wisc.) that he would not be seeking re-election.
READ more at PPP.