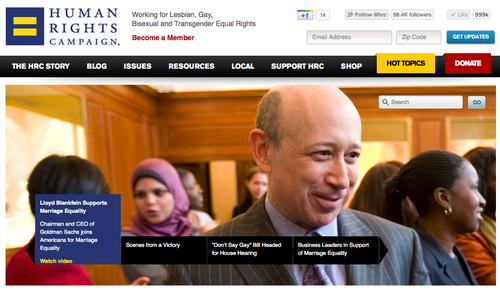 [Image: Screen capture of HRC's homepage celebrating Goldman Sachs CEO Lloyd Blankfein's support for marriage equality.]
LGBT grassroots activists, calling themselves the Queer Occupy Wall Street Caucus, united outside of New York City's Waldorf-Astoria hotel on Feb. 4 to demonstrate against a Human Rights Campaign gala honoring, among others, global investment banking and securities firm Goldman Sachs for its commitment to LGBT equality.
According to a release sent out by the Queer OWS Caucus, they stated, "You do not speak for us." The activists, who came from a variety of grassroots organizations, pushed three points: to condemn HRC for honoring Sachs, to call upon the organization to seek full equality by 2014 and to demand HRC improve its transparency. According to the statement, chants included, "Hey, hey, HRC. Where is our equality?" and "Everyone pays their tax – Everyone but Goldman Sachs."
Goldman Sachs, however, was acknowledged by HRC in 2011 as the "Best Place to Work for LGBT Equality," and today, Goldman Sachs' chief executive officer and chairman Lloyd Blankfein, became the first major business leader to join the group's national media campaign in support of same-sex marriage.
HRC released a video statement on its You Tube page featuring Blankfein's marriage equality endorsement. "America's corporations learned long ago, that equality is just good business and is the right thing to do," he said in the video. "Join me, and the majority of Americans, who support marriage equality."
Despite this, the Queer OWS activists marched, signs in hand, over the weekend. According to the statement from Queer OWS, a solidarity event was held simultaneously in San Francisco at the Harvey Milk Camera Shop, now an HRC boutique, and petitions were started online demanding HRC withdraw the award given to Sachs.
According to Time Out New York, HRC's response came from spokesman Paul Guequierre: "We are fortunate to live in a democracy where everyone's opinion counts."