How could anyone be funnier than Michele Bachmann or Herman Cain?
"I kid you not," says Ben Schatz of the Kinsey Sicks, "there were jokes that we wrote for this show when we first drafted it over the summer that candidates [later] actually said.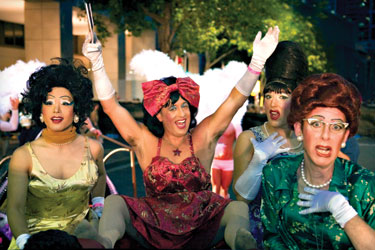 Kinsey Sicks
(Photo by Erez Ben Or)
"It has been a comedic challenge to be even more extreme than those we are parodying," he continues. "But I think we have managed."
In fact, Schatz thinks the latest show from the Sicks, the self-described "dragapella beautyshop quartet," "is our best show yet."
Electile Dysfunction: The Kinsey Sicks for President! premieres this weekend at the DC JCC's Goldman Theater. It's essentially one long GOP presidential campaign rally, in which the Sicks – Schatz as Rachel, Irwin Keller as Winnie, Jeff Manabat as Trixie and Spencer Brown as Trampolina – present what Schatz says is "our rather unique Republican platform." But, according to the group's chief lyricist, to reveal much more — even listing titles of parodied songs — would "spoil it for the audience." Instead, he simply says: "There are several unforgettable parodies which will make it impossible for you to hear the original songs in the same way ever again." He also adds that they managed to work Grover Norquist into a rhyme scheme.
Theater J commissioned the show, which will travel around the country in the coming months. The Sicks will even perform in Tampa during the Republican Convention.
"For this I went to law school – to get dressed up in hideous drag," jokes the 52-year-old Schatz, who grew up mostly on the East Coast and earned a degree from Harvard Law School. He later went on to advise Bill Clinton on HIV issues during his first presidential campaign, before drag came calling.
Now, even his mother is a fan. "The truth is," Schatz says, "my mom will be there on opening night. My parents love us." — Doug Rule
Erectile Dysfunction: The Kinsey Sicks for President! opens in previews Saturday, Feb. 4, at 8 p.m., and plays to Feb. 19, at the Aaron & Cecile Goldman Theater, Washington, D.C.'s Jewish Community Center, 1529 16th St. NW. Tickets are $30 to $60. Call 202-518-9400 or visit washingtondcjcc.org.