"It sounds like I talk about it all the time: I'm Twitter obsessed! Like a Kardashian!"
For the record, Aiden James only brought up Twitter a few times during a recent half-hour interview. But the 29-year-old had every reason to wax on about the social media site and others like it. Three years after quitting a job at a Philadelphia boutique selling designer handbags, James has fully harnessed social media to achieve a new career as a full-time, self-made singer-songwriter. One testament to his success: His accomplished folk/pop album Trouble With This, released on his own Songster Sounds label, debuted last month at No. 28 on the iTunes Top 100 chart. (See a review of his album at MetroWeekly.com)
Obviously, James has some very supportive fans. Make that extremely supportive — some have even contributed money so James could make the album in the first place, through an online crowd-funding campaign. Trouble with This, James's third album, is, he says, "100 percent fan-funded."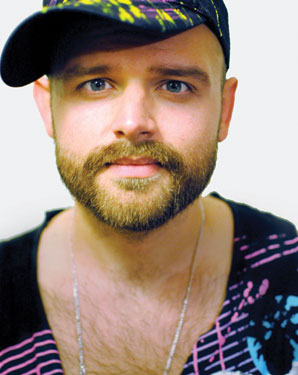 Aiden James
(Photo by Kelly Burkhardt)
Says the musician, "I've always had this outside-of-the-box attitude, and I always look for different ways to do things."
James is set to grow his fan base even more as he prepares to shoot music videos for new singles, including the heady, electro-folk song "Best Shot." Even more importantly, he's gearing up for lots of steady touring and radio shows to promote the album, including a big West Coast tour in the spring. But first, next Friday, Feb. 10, James will stop in D.C. at Town during Bear Happy Hour.
"[Town] is a treat because I don't typically play – and I'm doing bunny ears with my fingers – gay clubs or gay venues," says the gay singer-songwriter, born and bred in Philadelphia. "This is a really special treat, to be able to have this glorious stage, and be in the gay experience. And just help bring a rock and roll show to the guys."
METRO WEEKLY: Let's start with how you got turned on to music in the first place?
AIDEN JAMES: I ask myself that every day. It was sort of by accident. I always had an interest in music. [But] I didn't come from a musical family or anything. A couple friends of mine brought me to a folk festival when I was in high school. I had a guitar and I was kind of teaching myself. And I got a book of chords. I'd figure out [how to play] songs that I heard on the radio. When I went to this festival, I met this songwriter there [and] she handed me her business card. It said singer-songwriter on it. And I'm like, "Oh, that's what somebody who plays guitar and sings and writes their own music does." It wasn't until then that I even knew what that title was, or what it meant.
MW: So you weren't in band or in choir growing up?
JAMES: In elementary school I was in chorus, to make my mother proud. [Laughs.]
MW: Growing up, what did you think you might do for work?
JAMES: There was a point in time that I wanted to be a physician's assistant. Then I realized that that sort of schedule doesn't work with me. I didn't like to study. I didn't like tests. I didn't like school. I rarely went to high school, and often took, you know, sunshine breaks outside in the teachers' lounge [or] the picnic area, [places] where I shouldn't have been.
MW: You wanted to be a physician's assistant and not a doctor or even a nurse?
JAMES: You know what, I just heard that [being a] physician's assistant is less school. [Plus,] you don't have to get all that malpractice insurance. [Laughs.]
MW: Did you go to college?
JAMES: I went to a semester of community college. I never went to school for music. I never went to school for songwriting, engineering, production. Everything that I learned musically has been definitely self-taught.
MW: I'm guessing you taught yourself in part by obsessing over music and artists that you liked.
JAMES: Yes, I'm very passionate. I tend to throw myself into things 100 percent. One of my big influences, listening to how pop songs and music production is done, was Imogen Heap. She also engineers and produces her own records, and she was just a huge inspiration to me, not only to realize that somebody could in fact do this, but also do it with great attention to details.
MW: Funny you should say that, because the first time I was listening to your album I had the thought, "He sounds a bit like a male Imogen Heap."
JAMES: She is phe-nom-en-al. Her records are sonic masterpieces. I should be so lucky as to have somebody say that I would even hold a candle to her. That's very flattering.
MW: Why do you think you managed to chart so well on iTunes, and just seen so much success recently?
JAMES: Social networking is a very powerful tool for me. I don't have a team of publicists working for me. I don't have these legacy/established contacts that are deep in the music industry that push my records [past] different barriers. It's all my fans.
MW: When did you come up with the idea to raise funds through crowdsourcing with the album?
JAMES: I was on Twitter and I was at a coffee shop. I saw [a tweet from] the local radio station here, in Philly, 88.5 WXPN, about this new website called feedthemuse.net, and it was about helping artists reach their goals. It's kind of like public TV, where people can donate money and they get certain perks.
I had done things like this before, with PayPal buttons, sort of JPEG images on the side that showed the donation levels. [But] a month or two after [launching a feedthemuse.net campaign], I [appeared] on Sirius/XM Radio, live at their headquarters in New York, and boom, the donations really hit. I think the first day I got about $5,000. My album is 100 percent fan-funded. I raised $13,000 to buy equipment, microphones, sound-isolation padding, software, production costs.
MW: So you don't have to tour to cover the costs of making the album. Touring is essentially how you make a living.
JAMES: Yeah, absolutely. Some people clock in at GlaxoSmithKline, but I clock in at the music venues.
MW: And you like performing?
JAMES: There's nothing I like more than performing a live show. It's just my favorite thing to do.
I like to have a good time with the audience. Lots of jokes. Sometimes I haggle people that walk to the bathroom in the middle of my song – no, I'm just kidding. But I like to have fun with the audience. A lot of times, if I'm driving [between gigs], I'm alone in the car for a good six to eight hours getting to a gig, so I'm desperate to talk to somebody. Whoever will listen. [Laughs.]
MW: All told, how long did it take to make the album?
JAMES: Three years. I mean, it took me about a year to write it and record it and release it. [Up until then] I just wasn't ready. The songs weren't there. I had to build my chops up a little bit, and I had to learn how to freaking produce a record.
MW: Do you think being openly gay has helped or hurt your career?
JAMES: I guess it's a double-edged sword. Some people will hate me just for that very reason. Somebody said to me about a year or so ago, "Aiden, do you realize that you're actually a political person? What you do takes a political stance." And I'm like, "I'm just singing love songs." And they're like, "Well no, you being out and doing it openly is actually a really strong political statement." And I was like, "Look, I don't even follow politics. How can I be?"
I just really want to be open and honest about who I am, because everyone else can be.
MW: Do you find there's a sense of community or a network of gay singer-songwriters?
JAMES: No.
MW: Short and succinct. Well, is that something you'd like to see?
JAMES: Hmm. I like friends.
MW: Since your songs are primarily about love, I should ask, are you in love now?
JAMES: No, I'm not.
MW: So you're looking for love then?
JAMES: I'm looking for a weekend getaway in the Bahamas – 6'2, 210, Mediterranean. You know, whatever, whatever. [Laughs.]
No, I was dating somebody recently for a couple weeks. It just kind of didn't work out. And so I'm a little bruised right now. But I'll bounce back.
MW: You're performing for Bear Happy Hour. Do you identify as a bear?
JAMES: Ah, I don't.
MW: But just for the record, you do have a beard, right?
JAMES: I sure do, yeah. [Laughs.]
MW: So you may not identify as a bear, but bears will like you and your look?
JAMES: I'm working to get my otter status back, hitting the gym. But I'm definitely cub-ish.
Aiden James performs Friday, Feb. 10, at 9 p.m., during Bear Happy Hour at Town Danceboutique, 2009 8th NW. Admission is free. Call 202-234-TOWN or visit towndc.com.