Whitman-Walker Health kicked off a new series of dialogues Jan. 26 titled "Community Conversations." The first, "New Year, New Start: Substance Abuse," will be followed this month with "Healthier Hookups" Feb. 23.
"The idea is from [WWH Executive Director] Don Blanchon," says WWH's Chip Lewis. "He really wanted to spark some dialogue between Whitman-Walker and the community."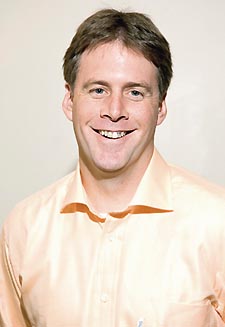 Blanchon
File photo by Todd Franson
Lewis adds that the particular form these conversations are taking is thanks to Christopher Dyer, founder of D.C.'s Youth Pride Alliance and former-Mayor Adrian Fenty's liaison to the LGBT community, working as a consultant to WWH.
While skipping July and August installments, monthly conversations are otherwise scheduled through November, addressing a range of issues from "Aging and the LGBT Community" to "Transgender Health." Although the initial conversation was held at WWH's Elizabeth Taylor Medical, other venues, such as The Center, will be tapped during the series. Lewis says WWH is still lining up venues and dates for the conversations in May and later.
A WWH release announcing the series quoted Blanchon, who said, in part, "Throughout our history, Whitman-Walker has worked to meet the unique health care needs of the LGBT community. … One of our goals for these conversations is to empower participants with the knowledge and resources to improve not only their health, but the health of the family, friends and loved ones around them."
Lewis adds that if this new series proves popular, WWH will likely continue it into 2013.
The "Healthier Hookups" Community Conversation is scheduled for Thursday, Feb. 23, at 7 p.m., at the Elizabeth Taylor Medical Center, 1701 14th St. NW. For details about the series, call 202-745-7000 or visit whitman-walker.org.