This past week, Rep. Darrell Issa's (R-Calif.) held a hearing titled, "Lines Crossed: Separation of Church and State. Has the Obama Administration Trampled on Freedom of Religion and Freedom of Conscience?" in which religious figures spoke out against the federal mandate requiring health insurers to provide full contraception coverage for employees of religious-owned businesses.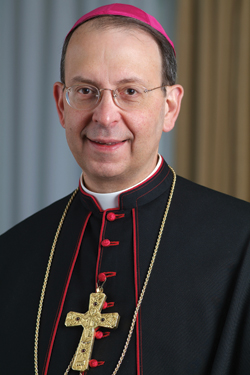 During the two-day panel (which largely excluded women), Reverend William E. Lori represented the U.S. Conference of Catholic Bishops, a group that has spearheaded a nationwide, election-year effort along with the Southern Baptist Convention and National Association of Evangelicals to oppose birth control, abortion, adoption by same-sex couples and marriage equality as government intrusions on constitutionally-protected religious freedoms.
Reuters contributor Stephanie Simon recently reported that the Conference-led group will employ a D.C. lobbyist with a history of litigating religious liberty cases; TV, radio and social media marketing; and pastors and priests willing to speak from the pulpit to help build public opposition to such laws.
In recent years, Catholic-led adoption agencies in Illinois, Massachusetts and Washington, D.C., have faced questions about their continued operation because of requirements that they provide equal treatment regardless of sexual orientation. In Illinois, several Catholic bishops called the cut in taxpayer funds there "a war on religion."
But Cardozo School of Law constitutional scholar Marci Hamilton says that "religious freedom must take a back seat to secular laws … when religious institution[s accept] taxpayer money to do [public] work."
Simon also notes that "the wider theme of defending individual freedoms against government intrusion … is expected to play prominently in the November election."
Indeed, the call for protections of religious conscience has grown over the years amid such cases as the ones involving Lisa Miller, the ex-gay woman who kidnapped her lesbian ex's daughter; Julea Ward, the evangelical Christian counseling student kicked out of her graduate program for refusing to counsel gay patients about their relationships; and the United Methodist-affiliated Ocean Grove Camp Meeting Association found guilty of violating state public accommodations laws after denying a lesbian couple use of their facility.
However, Simon adds that NARAL Pro-Choice America and the 30 member organizations of the Coalition to Protect Women's Health Care have already started counter-opposition in the swing states of Colorado, Florida, Virginia and Wisconsin.
A recent New York Times/CBS News poll issued last week showed 58 percent of all American Catholics support the federal policy requiring mandatory contraceptive coverage. During his piece on Issa's hearing, National Public Radio's Rob Stein mentioned the concern that church-supported religious exemptions could allow health care workers to refuse care in any situation to which they morally object.