November's chickens have come home to roost for Virginia's LGBT population.
After Democrats lost two seats last year to split the Senate 20-20, and Lt. Gov. Bill Bolling (R) cast the tie-breaking vote to shift control of the upper chamber to the Republicans, many LGBT activists publicly worried that they would be fighting an uphill battle, not only to get pro-gay legislation passed, but to reject potentially harmful legislation.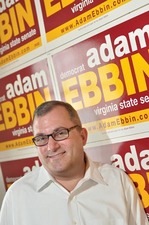 One of the first victims of that power shift was out gay freshman Sen. Adam Ebbin's (D-Arlington) bill, sponsored with Sen. Donald McEachin (D-Henrico), which would have prohibited discrimination in public employment based on a person's sexual orientation and gender identity.
The bill, SB 263, was intended to codify in law protections for LGBT residents that had been enacted under executive orders issued by former Democratic Governors Mark Warner and Tim Kaine. Current Gov. Bob McDonnell (R) has refused to sign a similar executive order banning discrimination on sexual orientation.
SB 263 was heard on Jan. 30 in the Senate's General Laws and Technology Committee, where it failed on an 8-7 partisan vote. Opponents argued there was no evidence to support that LGBT people experienced employment discrimination.
"It's troubling that there's not a strong recognition of the need to protect all people from job discrimination," Ebbin told Metro Weekly in an interview after the bill failed to pass. "It's clear to me that the Republicans are as much out of touch on this issue as a variety of other vital issues."
Gay rights group Equality Virginia issued a press release condemning the vote, blasting Republican lawmakers for defeating the bill.
"Virginia's gay, lesbian, bisexual and transgender people learned, again, that they continue to be considered second-class citizens by the Virginia legislature," Equality Virginia Executive Director James Parrish said in the statement. "SB 263 is a simple bill … that expresses a state policy with which 90 percent of Virginians agree — that no state or local employee should be subject to discrimination on the job, including discrimination based on sexual orientation or gender identity.
"Passage of SB 263 would have been a small step forward in ensuring that Virginia is truly an inclusive Commonwealth of opportunity. The failure of the Senate to endorse this concept, as it has the past two years, is a major step backward."
Despite his disappointment, Ebbin said he was moving forward. He suggested he could reintroduce a similar bill during another legislative session.
"It's clear we've got our work cut out for us, and we have to move forward," he said of the LGBT community. "It's not something I'm going to give up on. We can't give up on this."
[Photo: Ebbin (Photo by Todd Franson.)]