On Wednesday, Feb. 29, a rally in support of nine Harvard students expelled for homosexuality in 1920 coincided with the launch of Lady Gaga's pro-LGBT Born This Way foundation and the 62nd anniversary of President Dwight Eisenhower's executive order requiring the firing of all LGBT American federal employees. Each offers a chance to consider the current state of LGBT student and worker rights.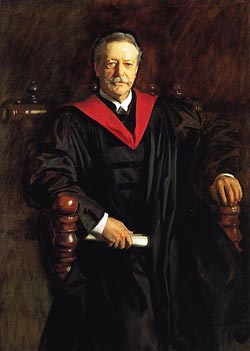 On May 12, 1920, Harvard University undergrad Cyril Wilcox admitted to his brother George that he had been having an ongoing affair with older Boston cafe-owner Harry Dreyfus. The next day, Cyril killed himself by inhaling gas his parents' Fall River, Massachusetts, home.
After his death, George discovered two of Cyril's personal letters mentioning a group of gay students on campus. George located Dreyfus and beat more information out of him before approaching Harvard's Acting Dean Chester N. Greenough with his information. Within the month, Greenough and school president Abbott Lawrence Lowell (pictured) created a secret tribunal of five administrators to investigate student homosexual practices.
Over the next month, the tribunal (known as "The Secret Court") conducted more than 30 closed-door interviews, asking suspected gay students about their feelings on homosexuality, preferred reading, masturbation habits, sexual practices, overnight guests, alleged cross-dressing parties, and rumored gay establishments such as the Café Dreyfus, The Lighted Lamp, The Golden Rooster and Green Shutters.
By July, the tribunal had expelled eight students and an assistant professor, suggested that they leave Cambridge and wrote letters informing their families of the findings against them. One student under investigation killed himself via drug overdose a few days before his official expulsion. Another committed suicide via gas inhalation almost a decade later.
The dealings of the tribunal — hidden in an archive innocuously labeled "Secret Court Files, 1920" — remained amongst the employee, building and student records of the Nathan Marsh Pusey Library until a researcher from the school newspaper The Crimson uncovered them in 2002.
That same year, then Harvard University President Lawrence H. Summers publicly called the Secret Court "extremely disturbing," expressed "deep regret" for all the pain that it caused and called the persecution of sexual identity an abhorrent affront to the school's values.
Though historian William Wright and filmmaker Michael Van Devere both published dramatic re-creations of the Secret Court investigations based on the tribunal's existing transcripts in 2006 and 2008 respectively, it wasn't until 2010 that Harvard students began a movement entitled "Their Day in the Yard" petitioning Harvard University to officially abolish the Secret Court, reverse its decisions and award posthumous honorary degrees to the seven expelled students who were not later invited back to finish their studies.
The 2012 petition urging these actions from current President Drew Faust reads in part, "Until this is done, the Court and its work is still very much alive."
However, the university released an official statement on Feb. 28, announcing:
"Harvard's Faculty of Arts and Sciences does not award posthumous degrees except in the rare case of a student who completes all academic requirements for the degree but dies before the degree has been conferred."
The Harvard LGBT Caucus did not respond to Metro Weekly's request for information about whether they will pursue the abolition of the Secret Court and reversal of its rulings.
The Feb. 29 protest coincided with the on-campus launch of pop musician Lady Gaga's Born This Way Foundation which seeks to empower youth through creation of schools safe for LGBT and self-expression.
"This is not an anti-bullying foundation," said Gaga, "This is a youth-empowerment foundation."
Currently, a majority of U.S. states have not passed nondiscrimination laws specifically protecting LGBT students.
The protest also comes a day after the 62nd anniversary of President Eisenhower's Executive Order 10450 requiring all federal agencies and government contractors to fire known lesbian, gay, bisexual and transgender Americans.
Even today, many LGBT Americans can still be legally fired from their jobs because of their sexual identity.
WATCH Lady Gaga talk about why she is launching the foundation: