The Human Rights Campaign announced today that it is endorsing Elizabeth Warren (D) in her challenge to unseat Sen. Scott Brown (R-Mass.), who won the special election in 2010 to fill out the term of Sen. Edward M. Kennedy (D-Mass.) after his death in 2009.
HRC President Joe Solmonese said in a statement, "We enthusiastically endorse Elizabeth Warren for the United States Senate. Massachusetts was the first state to make marriage equality a reality, yet the Bay State is represented by anti-equality incumbent Scott Brown.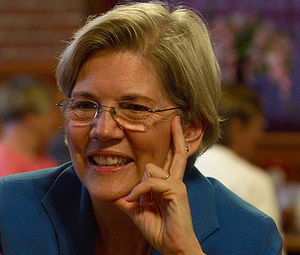 HRC also included a statement from Warren, who said, "I'm honored to receive the endorsement of the Human Rights Campaign. As a country we should stand for fairness and equality for all our people — in employment, health benefits, educational experience, or spousal status."
She added: "I am proud that Massachusetts has led the nation on equality issues, and it is time for the federal government to end the disparities and discrimination that LGBT people and their families face. I look forward to working with HRC to protect and promote fairness and equality."
Solmonese said, "It is time the people of Massachusetts are represented by a Senator who shares their values of fairness and equality. Elizabeth Warren will be that Senator."
According to HRC's endorsement announcement, one of the key pro-LGBT accomplishments cited by Brown supporters — his votes for "Don't Ask, Don't Tell" repeal on December 18, 2010 — was countered by his opposition earlier in the year.
"Brown opposed repealing the archaic 'Don't Ask, Don't Tell' policy in May 2010 when it came before the Senate Armed Services Committee, and repeatedly voted to block consideration of the National Defense Authorization Act, which contained the repeal language, through the rest of that year, including a motion to proceed on December 9, 2010," the statement detailed.
Log Cabin Republicans endorsed Brown's re-election on Sept. 20, 2011, the day that "Don't Ask, Don't Tell" was repealed. LCR officials did not immediately respond to a request for comment.
At the time, LCR executive director R. Clarke Cooper told Metro Weekly, "We've been working with him, obviously, we worked with him on ['Don't Ask, Don't Tell'] repeal. And we're looking forward to working with him in the future on other measures … so he's somebody we're investing in."
Of Brown, he added: "It's somebody on the right side of the issues in the Republican Party. We need more Republicans like Scott Brown and like Susan Collins supporting us."
Solmonese countered: "When elected to the U.S. Senate, Elizabeth Warren will return the vision to Massachusetts that was lost when Scott Brown was elected. She will fight for all Massachusetts families and the LGBT community."
UPDATE @ 4:30P: Cooper, in a statement provided to Metro Weekly, responded to today's HRC endorsement by saying: "Senator Scott Brown came to Washington, DC last year as part of a vanguard that broke the Democratic lockdown on the Senate. Since then he has been a firm and consistent voice on core conservative positions in support of job growth and reducing the deficit.
"We are proud to have endorsed Senator Scott Brown for reelection to the United State Senate in 2012. He has been a tremendous advocate for the people of Massachusetts and a solid ally for Log Cabin Republicans, representing the power and potential of an inclusive GOP. As a current serving officer in the Massachusetts Army National Guard, he knew that 'Don't Ask, Don't Tell' was not working and was a critical part of ending that policy," he said. "Senator Brown has proven himself as a leader and we look forward to helping him win his reelection campaign. A true ally, Senator Brown also just endorsed Log Cabin Republican and Congressional candidate, Richard Tisei."