Craig Cipollini, and Anthony Preston as Rocky, photographed by Todd Franson, Friday, Feb. 24
If Lady Gaga were to stage The Rocky Horror Show, the result might be similar to what the Gay Men's Chorus of Washington offers next weekend.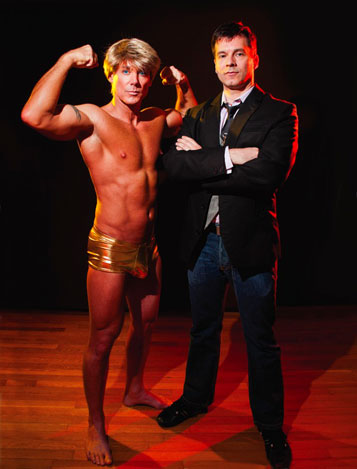 The Rocky Horror Show: Gay Men's Chorus of Washington DC
"When I met with the costume designer [Tessa Lew]," says the chorus's Craig Cipollini, "I told her, 'Let's think outside the box on this one.' I just started throwing out ideas at her – Lady Gaga, the club kid scene…the Black Party, leather men – anything and everything."
The point was to make the musical "a little fresher…a little glitzier" than what people are used to. Cipollini, the show's director and choreographer, notes that when Richard O'Brien's musical was originally staged in 1973, the show "was considered very scandalous and outrageous — but that was 40 years ago." Even the 1975 movie version The Rocky Horror Picture Show, which flopped at first but has since become a cult sensation and everyone's favorite camp classic, registers as a bit frayed at the seams today, when drag queens are commonplace and alternate sexualities aren't so shocking.
"I envisioned the show," says Cipollini, "like a rock concert – slick, metallic, lots of bright lighting and colors. As opposed to the mansion with cobwebs and the creaky door look."
The chorus's production will feature a live band accompanying the show's 10 leads and an ensemble of about 25 singers. Of course, as an all-male chorus, all roles in this gender-bender will be played by men. And they'll be wearing costumes that are "quite over the top" and sexy. "The show talks a lot about sex and it deals a lot with sex, so we have to show a little skin," says Cipollini.
The basis for the production is, of course, the original stage show, which features slightly different dialogue and several extra musical numbers than the movie. "It's fairly faithful," says Cipollini, "and all the staples are there — 'Time Warp,' 'Sweet Transvestite."'
The Rocky Horror Picture Show, starring Tim Curry, Susan Sarandon and Barry Bostwick, is a staple at midnight screenings the world over, including a popular monthly showing at Landmark's E Street Cinema downtown. Audience participation is integral to the experience: People dress up, talk back, even throw things during key moments in the film.
Cipollini hopes audiences for the chorus's staged production will also get involved, mostly by shouting back dialogue. "Some of the dialogue is different, so they'll have to kind of listen for certain words or sentences that they recognize." But shouting back during a live show is a whole different animal — especially for the performers. Cipollini says they're game. "I gave the cast some of the typical shout backs," he says, "so that they can be prepared for it. I told them, 'You're going to have to be on your toes."'
Cipollini isn't as keen on the idea of audience members throwing rice or water, as per midnight screening lore. For starters, he explains, "Lisner is a big auditorium…so somebody sitting up in the back of the terrace — [if] they throw rice, it's not going to hit anybody but the three people in front of them." And neither they nor the Lisner housecleaning staff will find that very amusing. More importantly, "I don't want people throwing things onstage that would cause somebody to slip or trip." Remember, it's live performers up there, not characters safely tucked in celluloid.
The Gay Men's Chorus of Washington presents The Rocky Horror Show Friday, March 16, and Saturday, March 17, at 8 p.m. Also Sunday, March 18, at 3 p.m. Lisner Auditorium, The George Washington University, 730 21st St. NW. Tickets are $25 to $50. Call 202-293-1548 or visit gmcw.org.