Gavin Creel is a two-time Tony-nominated actor (Hair, Thoroughly Modern Millie), who's currently gearing up to star in the national tour of The Book of Mormon.
But if you expect only sweet, syrupy, show-tune-style songs on Creel's new album, you're in for a rude awakening.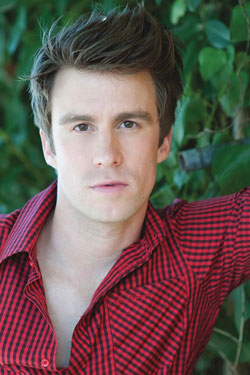 Gavin Creel
The stunning Get Out opens with a bristling guitar riff and Creel singing in a dry, menacing tone. "If I gave you the sun, would you bathe in it baby?" Creel croons at the launch of "Enough." "If I gave you the sun, would you burn all day long? I'm amazed and undone, by the way you say maybe. I gave you the sun so what the eff is wrong?"
Creel proceeds to offer the stars, the moon and the sea – but it's not enough for his paramour.
So Creel says enough. "Enough, enough, enough, enough – had enough of not getting your love," he sings on this captivating electro-tipped gem, which displays Creel's dazzling full vocal range and power, not to mention his impressive pop aptitude. In an alternate universe, "Enough" would be a No. 1 pop hit, with constant radio replay. In this universe, it's one of the best kick-off songs to an album I've heard in a long while – I just can't get enough.
That rocker is immediately followed by the title track, which turns out to be a perfect follow-up. "Leave me alone, you got what you wanted," Creel shouts a cappella to start "Get Out." A guitar, keyboard, drum and a few special effects build to support Creel's plea, but this melodious kiss-off is ultimately much sparer in sound than it could have been – and all the more effective because of it. "What are you still doing here?" Creel asks in the song's bridge. "I thought I asked you to leave." He then channels the best of Adam Lambert to cry, "Why are you doing this to me?"