"I often think, 'Where's Rosie when you need her?"' laughs Nellie McKay.
Rosie O'Donnell was nowhere to be found last year, after the New York-based cabaret/pop artist McKay performed a couple workshops of a musical about two gay soldiers during World War II. Yank! A WWII Love Story apparently lacks funding to do a full production. "I think heterosexual producers are really scared of a gay love story," says McKay (pronounced "ma-KAI"). "And that's pathetic. I just think they need some gay people with money to step up."
In conversation, McKay comes across as gentle, smart, eccentric, pensive, funny and compassionate.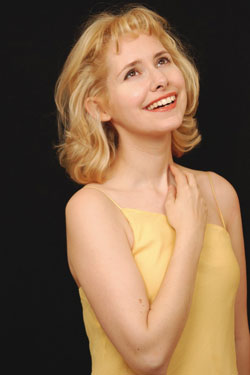 Nellie McKay
(Photo by Rick Gonzalez)
But she's also, apparently, lazy.
"I'm an essentially lazy person," says McKay, who was born in England but grew up in various parts of the U.S. raised by her mother. "I love [making] music, but I'm just not that disciplined."
"I think I wanted the easy way out," she responds when asked if she wanted to pursue a singing career as a child. "I was kind of discouraged from singing, but I noticed that singers got all the attention and they didn't even know how to play an instrument, and I didn't think that was fair…I played piano and would just wind up accompanying the singers. I thought, 'You know, this ain't right."'
Though she hasn't, in fact, had it so easy in her decade-long career, McKay has displayed impressive musical versatility – in two separate reviews The New York Times's Stephen Holden has called her "a protean talent" and one with "virtually unlimited gifts." All told, her dexterity has served her well. She's released five solo studio albums, including 2004's genre-hopping, major-label breakthrough Get Away from Me and 2009's eerily spot-on Normal as Blueberry Pie – A Tribute to Doris Day. McKay made her Broadway debut starring alongside Alan Cumming and Cyndi Lauper in a 2006 production of Bertolt Brecht and Kurt Weill's The Threepenny Opera, for which she won a Theatre World Award for Outstanding Debut Performance. She's also had small roles in a couple films, including 2007's P.S. I Love You starring Hilary Swank and Gerard Butler.
"I wish I could say, 'Oh, I've turned down this and turned down that,"' McKay says, when asked if she has plans for more acting work. "But generally we just don't get asked. But that's okay, because it's really nice to do your own thing, if you can somehow make it happen."