Donna Payne, the D.C.-based associate director of diversity for the Human Rights Campaign, as well as a founding board member of the National Black Justice Coalition, closed out March on a celebratory note.
On Saturday, March 31, the National Action Network's Women's Auxiliary named her a "Woman of Excellence" at the group's 16th annual such awards ceremony, held in Astoria, N.Y. The Rev. Al Sharpton, who founded the civil rights organization in 1991, missed the luncheon – for the first time in its history – due to events related to the shooting of Trayvon Martin in Florida, but his daughter, Dominique Sharpton, was on hand to present the award to Payne.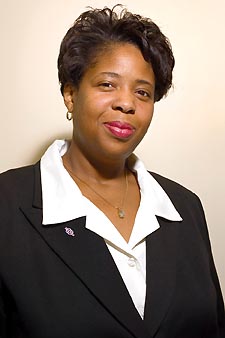 Accepting her honor along with a number or awardees, Payne used her time at the microphone to call out groups such as the National Organization for Marriage (NOM) for attempts to drive a wedge between the African-American and LGBT communities.
"At times like this, when [NOM] has stated their goal to manipulate the African-American community to turn against gays having the right to marry and have a loving and committed relationship, it is an honor to receive an award that recognized that injustice anywhere is injustice everywhere," said Payne. "As an African-American lesbian fighting for equal rights, I'm here to tell you the race card will not be played in my community anymore!"
Payne received particularly loud applause when she mentioned that her girlfriend was in the audience, along with her mother and other family members.
"I think some people were shocked," Payne says back in Washington. "A lot of people came up to me and said they were glad that I stated it. There's a power in visibility, in stating it."
Asked whether it was her girlfriend or her mother who was likely more proud of her that Saturday afternoon, however, Payne has to give credit where credit is due.
"I think my momma beat her," she says with a laugh. "I really do."